OLD WORLD CHRISTMAS SPIRIT IS IN THE AIR WITH HOLIDAY
PROGRAMMING AT ALLAIRE STATE PARK IN MONMOUTH COUNTY
NUMEROUS EVENTS ARE SCHEDULED THROUGHOUT DECEMBER AT PARK'S
HISTORIC VILLAGE, FROM TRAIN RIDES TO DICKENS' 'CHRISTMAS CAROL'
(16/124) TRENTON – A series of popular and beloved Old World Christmas events are scheduled through much of December at the Historic Village at Allaire State Park, the New Jersey State Park Service announced today.
Allaire Village, Inc., a non-profit educational and historic preservation partner of the park in Monmouth County, will sponsor Christmas Lantern Tours, a performance of the holiday classic "A Christmas Carol," an interactive program known as Christmas at Allaire, and walking tours throughout the park's Historic Village.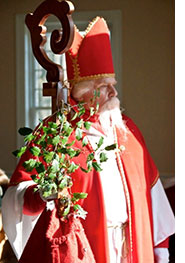 In addition, the youngest of visitors can chat with Santa Claus during the popular Christmas Express train rides throughout Allaire State Park. The New Jersey Museum of Transportation, an all-volunteer, non-profit park partner, is hosting the train rides, which include both daytime and nighttime excursions.

"Allaire State Park is an important part of New Jersey's annual holiday festivities, with activities that have become a tradition for many families," said Mark Texel, Director of the Division of Parks and Forestry. "We encourage visitors of all ages to come out and celebrate the Old World Christmas spirit at Allaire."
"Have you ever wondered where our Christmas traditions come from: why do we have a Christmas tree and why do we put ornaments on it?" said Kat Muller, Business Operations Manager at The Historic Village at Allaire. "Join the historic village in exploring the traditions around one of our favorite holidays in our village with a festive atmosphere, horse and carriage rides, St. Nicholas, walking tours, historic homes and a feeling of family."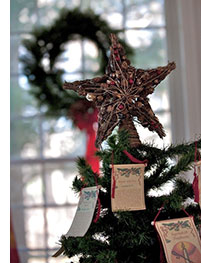 Advance tickets are highly recommended for all Allaire Village Inc. events. Walk-up tickets are more readily available for Christmas at Allaire activities. Tickets for events presented by Allaire Village Inc. can be purchased via phone at (732) 919-3500 or online at www.allairevillage.org via the Events link.
Dates and times for holiday activities at Allaire State Park this year include:
December 2
7:30-9 p.m.
A Christmas Carol: A performance of Charles Dickens' classic will take place at the Allaire Chapel, an early 19th century chapel listed on the National Register of Historic Places. Admission is $20 per person.
December 3, 9, 10, 16 and 17
5-8 p.m.
Christmas Lantern Tours: Enjoy the spirit of the season with a Christmas-inspired Lantern Tour through Allaire's Historic Village that will be reminiscent of Christmas in 1836. Experience traditional 19th century activities that include music, history and a bit of theater. Join villagers singing Christmas carols by the fire. Tours last 90 minutes and leave every 15 minutes. Lantern tours are not recommended for children younger than 5 years old because they are walking tours and strollers are not permitted in buildings. Admission is $14.50 per person.
December 3, 10 and 17
11 a.m. to 4:30 p.m. and 5:30 p.m. to 8:30 p.m.
December 4, 11 and 18
11 a.m.-4 p.m.
December 9 and 16
6 p.m.-8:30 p.m.
Christmas Express: A holiday tradition for more than 35 years, Santa Claus will ride the train along Pine Creek Railroad and talk to all children aboard. The train leaves every 30 minutes, weather permitting. Admission is $6 per person. Tickets for time- and date-specific trains must be purchased in advance at the train ticket office in Allaire State Park.
December 4 and 11
11 a.m.-4 p.m.
Christmas at Allaire: Stroll through the historic village for an opportunity to meet jolly old St. Nick and carolers, see craft demonstrations, and explore historic homes as well as the history of the holiday season. Various village activities will include storytelling, horse and wagon rides, hearth cooking and more. Visitors are encouraged to bring their stamped and addressed holiday cards to be sent from the historic post office in the General Store and receive a special Alliare stamp cancellation that showcases a historic building. Admission is $7 for adults; $5 for children under 12.
To learn more about Allaire State Park, visit: www.nj.gov/dep/parksandforests/parks/allaire.html
For the New Jersey State Parks, Forests and Historic Sites Facebook page, visit: www.facebook.com/NewJerseyStateParks
To learn more about the Historic Village at Allaire, visit: www.allairevillage.org
For more about the New Jersey Museum of Transportation, visit: www.njmt.org

Photos: Volunteer Allaire Photographers