DEP DELIVERS HOLIDAY GIFTS FOR 231 CHILDREN TO THE SALVATION ARMY IN TRENTON FOR ANNUAL SEASON OF SERVICE TOUR
THE SALVATION ARMY'S WEST CENTRAL REGION HELPS MORE THAN 1,000 FAMILIES
(16/P120) TRENTON - Department of Environmental Protection (DEP) Commissioner Bob Martin and staff delivered more than 1,000 holiday presents for 231 children at the The Salvation Army Corps in Trenton today, as part of Governor Christie's annual Season of Service campaign that helps state residents in need during the holidays.
DEP staff donated the gifts to the Salvation Army's Angel Tree program. Over the past six years, the DEP has delivered gifts for 720 children. The 231 children who were provided gifts is the most DEP has delivered in its involvement with the program, which brings new clothing or toys to children of needy families through the support of donors.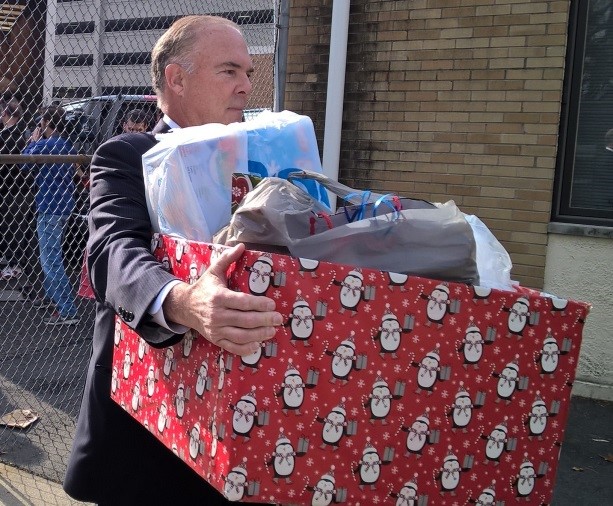 "The Salvation Army is a caring organization that serves underprivileged families in Mercer County and across New Jersey in many ways every day," said Commissioner Martin, who formerly served as the chairman of The Salvation Army Advisory Board of Greater New York. "I am proud of our very generous staff, for participating in the Angel Tree Program and understanding that the spirit of giving to those less fortunate is its own gift."
DEP contributors purchased "wish gifts'' for children. Presents included assorted toys, games, bicycles, electronics, sporting goods, as well as essentials such as clothing, diapers and bedding, plus gift cards.
The Salvation Army West Central Region serves Mercer, Hunterdon and Somerset counties, and is collecting toys and gifts for a little more than 1,000 families representing about 3,500 people through its Angel Tree effort this holiday season.
"The Salvation Army thanks the DEP and everyone who will help us make Christmas brighter for more than 3,500 people in our community this season," said Envoy Richard Pease. "Without the support of our generous neighbors, The Salvation Army would not be able to help others."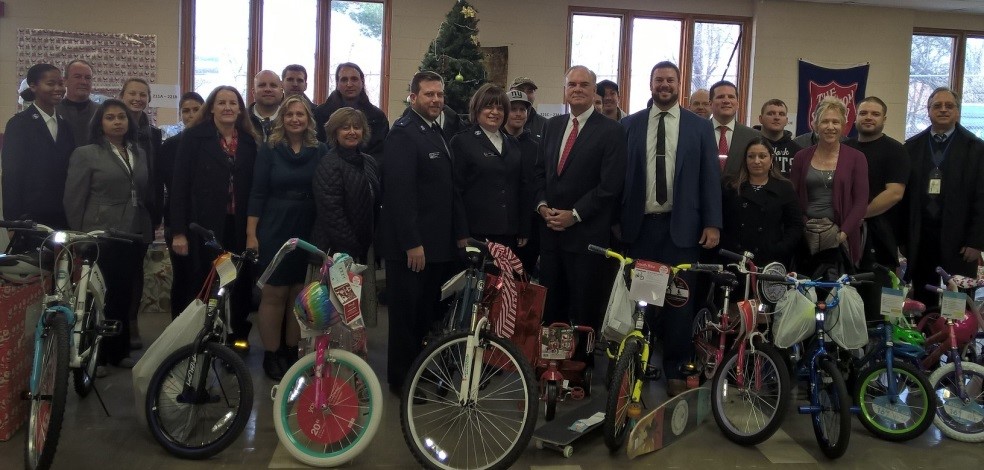 The Angel Tree program was created by the Salvation Army in 1979 by Majors Charles and Shirley White when they worked with a Lynchburg, Virginia shopping mall to provide clothing and toys for children for Christmas. The program got its name because the Whites identified the wishes of local children by writing their gift needs on greeting cards that featured pictures of angels. They placed the cards on a Christmas tree at the mall to allow shoppers to select children to help.
More than 30 million Americans receive assistance from The Salvation Army each year through the broadest array of social services that range from providing food to the hungry, relief for disaster victims, assistance for the disabled, outreach to the elderly and ill, clothing and shelter to the homeless, and opportunities for underprivileged children.
Toys will continue to be collected by The Salvation Army through next week.
To learn more about The Salvation Army's holiday efforts and to get involved, visit: www.salvationarmynj.org/westcentral
###