CHRISTIE ADMINISTRATION AWARDS MORE THAN $53 MILLION IN GRANTS FOR PROJECTS RECONNECTING PUBLIC TO PASSAIC RIVER AND NEWARK BAY COMPLEX
PROJECTS FUNDED BY POLLUTION SETTLEMENT MAY BE AMONG MOST SWEEPING EVER TO IMPROVE WATERWAY PUBLIC ACCESS
(16/P122) TRENTON – The Christie Administration is awarding more than $53 million in grants to communities within the watershed of the lower Passaic River and the Newark Bay complex to improve public access and restore wetlands ecosystems, reconnecting residents, workers and visitors to these urban waterways, Lieutenant Governor Kim Guadagno and Department of Environmental Protection Commissioner Bob Martin announced today.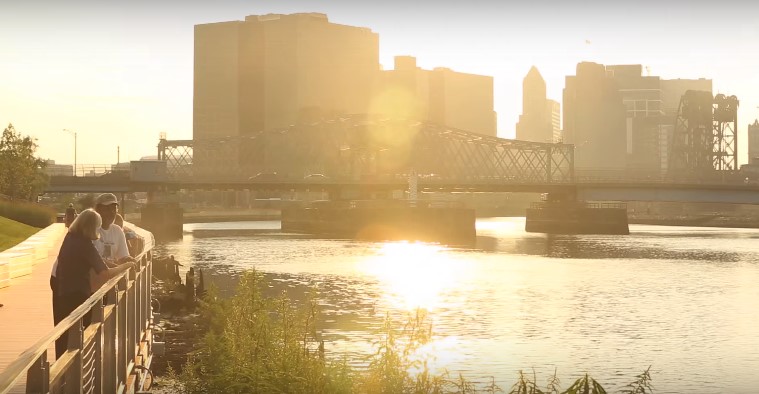 The grants are the result of a 2014 Natural Resource Damage settlement reached by the DEP and New Jersey Attorney General's Office with Occidental Chemical Corp. and other parties associated with the discharge of hazardous pollutants into the Passaic River.
Natural Resource Damage settlements compensate the public for the lost enjoyment of natural resources due to pollution. These settlements are in addition to the amount responsible parties must pay for remediating the pollution they caused.
"The Christie Administration has been committed to taking the necessary steps to ensure the remediation of the Passaic River, making sure that those responsible for the pollution pay for the cleanup, and reconnecting people to this resource," Lieutenant Governor Guadagno said during a news conference today in Newark. "The residents of communities that line the river and Newark Bay complex have a right to enjoy these waterways – and today we mark a major turning point in achieving our goals."

"Our rivers have long been lifelines of our cities, once serving as industrial highways that provided jobs and prosperity," Commissioner Martin said. "Today, they are becoming picturesque avenues for high-rises, parks and recreational amenities that improve quality of life. The Christie Administration takes great pride in making our cities better places to live, work and play. Because of this grant program, perhaps never before have we seen such sweeping public access improvements planned for the Passaic River – or for that matter – any New Jersey river at one time."

Major projects to be funded with grant money include the continued development of Newark's Riverfront Park, an Essex County boathouse that will complement Riverfront Park, a walkway along the Arthur Kill in Carteret, restoration of access to Dundee Island in Passaic City, and creation of a park and wetlands complex in Bloomfield.

The grant program is the result of a settlement agreement reached with Occidental as successor to companies responsible for polluting the river's sediments decades ago.

The grants were awarded as part of a competitive application process, with approximately $47 million earmarked for public access enhancements and an additional $6 million being provided for two projects that have wetlands restoration components.
The Newark Bay complex includes a series of waterways, including Newark Bay, that connect the lower Passaic River to Upper New York Harbor.
Grants are being awarded to:
City of Bayonne ($900,013) for expanded public access to the Newark Bay waterfront through the creation of 1,200 feet of walkways that will include recreational and educational opportunities. The project will include the creation of living shorelines, which utilize native vegetation and shellfish to naturally stabilize the banks of waterways. Part of the walkway will consist of an elevated boardwalk that will connect to a kayak access point and boat launch.
Newark Community Economic Development Corporation ($17.96 million) for expansion of Riverfront Park to include new paths and trails for walking and running. Riparian habitats, buffers and gardens will be developed for stormwater management. Recreation opportunities will be complemented by scenic overlooks oriented to urban views and "Discovery Barges" that will connect users to various aspects of the river's cultural and natural history.
Borough of Carteret ($6.58 million) for development of the second and third phases of the Carteret Waterfront Marina along the Arthur Kill. The second phase involves construction of floating docks, boat slips, a system to lessen the impacts of waves, breakwater construction and installation of a wave screen along the existing steel pier. The third phase will work with the Port Authority of New York and New Jersey to improve parking facilities and other marina amenities.
Borough of Carteret ($6.67 million) for construction of a 1.4-mile walkway along the Arthur Kill, to be constructed in two sections. The southern section will feature a pedestrian bridge and possible overlooks and decks, bike racks and pier access. The northern sections will feature new landscaping.
Passaic County and City of Passaic ($5 million) to work with the nonprofit Trust for Public Land to restore public access to the Passaic River waterfront at Dundee Island in Passaic City. The project is the first phase of a larger four-part vision for restoring contiguous access to the river.
Essex County ($5 million) proposes construction of a boathouse, boat launch and dock as an extension to Newark's Riverfront Park. The boathouse will have capacity for up to 100 boats. A second level will be available to provide indoor amenities and concession space.
City of Hackensack ($695,000) plans several phases of improvements to Johnson Park, with the first phase to include construction of a kayak dock and launch system, boat ramp and launch, and passive park along the Hackensack River. A 110-space parking lot and access road across from River Street will make it easier for the public to enjoy these amenities.
City of Garfield ($1.73 million) to acquire four properties along River Drive for development of a river walk that will include a park, playground, gazebo, decorative lighting and bike trails.
Town of Harrison ($1.8 million) for acquisition of a 6.7-acre site to create and enhance public access and enjoyment of the Passaic River waterfront.
Middlesex County ($1.35 million) to construct a waterfront park and esplanade adjacent to Washington Street in Perth Amboy. The project proposal includes more than 700 feet of walkway and new athletic fields on an 8.8-acre brownfield site bordering the lower Arthur Kill.
Town of Harrison ($3 million) for development of a 12.5-acre park along the Passaic River that will include fitness stations, dog park, overlooks, food truck plaza, sports fields and wetland creation. Signs will provide educational information on the ecology of the waterfront and creation of wetlands.
Bloomfield Township ($3 million) for converting a flood-prone brownfield site near the Passaic River into an 18-acre municipal park that will include stream corridor enhancement through removal of invasive species and construction of freshwater wetlands. In addition, a municipal park will be developed that will feature a meadow, butterfly garden, arbor, environmental center, river access and youth soccer field.
The Passaic River was vital to the region's economy for more than 100 years, attracting thousands of jobs and creating prosperity, but also leaving a legacy of pollution. Today, due to many years of efforts – including cleaning up past contamination and preserving parks and other open space – cities are being renewed and experiencing economic growth, much of which is occurring along waterfronts.

The sediments in the Passaic River and Newark Bay complex were contaminated decades ago by persistent pollutants such as pesticides, metals, PCBs, and dioxins from the production of the Vietnam War-era defoliant Agent Orange.

In partnership with the DEP, the federal Environmental Protection Agency has launched a $1.4 billion remediation of the most heavily polluted area of the lower Passaic River, an 8.3-mile stretch that includes removing 3.5 million cubic yards of contaminated sediments to out-of-state facilities as well as bank-to-bank capping.

In 2014, Superior Court in Essex County approved a $190 million settlement resolving Occidental's liability for contamination of the river as successor to Diamond Shamrock Chemicals Company, which discharged dioxins and other hazardous substances into the river from its Lister Avenue plant in Newark, where it manufactured Agent Orange. As part of this settlement, Occidental agreed to $50 million in watershed enhancement projects.

The additional funding is coming from other Natural Resource Damage settlements the DEP has negotiated. Grant awardees are required to provide matching funds. The DEP is evaluating additional projects for grant eligibility.

For more on Natural Resource Restoration projects in New Jersey, visit: www.nj.gov/dep/nrr/
For more information on Newark's Riverfront Park, visit: www.nj.gov/dep/newsrel/2016/16_0094.htm
PHOTO/Newark Riverfront Park, Trust for Public Land
###