DEP TEAMS WITH CITY OF TRENTON FOR YOUTH FISHING DERBY ON SATURDAY, JUNE 3
REGISTRATION BEING ACCEPTED FOR FAMILY-FRIENDLY EVENT AT STACY PARK
(17/P46) TRENTON – Registrations are being accepted for a fishing competition at the Youth Fishing Derby, to be held on Saturday, June 3 at Stacy Park.
The free event will take place from 9 a.m. to 1:30 p.m., and is co-sponsored by the Department of Environmental Protection and the City of Trenton. The derby will be held rain or shine. Stacy Park is in Trenton, located off Riverside Drive and accessible from Lee Road, just off Route 29.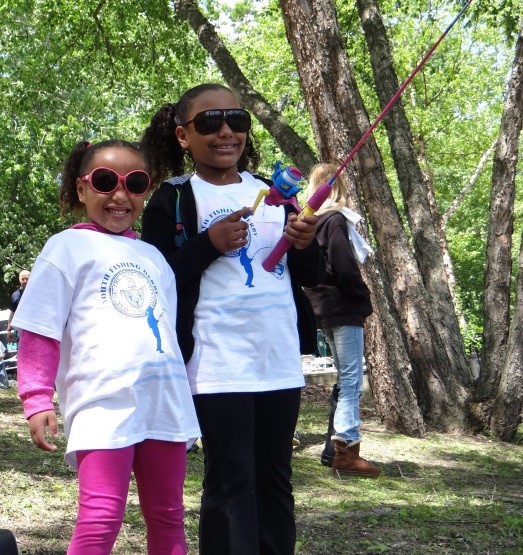 The first 100 registrants, from Grades 2 through 8, may compete in the fishing derby competition. Trophies will be presented for catching the first fish, largest fish, smallest fish and other categories. An awards ceremony will be held at the conclusion of the fishing derby to honor all winners.
"The Youth Fishing Derby is an enjoyable family event that engages children in recreational fishing while also encouraging education about water resources," DEP Commissioner Bob Martin said. "It is a joy to see kids participating in such a fun activity, and this is a wonderful opportunity for all parents and guardians to give their children an experience to remember."
"The Youth Fishing Derby is a wonderful family-friendly event," said Trenton Mayor Eric Jackson. "It is an opportunity for parents to introduce their children to a fun recreational activity and for everyone to learn about the importance of watersheds to our planet's ecosystem."

In addition to the fishing derby, the day will offer several interactive demonstrations and displays to educate participants about recreational fishing, water quality, aquatic plants and animals. Educational stations will be provided by several local organizations and agencies.

DEP's educational activities will be provided by the Division of Fish and Wildlife's Hackettstown Hatchery and Hooked On Fishing - Not On Drugs Program, the Urban Fishing Program, the Bureau of Freshwater and Biological Monitoring, Delaware and Raritan Canal State Park, and the New Jersey AmeriCorps Watershed Ambassadors Program.

All registered children will receive a certificate recognizing their participation in the fishing derby. The "catch and release" approach will be utilized, although ice and plastic bags will be available if a child prefers to take home a legal-sized catch. Bass and bluegill are among species of fish in the lake where the derby will be held. Free snacks and drinks also will be available for participating children.

Derby participants are encouraged to bring rain gear in case of inclement weather. Sunglasses, headwear, sunscreen and additional water and snacks are also encouraged for hot weather.

Parents and guardians are required to chaperone their children during the derby. They may fish with their children once the derby is finished, but must have a current fishing license to do so. Children do not need a fishing license.
To learn more about the derby and to preregister, go to www.nj.gov/dep/seeds/fishingderby.htm

###