DEP TO CELEBRATE NATIONAL MARINA DAY WITH JUNE 10 RIBBON CUTTING
FOR NEW OFFICE AT LEONARDO STATE MARINA IN MONMOUTH COUNTY
NEW FACILITY REPLACES STRUCTURE DAMAGED DURING HURRICANE SANDY, OFFERS MORE AMENITIES FOR VISITORS
(17/P60) TRENTON – Officials from the Department of Environmental Protection will join with boaters, local officials and summer visitors to celebrate National Marina Day on Saturday, June 10 by cutting the ribbon on the new office at Leonardo State Marina in Middletown Township, Monmouth County.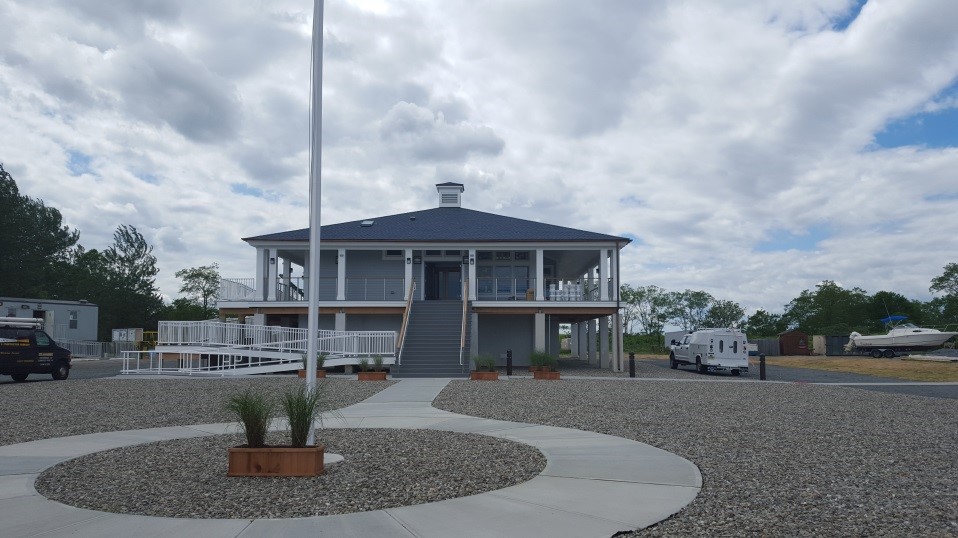 The 10:30 a.m. ceremony is the centerpiece of a day-long celebration of the marina and its many attractions which will feature kayak tours, child-friendly activities, craft vendors and food vendors.
"Leonardo State Marina shows the benefit that such facilities provide, not only to boaters and anglers, but to the community as well," said Richard Boornazian, DEP Assistant Commissioner, Natural and Historic Resources. "The many programs run here by Park Service staff and the attractions that this facility provides help enrich the entire bayside region."

The 17-acre facility on the shores of Sandy Hook Bay provides 176 berths for boaters and water and electricity hookups close to the bay entrance. In addition, the non-profit Conserve Wildlife Foundation of New Jersey offers nature and water-related educational programs for young people during summer at the marina

The festival Saturday will host a number of attractions to introduce many to the marina. Free kayak tours will be available from 10 a.m. to 1 p.m., during which visitors can take a guided tour or just paddle around in a kayak for the first time. Free activities for children include a Hooked On Fishing Not On Drugs Youth Fishing tournament from 10 a.m. to 2 p.m., and a sand castle-building contest from 11 a.m. to 12:30 p.m. Crafts, games and photo cutouts will be available in a kids corner.
Also, craft vendors will be on site along with community non-profits and neighboring agency tables. Members with several local fire and police departments, the Coast Guard and local Coast Guard Auxiliary, will be at the marina with equipment to discuss boating safety, as well as general safeguards to take along New Jersey's waterways.
National Marina Day is a nationwide boating event dedicated to growing boating participation across North America. Marine businesses collaborate to hold events to introduce the public to boating through on-water and landside activities at marinas across the country. For more about National Marina Day, visit: https://nationalmarinaday.org/
Leonardo State Marina is one of the state's six marinas including Liberty Landing Marina near Liberty State Park in Jersey City, Hudson County; Forked River Marina in Forked River, Ocean County; Island Beach Marina in Seaside Park, Ocean County; Fortescue Marina in Downe Township, Cumberland County; and the Senator Frank S. Farley Marina in Atlantic City, Atlantic County. For more on the marinas. visit: www.nj.gov/dep/parksandforests/parks/marinas.html
To learn more about the many educational programs at the Leonardo Marina and additional events across the state offered by the Conserve Wildlife Foundation of New Jersey, visit: www.conservewildlifenj.org
Marinas are just one type of outdoor and recreational facility within the State Park Service system. To find a park or activity near you, visit: www.nj.gov/dep/parksandforests/parks/parkindex.html or follow the State Park Service on Facebook at www.facebook.com/NewJerseyStateParks
For a directory of state mobile apps for Apple and Android phones, visit: www.nj.gov/nj/home/mobile_app.html
###