ALL MUNICIPAL, COUNTY, FEDERAL AND PRIVATELY OPERATED
LIFEGUARDED BEACHES IN NEW JERSEY ARE OPEN FOR SWIMMING
(17/P71) TRENTON –The Department of Environmental Protection is reminding New Jersey residents and visitors that all lifeguarded ocean and bay beaches along the Atlantic Coast are currently open, except for state-operated beaches at Island Beach State Park in Berkeley Township and Corson's Inlet in Ocean City, due to the current shutdown of state government.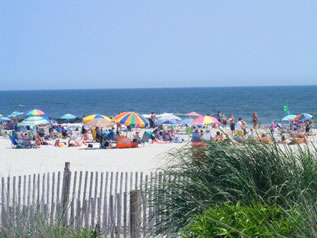 There are also no current closures or advisories among the 211 bay and ocean beaches sampled along the Jersey Shore for marine water quality.
Routine water quality samples will be collected at all ocean and bay monitoring stations on Wednesday, July 5. Coastal surveillance flights, which typically operate six days a week from mid-May to mid-September, weather permitting, will continue on Wednesday, as well.
The DEP coordinates the Cooperative Coastal Monitoring Program (CCMP), a joint state and local partnership that routinely tests water quality at some 180 ocean beaches as well as 35 bay and river beaches across the state throughout the season.
New Jersey's monitored ocean and bay beaches were open 99.9 percent of the time last season, ranking the state among the nation's leaders in coastal water quality.
Under the Coastal Cooperative Monitoring Program, New Jersey requires that bacteria not exceed 104 colonies of Enterococci bacteria per 100 milliliters of sample. Any initial sample that exceeds the state standard requires that the local health agency issue a swimming advisory.
Beaches are closed if sampling the next day at the impacted beach continues to exceed the standard. Closings remain in effect until subsequent sampling indicates levels again meet the standard.

Advisories and closings are rare, generally occurring after heavy rainstorms that can carry bacteria in wastes from animals such as gulls, geese and other birds into affected waters. Bay and river beaches that do not have good natural circulation are more likely to experience closures.
Visitors can get up-to-date information on water quality by visiting www.njbeaches.org. The public can use this website to view and download water quality data and find out if there are any alerts at beaches. The website also includes access to a variety of reports, information about recent research, and shore-related links. To follow the flight path of the coastal surveillance plane and its observations, visit: http://njdep.rutgers.edu/aircraft/
###