DEP, U.S. ARMY CORPS OF ENGINEERS TO BREAK GROUND SEPTEMBER 22
ON PROJECT TO DAYLIGHT PORTION OF ASSUNPINK CREEK IN TRENTON
RESTORATION PROJECT WILL RESTORE STREAM CHANNEL TO NATURAL CONDITIONS
(17/P91) TRENTON – The U.S. Army Corps of Engineers, in a project partnership with the Christie Administration and Trenton, will kick off a project September 22 to remove a section of culvert that carries part of the Lower Assunpink Creek under a portion of downtown Trenton, Department of Environmental Protection Commissioner Bob Martin announced today.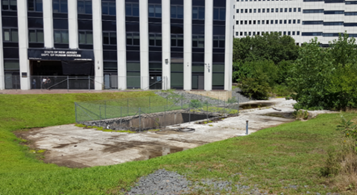 Removing the nearly 500-foot section of box culvert will have the effect of "daylighting" the creek, meaning that a portion of the waterway will no longer run underground. The project will stabilize and naturally align the daylighted creek with river stone, boulders and other materials; improve fish migration from the Delaware River; and create two new acres of open space for passive recreation.
"DEP is pleased to partner with the U.S. Army Corps of Engineers and the City of Trenton on this project, which will be a great addition for the capital city," Commissioner Martin said. "The open channel design of this project will enhance the community, greatly improve environmental conditions, and give residents and visitors a scenic area that will better connect them to the Assunpink Creek."
The Assunpink Creek was channeled into the existing culvert, and covered, in the late 1970s to make room for future redevelopment projects that ultimately never came to fruition. In addition to the aesthetic improvements, removal of the deteriorating culvert will also eliminate a public safety hazard. The culvert roof has failed on at least two occasions.
The long-anticipated $8 million project, for which a $4.7 million contract was awarded in August, has experienced a number of setbacks over the years, from technical challenges to a critical funding gap that DEP learned of approximately a year ago. Since then, DEP's Community Collaborative Initiative (CCI) program, which works on redevelopment projects in Trenton, Camden and Perth Amboy, brought the project partners back to the negotiating table and helped put funding mechanisms in place to move the project forward.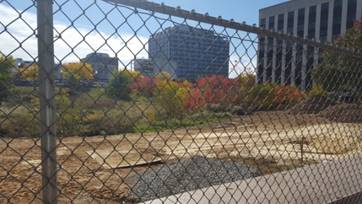 "DEP's Community Collaborative Initiative is successful with these types of projects because we pair a single point of contact from within DEP with cities to offer environmental expertise in transforming properties that have languished for myriad reasons," said Lou Valente, who oversees CCI and advises Commissioner Martin on projects. "The Assunpink Daylighting project has been in the planning for more than a decade, and we are thrilled that CCI was able to step in and get it back on track."
Daylighting the stream has important implications for Trenton, Mayor Eric Jackson said.
"This project is important for Trenton because it will enhance the downtown, improve the quality of life for our residents and visitors, and help attract economic development," Mayor Jackson said. "It also creates two new acres of open space, which is a wonderful addition for our residents and visitors who can enjoy the outdoors in this newly improved area."
The successful bid was submitted by Boston-based Charter Contracting Company, LLC. Construction is expected to begin in the fall.
"This project is designed to improve the aquatic ecosystem and connect the downstream and upstream portions of the creek," said Army Corps project manager Erik Rourke. "It will also result in an enhanced recreational space for the community to enjoy."
The Army Corps will fund 75 percent of the project under a cost-sharing arrangement with Trenton. DEP is providing the remaining 25 percent funding to the city in support of the project through its 319(h) federal Clean Water Act grant program and from monies collected under the Natural Resource Damages program.

For an overview of the Lower Assunpink Creek restoration project, visit: www.nap.usace.army.mil/Missions/Civil-Works/Lower-Assunpink-Creek-Ecosystem-Restoration/
For information about the work of DEP's Community Collaborative Initiative, which works on redevelopment projects in Trenton, Camden and Perth Amboy, visit:www.nj.gov/dep/cci