CHRISTIE ADMINISTRATION TAKES ACTION TO ENHANCE PROTECTION OF NEW JERSEY'S DRINKING WATER
DEPARTMENT OF ENVIRONMENTAL PROTECTION MOVING FORWARD WITH SCIENCE-BASED HEALTH STANDARDS FOR PFOA AND PFNA
(17/P104) TRENTON – The Christie Administration is enhancing protection of the state's drinking water by moving forward with stringent standards for two chemicals that are persistent in the environment and have been linked to various health concerns, Department of Environmental Protection Commissioner Bob Martin announced during a news conference today.
New Jersey will become the first state to set formal Maximum Contaminant Levels (MCLs) requiring statewide testing of public drinking water systems for perfluorooctoanic acid (PFOA) and perfluorononanoic acid (PFNA).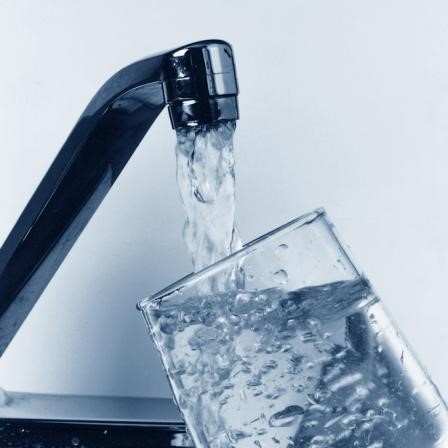 "The Christie Administration remains steadfast in its commitment to protecting our drinking water," Commissioner Martin said during a news conference at New Jersey American Water's headquarters in Voorhees, Camden County. "Setting protective standards for these contaminants continues New Jersey's long tradition of being a national leader in using strong science to ensure residents receive the highest quality drinking water."
The DEP has accepted the New Jersey Drinking Water Quality Institute's recommended drinking water standard of 14 parts per trillion for PFOA, Commissioner Martin announced. The DEP has also formally proposed a standard of 13 parts per trillion for PFNA, also recommended by the Drinking Water Quality Institute, a panel comprised of the state's leading drinking water experts.
PFOA and PFNA belong to a group of chemicals called per- and polyfluoroalkyl substances (PFASs). Some PFASs, including PFOA and PFNA, do not break down readily in the environment and remain in the body for a long time once absorbed through drinking or eating.
While scientists continue to study the health effects of other types of PFASs, a growing body of studies suggests PFOA and PFNA may impact liver and immune system function, increase blood cholesterol levels, and cause delays in growth and development of fetuses and infants. PFOA may also increase the risk of certain types of cancer.
"The Drinking Water Quality Institute has worked to develop recommendations that will protect the citizens of New Jersey from these contaminants based on the scientific literature, as well as on detection and treatment strategies that are available," said Drinking Water Quality Institute Chairman Dr. Keith Cooper.
Over the years, New Jersey's water systems have cooperated in testing for chemicals such as PFOA and PFNA, which are classified as contaminants of emerging concern but are not regulated by MCLs. The adoption of formal MCLs will require water companies and utilities to monitor routinely and take corrective actions, such as installing treatment systems, if warranted.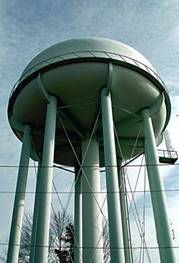 Since 2007, New Jersey has implemented an advisory, or guidance, level of 40 parts per trillion for PFOA in drinking water. Twelve public water systems have detected PFOA at concentrations above that level in recent years. These systems have taken a variety of actions to address the contamination, including installing treatment systems, increasing monitoring and taking wells out of service.
New Jersey American, for example, installed treatment systems at its Hummocks Station Plant in Union Township, Union County; at its Birch Creek treatment plant in Logan Township, Gloucester County; and at its Ranney treatment plant in Penns Grove, Salem County.
"New Jersey American, as the state's largest investor-owned water utility, has always taken its responsibilities in providing safe drinking water to its customers very seriously, and demonstrated this again in its proactive response to detections of PFOA in limited parts of its distribution system," said Michele Putnam, DEP's Acting Assistant Commissioner for Water Resources Management.
PFOA was used in a wide variety of consumer products and industrial applications, including the manufacture of nonstick cookware and food packaging. It was also used to make upholstered furniture, carpets, and clothing resistant to soil, stains, and water, as well as to make shoes, clothes, and mattresses water resistant.
A study conducted by the DEP in 2006 found PFOA present at very low levels in a majority of the public water systems that were tested. New Jersey was the first state to conduct such a statewide study and it resulted in the DEP setting a guidance level for water systems to follow.
New Jersey started looking at PFOA following reports of elevated levels of the chemical in drinking water sources adjacent to a DuPont facility in Parkersburg, West Virginia, that used the chemical.
DEP and the U.S. Environmental Protection Agency then focused investigation efforts in Salem County communities adjacent to the DuPont Chambers Works plant, along the Delaware River in Pennsville. This expanded into broader statewide DEP investigations of PFOA, PFNA, and related chemicals in water supplies.
Under the oversight of EPA and DEP, the Chemours Company, DuPont's successor, is installing a containment wall to prevent the spread of contamination of PFOA and other chemicals from groundwater to the river, augmenting a pump-and-treat system that has been in operation for many years.
The company has installed Point of Entry Treatment Systems (POETS) on dozens of impacted off-site private wells in the area. Operators of affected public municipal wells have also taken steps to protect their supplies.
Under the direction of EPA and DEP, Chemours has expanded the investigation of potentially impacted wells in a radius up to 2 ½ miles from the plant to determine potential impacts from possible deposition of PFOA and other per- and polyfluoroalkyl substances from airborne emissions.
The state has an interim-specific ground water quality criterion of 10 parts per trillion in place to guide remediation of wells contaminated with PFNA. The DEP has also worked closely with communities in Gloucester and Salem counties that have had to add treatment systems or switch to deeper and more protected wells because of contamination. The state, however, does not have a drinking water guidance level for PFNA.
Like PFOA, PFNA is extremely persistent in the environment. PFNA was used as a processing aid in the manufacture of high-performance plastics that are resistant to harsh chemicals and high temperatures.
PFNA above the recommended MCL level has been detected in 11 public water systems and some private wells in Gloucester and Salem counties near the Delaware River. Solvay Polymers used PFNA at its West Deptford facility until 2010. The company is delineating the extent of offsite groundwater contamination.
Under the direction of DEP, Solvay added a system to treat contaminated groundwater on its property and paid for installation of a treatment system at a public supply well in neighboring Paulsboro. Other municipal wells that have been impacted have been shut down, with utilities drawing replacement water from deeper, more protected sources. The DEP has also installed POETS at more than 30 affected private wells.
Various types of PFASs, including PFOA, have also been used in foams used for firefighting and training, particularly in specialized firefighting foams at airports and military bases. The DEP and Drinking Water Quality Institute are developing a health-based standard for perfluorooctane sulfonate (PFOS), another of the chemicals found frequently in these foams.
DEP is working with EPA, the Department of Defense, and the Federal Aviation Administration on investigations and remediation activities related to PFAS contamination from firefighting foams, notably at Joint Base McGuire-Dix-Lakehurst in Burlington and Ocean counties and the FAA Technical Center in Atlantic County. Contamination resulted largely from training exercises.
For more information, including health effects information and Drinking Water Quality Institute recommendations, visit: www.nj.gov/dep/watersupply/g_boards_dwqi.html
For detailed information on the DEP's Aug. 7 Maximum Contaminant Level rule proposal for PFNA, visit: www.nj.gov/dep/rules/notices/20170807b.html
###