POPULAR ANNUAL VICTORIAN CHRISTMAS, HOLIDAY OPEN HOUSE EVENTS
SCHEDULED AT RINGWOOD STATE PARK IN PASSAIC COUNTY
OPEN HOUSE HIGHLIGHTS GILDED-AGE ELEGANCE OF HOLIDAY DECORATIONS, OFFERS SCAVENGER HUNTS FOR CHILDREN
(17/P114) TRENTON – The elegance of the Gilded Age and the magic of Christmas will be showcased in December during annual holiday events at Ringwood Manor and Skylands Manor, both in Ringwood State Park, the New Jersey State Park Service announced.
The 42nd Annual Victorian Christmas at Ringwood Manor will be decorated in Gilded Age elegance for two weekends in December. In addition, Skylands Manor will host the 29th Annual New Jersey Botanical Garden Holiday Open House for individuals and groups, as well as an evening reception offering champagne and leisurely strolls of the grounds. This year's open house theme is "A Magical Holiday."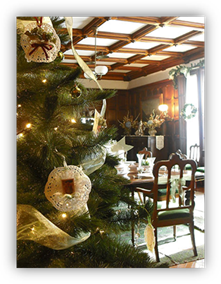 "The beauty and magical spirit of the season will be on full display for the annual Victorian Christmas and Holiday Open House events at Ringwood State Park, both of which are extremely popular events for our visitors," said Mark Texel, Director of the Division of Parks and Forestry. "These activities are a great way to usher in the season and inspire people on how to showcase an elegant Christmas in their own homes."
Ringwood Manor is listed on the National Register of Historic Places. The stunning 19th century house that was home to well-known ironmasters in the 19th and 20th centuries sits on a low hill that overlooks a rustic landscape, making it an ideal spot to visit during the holidays and winter.
Skylands Manor is a 44-room mansion constructed in the 1920s to mimic the English Jacobean architecture common in the English countryside 400 years ago. The mansion is within the 96-acre New Jersey Botanical Garden, which is part of Ringwood State Park.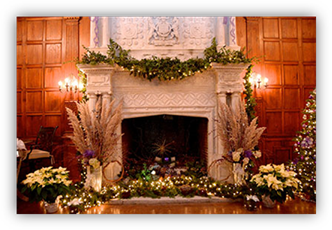 "The Victorian Christmas event has become an annual tradition for families to come together and tour the beautifully decorated Ringwood Manor, putting everyone in the holiday spirit," said Sue Shutte, Historian for Ringwood State Park. "Victorian Christmas whisks visitors back in time to experience the warmth and beauty of the holiday sseason here at historic Ringwood Manor."
The decorating theme at Skylands Manor changes annually. Volunteers from northern New Jersey garden clubs, Master Gardener programs, local companies and New Jersey Botanical Garden members decorate each of the manor's individual rooms, from floor to ceiling. Visitors may also stop by a gift shop and holiday café at the manor.
In addition to these events, visitors may consider attending an evening reception.
42nd Annual Victorian Christmas, Ringwood Manor
December 2, 3, 9 and 10
11 a.m. to 5 p.m.
Fee: $8 adults, $6 seniors, $3 children ages 6 to 12. Tickets may be purchased at the door.
(973) 9762-2240
Sponsors: Women's Club of West Milford, the North Jersey Highlands Historical Society and the Ringwood Manor Association of the Arts
29th Annual Holiday Open House, Skylands Manor
Through December 3
10 a.m. to 4 p.m. daily
Fee: $10 adults, $8 seniors, $5 children ages 6-12, free for children age 5 and younger.
Sponsor: New Jersey Botanical Garden and Skylands Association
Evening Reception, Skylands Manor
December 2
6 to 8 p.m.
Fee: $40 for New Jersey Botanical Garden members, $45 for guests and nonmembers
Sponsor: New Jersey Botanical Garden and Skylands Association
To learn more about the 2017 Victorian Christmas at Ringwood Manor, visit: http://www.ringwoodmanor.org/victorian-christmas.html
For more about "A Magical Holiday" at Skylands Manor, visit: http://www.njbg.org/tickets-hoh.shtml
For more about Ringwood State Park, visit: www.nj.gov/dep/parksandforests/parks/ringwood.html#sky
To learn more about New Jersey's Parks, Forests and Historic Sites, visit: www.nj.gov/dep/parksandforests/
Like the New Jersey Division of Parks and Forestry page on Facebook: www.facebook.com/newjerseystateparks
Follow the New Jersey State Park Service on Instagram @newjerseystateparks