ACTING COMMISSIONER MCCABE LEADS THOUSANDS OF VOLUNTEERS
IN BARNEGAT BAY BLITZ, RAISING AWARENESS OF NATURAL TREASURE
(18/P049) TRENTON –Department of Environmental Protection Acting Commissioner Catherine R. McCabe today is spearheading the annual Barnegat Bay Blitz, leading thousands of volunteers, many of them students, in the watershed-wide cleanup that draws attention to the ecologically fragile bay and encourages others to help protect it.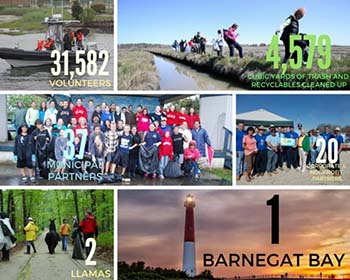 "Barnegat Bay is a unique natural resource and a source of pride for residents of the region, the state and all who visit the area," Acting Commissioner McCabe said during kickoff ceremonies at the Barnegat Municipal Dock. "The passion for protecting the bay and its watershed is contagious, and the enthusiasm shown by the young people taking part is especially inspiring."
Over the years, nearly 32,000 volunteers have collected some 4,600 cubic yards of trash, recyclables and debris from areas within the watershed, including wetlands, forests, parks, storm drains, docks and creeks and the bay itself.
Items collected in the past have ranged from typical trash such as bottles, paper and cardboard to electronic devices such as TVs, and even large pieces of debris from Superstorm Sandy. Cleanups have even uniquely used the services of llamas to haul away trash.
"Removing these items from the bay's ecosystems helps protect water quality and the fish and wildlife that depend on the bay's habitats," Acting Commissioner McCabe said. "Equally important, the Barnegat Bay Blitz unites people with many different backgrounds in doing something immensely important for this resource and motivating others to emulate them."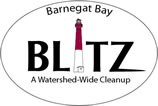 The 660-square-mile Barnegat Bay watershed includes all or parts of 37 municipalities in Ocean and Monmouth counties. A study by the University of Delaware for the nonprofit Barnegat Bay Partnership estimates that the watershed and activities related to its natural resources contribute more than $4 billion to the state's economy each year and either directly or indirectly support more than 60,000 jobs.
Following opening ceremonies, teams led by captains – many of them DEP employees – dispersed across the watershed to clean up wetlands, stream banks, stormwater discharge points, schools, trails, docks, areas around bulkheads and bay shorelines. A captain and team are assigned to each municipality in the watershed.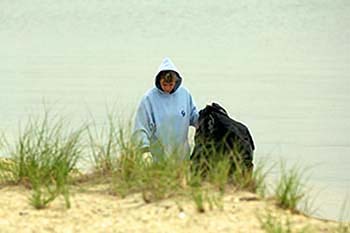 Some 42 miles long, Barnegat Bay is shallow and in many places narrow. Because it has limited flow to the ocean, the bay is susceptible to the impacts of stormwater runoff and accumulations of trash and debris along its shorelines and in its wetlands. Removal of trash is important to prevent these materials from degrading the bay's ecological and scenic values.
Stormwater carries other pollutants such as common lawn fertilizers, automotive fluids and silt that degrade wildlife habitat and water quality in the bay and its tributaries. Trash collected today is being turned over to local public works departments for proper disposal.
Each year the Blitz features a Rain Barrel Challenge in which students compete for creating the best-painted rain barrel. Rain barrels help capture rainwater that can be used around the home or business for watering plants and landscaping, helping to reduce stormwater runoff.
Blitz sponsors include New Jersey Clean Communities, the New Jersey Infrastructure Bank (formerly the New Jersey Environmental Infrastructure Trust), the Barnegat Bay Partnership, Wawa, Waste Management, TowBoat US, New Jersey Natural Gas, Ocean Spray, SUEZ Water, Ocean County government, PS&S, Firestone, the Conserve Wildlife Foundation of New Jersey, ReClam the Bay, AmeriCorps-New Jersey Watershed Ambassadors and the U.S. Coast Guard.
As part of its commitment to Barnegat Bay's restoration, the DEP recently announced a $10 million program making grants available to nonprofit groups, government agencies and state colleges and universities to improve water quality.
For more information on the Barnegat Bay Blitz, click on the logo above or visit: www.nj.gov/dep/barnegatbay/bbblitz.htm
###