STATEMENT FROM CATHERINE R. MCCABE UPON BEING SWORN IN AS DEPARTMENT OF
ENVIRONMENTAL PROTECTION COMMISSIONER
(18/P054) TRENTON – Department of Environmental Protection Commissioner Catherine R. McCabe released the following statement upon being sworn in today: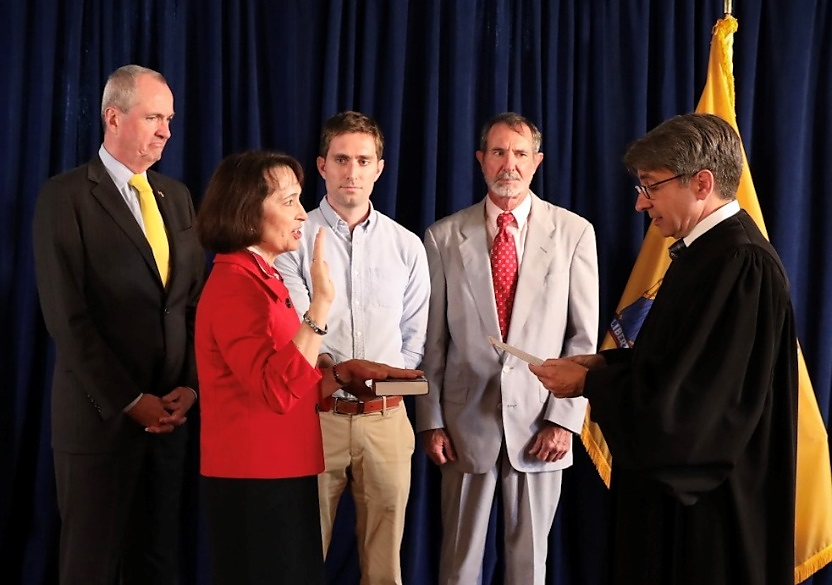 "I am honored and grateful to Governor Murphy for giving me this opportunity to lead the Department of Environmental Protection in protecting the quality of our air, water, land and historic and natural resources for all New Jersey residents. I am equally grateful for the talented, experienced and knowledgeable DEP professionals who serve the public every day with such tireless dedication. All of us at the DEP take our responsibilities for protecting resources and public health very seriously.
"The scope and diversity of this agency are truly amazing. We are already moving in the right direction in so many important areas. We are acting swiftly to address climate change by moving New Jersey towards a clean energy future and building our coastal resiliency, as well as taking strong steps to protect the quality of our air and drinking water. We are working hard to improve the quality of life in our cities through brownfield redevelopment and creation of urban parks. Contaminated sites are getting cleaned up thoroughly and in a timely manner. We are preserving ecologically fragile lands and wildlife habitats for future generations. And we are working smarter to conserve resources through innovative sustainability practices.
"But this is just the beginning. We have a lot of work ahead of us. As we move forward, we will always be driven by our commitment to carrying out the law and using the best available science – and we will be equally driven by our shared mission of doing what's right for New Jersey and all of its people. It is our shared social responsibility."
###