DEP CELEBRATES AMERICORPS WEEK WITH WATERSHED AMBASSADOR-SPONSORED
EVENTS HIGHLIGHTING WATER QUALITY STEWARDSHIP
(19/P015) TRENTON – Protecting water quality is the focus of several events next week by New Jersey's AmeriCorps Watershed Ambassadors Program to educate the public about environmental stewardship.
The events scheduled during national AmeriCorps Week starting Sunday, March 10 and continuing through Saturday, March 16, bring together current AmeriCorps members and alumni to share their commitment to environmental stewardship with a new generation of volunteers.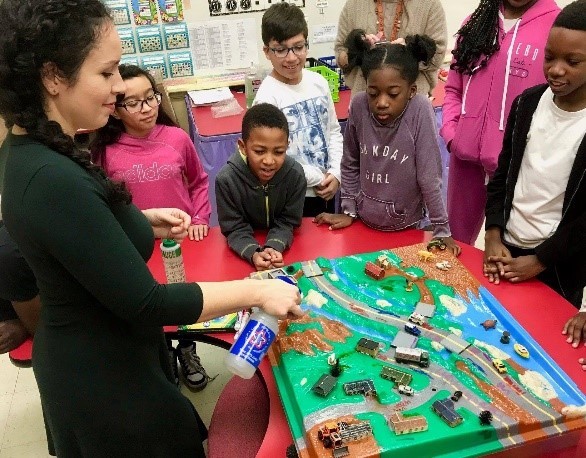 "AmeriCorps Week is an opportunity to highlight the ways in which the work of the Watershed Ambassadors has transformed lives and communities," said Assistant Commissioner for Water Resource Management Michele Putnam. "Through their promotion of environmental education and stewardship efforts in New Jersey's communities, the Ambassadors seek to inspire all whom they encounter to protect water quality for future generations."
The DEP's Watershed Ambassadors Program, now in its 19th year, focuses primarily on environmental stewardship and education to raise awareness about water-quality and watershed issues. The program connects Watershed Ambassadors with partners in each of New Jersey's 20 watershed management areas.
AmeriCorps, also known as the domestic Peace Corps, is a national service initiative that began in the early 1990s. Nationwide, 80,000 AmeriCorps members engage with the communities they serve to address a variety of issues in addition to environmental stewardship.
Among the events Ambassadors have planned around the state to help promote environmental stewardship efforts in New Jersey and ways to improve water quality:
Sunday, March 10: Dune grass planting at Island Beach State Park, Ocean County.
Friday, March 15: Rain Barrel Workshop at Echo Hill Lodge, Lebanon Township, Hunterdon County.
Saturday, March 16: Delaware Township towpath cleanup, Bulls Island Recreation Area.
Saturday, March 16: Rain barrel workshop, Atlantic County Utilities Authority, Egg Harbor Township.
March 16: The 28th Annual Trash Hunt, Cumberland County Improvement Authority, Millville.
Saturday, March 16: New Jersey Audubon rain barrel workshop at Scherman Hoffman Wildlife Sanctuary in Bernardsville, Somerset County.
The New Jersey Watershed Ambassadors Program also continues its multi-regional tree-planting project known as "Green the Scene," a Roots for Rivers funded partnership with The Nature Conservancy. This year, Ambassadors will restore floodplains, riparian buffer zones, and provide stability to New Jersey streams by working with volunteer stewards to plant an estimated 4,000 trees and shrubs statewide. Volunteers are needed. For event information, visit the New Jersey Watershed Ambassadors Facebook page at www.facebook.com/NJWAP/.
In coordination with The Partnership for the Delaware Estuary, the New Jersey Watershed Ambassadors also have been planning The South Jersey Scrub, a large-scale cleanup effort scheduled April 6-14, at locations between Trenton and Cape May. Ambassadors have planned cleanups with local partners such as environmental commissions, green teams and municipalities. For more information, visit www.sjscrub.org.
"There are tremendous benefits in running a program like the AmeriCorps New Jersey Watershed Ambassadors," said DEP Water Monitoring and Standards Division Director Bruce Friedman. "The enthusiastic attitude that the Ambassadors bring to communities each year is invigorating. What they accomplish independently and as a group is remarkable. Not only are we growing the next generation of environmental leaders, but they are producing tangible results that improve New Jersey's awareness of environmental issues while improving water quality."
Watershed Ambassadors serve full time, completing 1,700 hours of service over 10 months. The program starts with two weeks of intensive training in September. Members graduate the following July.
Created in 1993, AmeriCorps is a part of the Corporation for National and Community Service, which engages more than 2 million Americans of all ages and backgrounds in service each year. Nationally, AmeriCorps members help disaster-stricken areas recover; develop affordable housing units for those living in poverty; prepare high school students for college; provide fresh, local produce to schools to help reduce childhood obesity rates; and assist veterans and their families to apply for benefits and access resources.
For a complete list of AmeriCorps Week events and more about the New Jersey Watershed Ambassadors Program, visit www.nj.gov/dep/wms/bears/americorps.htm.
###
Photos: Top, courtesy of Linden Public Schools/Bottom, DEP