DEP COMMISSIONER CATHERINE R. MCCABE TESTIFIES BEFORE CONGRESS
ON NEW JERSEY'S NATIONAL LEADERSHIP IN SETTING PFAS STANDARDS
(19/P060) TRENTON –New Jersey Department of Environmental Protection Commissioner Catherine R. McCabe testified today before a congressional subcommittee about the state's leadership in setting strict standards for the PFAS family of chemicals and cited slow movement by the U.S. Environmental Protection Agency to do the same to safeguard public health and the environment.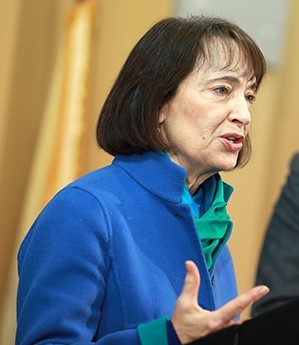 Under Governor Phil Murphy's leadership, New Jersey is seeking to regulate the presence of the synthetic chemicals in both groundwater and drinking water. The effort has drawn worldwide attention, with other states and countries looking to emulate New Jersey's proactive stance.
"New Jersey and other states have repeatedly urged the EPA to move forward with setting regulatory limits for PFAS under the Safe Drinking Water Act, but the EPA has been very slow to act. New Jersey therefore moved ahead to set its own guidelines," Commissioner McCabe told the House Oversight and Reform Environmental Subcommittee.
Following recommendations by the New Jersey Drinking Water Quality Institute, an advisory panel of the state's leading water experts, the DEP acted to set levels for perfluorononanoic acid (PFNA), perfluorooctanoic acid (PFOA) and perfluorooctane sulfonic acid (PFOS).
In 2018, New Jersey became the first state to establish a regulatory limit for a PFAS chemical when it adopted a groundwater standard and set a Maximum Contaminant Level for PFNA, at 13 parts per trillion. The DEP also added PFNA to its List of Hazardous Substances.
Similarly, in April of this year, New Jersey proposed groundwater standards and Maximum Contaminant Levels for PFOA and PFOS at 14 parts per trillion and 13 parts per trillion, respectively, as well as adding both to the List of Hazardous Substances. A final decision on those standards is expected in the next few months, said Commissioner McCabe, a longtime federal regulator who came to the DEP in 2018.
The EPA's current health advisory is 70 parts per trillion for PFOA and PFOS.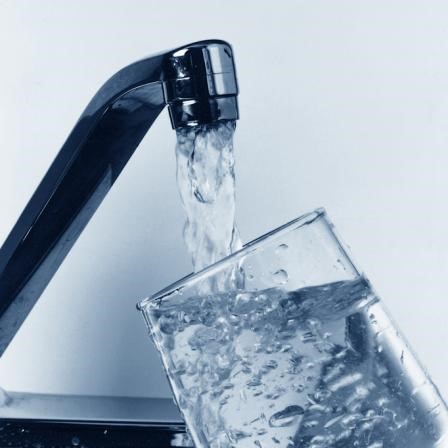 New Jersey's extensive and science-based research into the prevalence of these chemicals across the state has found that PFAS compounds are pervasive in ground water, surface water, sediment samples, fish tissue samples, public water systems and private wells.
"As the most densely populated state in the country and one of the most industrialized, New Jersey has had a particularly high occurrence of PFAS contamination in drinking water," Commissioner McCabe said. "That is why we have taken the threat of PFAS chemicals so seriously, and have played an early, leading role among the states in addressing this problem."
In describing the potential health risks of PFAS exposure – from certain cancers to developmental issues in fetuses during pregnancy and in breast-fed infants – Commissioner McCabe told the committee that New Jersey has done extensive research and has years of scientific evidence pointing to the contamination levels and potential risks posed by these chemicals.
PFAS chemicals are synthetic, manmade and persistent in the environment. They have been used in industrial processes in the United States since the 1940s because they repel oil and water and are highly resistant to high temperatures and chemical reactions.
PFOA was used in a wide variety of consumer products and industrial applications, including the manufacture of nonstick cookware and food packaging. It also was used to make upholstered furniture, carpets, shoes and clothing resistant to soil, stains and water. PFOS was used in a variety of industrial applications and commercial applications, as well as in firefighting foams.
The chemicals have been known to build up over years in living tissue, meaning that people exposed to the chemicals through drinking water and other sources accumulate increasing concentrations of PFAS in their blood, putting them at risk for potential health effects such as reduced vaccine response, higher incidences of infection, increased cholesterol and liver enzymes.
"Many or most of the sources of PFAS contamination have not yet been detected, much less investigated and addressed," Commissioner McCabe said. "States lack the most basic information regarding the volumes and locations of historic production and distribution of most PFAS compounds, and we know almost nothing about the replacement chemicals currently in use. As with their predecessors, these have been billed as non-toxic, but experience is teaching us otherwise."
Commissioner McCabe told the committee that even with New Jersey's strides in protecting public health and drinking water, federal cooperation is needed to help all states protect their residents. She called on the committee to require corporate manufacturers to share information about the chemicals they produce.
"Even better, we need the federal government to require chemical companies to use more care and to disclose the risks before putting these chemicals into commerce," Commissioner McCabe said. "The current approach is subjecting the environment and public to their detrimental effects without a full understanding of the nature and the degree of the risk they present. This leaves states in a position of perpetually scrambling to address the injuries caused by these chemicals, rather than preventing them in the first place."
In another unprecedented move to safeguard New Jersey's environment from the presence of these chemicals, the DEP in March identified five companies it says are responsible for extensive PFAS contamination in the state and directed them to assess, treat, clean up and remove the PFAS compounds and replacement chemicals at their expense. The state also filed lawsuits against each company.
For more information about the potential health effects of PFAS exposure, visit www.nj.gov/health/ceohs/documents/pfas_drinking%20water.pdf.
For more information about these chemicals and other contaminants of emerging concern, visit https://nj.gov/dep/srp/emerging-contaminants/.
To learn more about the New Jersey Drinking Water Quality Institute, visit www.state.nj.us/dep/watersupply/g_boards_dwqi.html.
For a news release and a link to the March 25 statewide PFAS directive, visit www.nj.gov/dep/newsrel/2019/19_0018.htm
###