NEW JERSEY FOREST FIRE SERVICE RELEASES VIDEO PROMOTING SMOKEY
BEAR'S 75TH BIRTHDAY, PARTY AT LIBERTY STATE PARK IN JERSEY CITY
(19/P066) TRENTON – Smokey Bear's milestone 75th birthday on Friday, Aug. 9 is being celebrated in a new video released by the New Jersey Forest Fire Service to remind the public about the importance of wildfire prevention, the Department of Environmental Protection announced.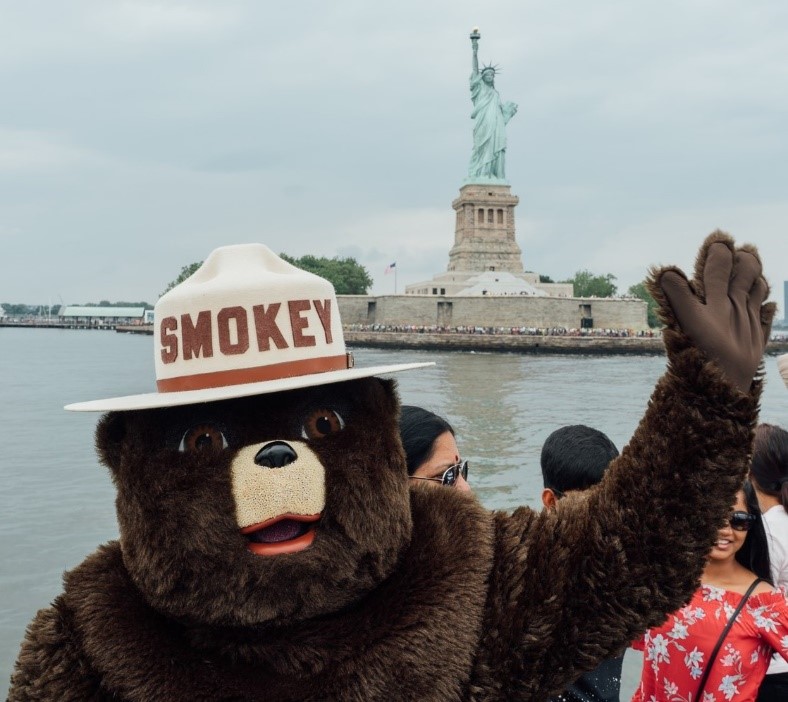 The Forest Fire Service developed the video as part of the nationwide Smokey Bear Challenge, in which states challenge one another to produce a video promoting Smokey Bear's milestone 75th birthday. It shows Smokey at home, reminiscing about his life and firefighting activities around the state.
The video will be shown Saturday, Aug. 10 during a birthday bash at Liberty State Park in Jersey City, Hudson County, featuring a variety of family oriented events, live music, refreshments, displays and many child-friendly activities. The event runs from 11 a.m. to 5 p.m., rain or shine.
"Showcasing an icon like Smokey Bear in some of New Jersey's most iconic places is a great opportunity to look back at Smokey's history and that of the New Jersey Forest Fire Service," DEP Commissioner Catherine R. McCabe said. "The most important message of both the video and Smokey Bear's birthday party is that everyone can do their part to prevent wildfires."
Smokey is shown in the video visiting a number of New Jersey landmarks, from the 177th Fighter Wing at the Atlantic City Air National Guard Base to Mt. Tammany in Warren County; from canoeing in Belleplain State Forest to waving hello from a sightseeing boat in front of the Statue of Liberty. The video is set to the song "Nostalgic" by New Jersey band A R I Z O N A.
To view the video, visit https://youtu.be/ocqUjZg0jYk.
For more about the Liberty State Park party, visit www.nj.gov/dep/newsrel/2019/19_0058.htm.
To participate in an ongoing Smokey Bear 75th Anniversary GeoTour (GT92), visit www.geocaching.com/blog/2019/07/happy-birthday-and-happy-geotour-smokey-bear/.
Like the New Jersey Forest Fire Service on Facebook, www.facebook.com/NJForestFireService/.
For more information about Smokey Bear and the "Only YOU Can Prevent Wildfires" campaign, visit www.smokeybear.com.
As a national leader in environmental protection, the New Jersey DEP is committed to using the best science available to safeguard public health, support its diverse natural resources and create vibrant and sustainable communities that provide economic opportunity for all. To learn more about the DEP, visit www.nj.gov/dep/ and follow the DEP on Twitter @NewJerseyDEP and Facebook.
###
DEP video and photo/James Douglas