| |
New Jersey Geological and Water Survey
Map Archive of New Jersey's Abandoned Mines Sept. 2011
The mining industry of New Jersey dates back to the 1600's when copper was first mined by Dutch settlers along the Delaware River in Warren County. One of the first iron mines in the United States was located, around 1710, in the Mt. Hope section of Rockaway Township, Morris County. There are approximately 450 underground mines in New Jersey, all of which are now abandoned. In many cases, very little information was compiled regarding the mines. The New Jersey Geological Survey (NJGS) has scanned the mine maps in its collection and acquired other maps making them available for download as Adobe ™ PDF documents. The maps in this collection are from mines in the northern half of the state in 9 of the 10 counties where all of the undergound mining activities in New Jersey took place. The counties represented in this collection are Sussex, Warren, Morris, Bergen, Hunterdon, Passaic, Middlesex, Somerset and Union . There are no maps from Essex County in this collection. Mine maps can be important in the remediation of any subsidence or collapse events, pollution tracking and remediation, historical research, land development and open space purchases.
Currently, in the Survey archives, there are 622 published and unpublished mine maps that date from around 1867 to 1983. These maps of the mines include plan views of surface and subsurface workings as well as profiles of the workings. Some of the maps contain magnetic surveys, boring locations and or boring information and may depict local geology and ore seams. Some show cultural features and land holdings in the area of the mines. Many are copies of original maps of varying dates. The information contained on the maps may or may not be accurate or to scale (
Information Disclaimer
).
Images of the mine maps have been created by scanning the maps on a large format scanner at a resolution of 300 dpi using RGB color to tiff images. The tiff images were then converted to Adobe™ PDF documents. These mine maps are available for download from the list below. Many other mine maps were originally published as parts of NJGS reports. These reports are available as online Adobe™ PDF documents. The mine maps in these reports can be accessed through links to the reports. Source information for many of the scanned mine maps is also available in this list.
(Additional Map Links and Reference Information
).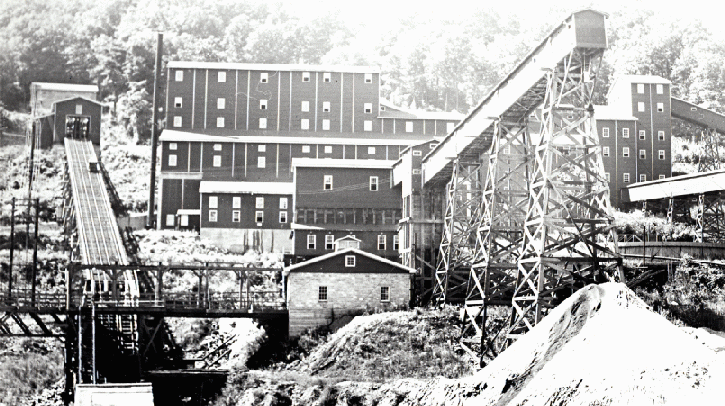 Image: Peters Iron Mine, Ringwood Boro, Passaic County, by Meredith E. Johnson, September 1947.
---
The State of New Jersey makes great effort to provide secure, accurate and complete information. However, portions of the information contained here may be incorrect or not current.
The State of New Jersey, its officers, employees or agents shall not be liable for damages or losses of any kind arising out of or in connection with the use or performance of information, including but not limited to, damages or losses caused by reliance upon the accuracy or timeliness ofany such information, or damages incurred from the viewing, distributing, or copying of those materials.
The materials and information provided here are provided "as is." No warranty of any kind, implied, expressed, or statutory, including but not limited to the warranties of non-infringement of third party rights, title, merchantability, fitness for a particular purpose, and freedom from computer virus, is given with respect to the contents of these documents.
---
Click on a link below for an Adobe™ PDF document containing mine maps.

---
Bergen County
Schuyler/Arlington Copper Mine, North Arlington Boro
Hunterdon County
Flemington Copper Mine, Flemington Boro
Henry Tunnel Mine, Bethlehem Township

Turkey Hill Mine and Swayze Mine, Bethlehem Township

Wildcat and Van Syckles Mines, High Bridge Boro
Middlesex County
New Brunswick Copper Mine, New Brunswick City
Morris County
Baptist Church-Hilt Mines, Mt. Olive Township
Baker Mine, Mine Hill Township
Baker Mine, Rockaway Township

Beach Glen Mine, Rockaway Township
Black Hills Mine, Mine Hill Township
Byram Mine, Mine Hill Township
Canfield Mine, Mine Hill Township
Chester Mines, Chester Boro and Township

Copperas Mine and Bancroft Shaft, Rockaway Township
Crane Iron Company Lands, Mine Hill Township
Dalrymple Mine, Randolph Township

Debow Mine, Pompton Plains, Pequannock Township
Dickerson Mine, Mine Hill Township
Ford, Schofield and Glendon Mines, Jefferson Township
Green Pond Mines, Rockaway Township
Hibernia Mines, Rockaway Township
Hoff/Huff Mine, Wharton Boro
Hurd Mine, Jefferson Township
Irondale Mines, Mine Hill Township - Wharton Boro
Langdon-Pitney Mine, Washington Township

Mine Hill Area Mines (Jackson, Randall and Baker Mines)
Mt. Hope Mine Mine Maps, Rockaway Township
Mt. Hope Mine, Magnetic Survey Maps, Rockaway Township
Mt.Olive Area Mines, Mt. Olive Township

Mt.Olive Area Dip Needle Surveys, Mines, Mt. Olive and Roxbury Townships
Mt. Pleasant, Sterling and Corwin Mines, Wharton Boro

Naughtright Mine, Washington Township
Orchard and Hurd Mines, Wharton Boro
Pardee, Davenport and Winter Mines, Rockaway Township
Replogle Mine, Mine Hill Township
Richards Mine, Rockaway Township

Scrub Oaks Mine, Mine Hill Township
Silver Spring Mine, Mt. Arlington Boro
Smith Prospect - Duffee Mines, Jefferson Township
Weldon and Lower Weldon Mines, Jefferson Township
Wharton Area Mines, Wharton Boro
White Meadow Mine, Rockaway Township
Passaic County
Ringwood Area Mines, Ringwood Boro
Somerset County
Griggstown Copper Mine, Franklin Township
Somerville Copper Mine, Somerville Boro
Sussex County
Allis Exploration, Silver Mine, Byram Township
Andover, Sulpher Hill,
Andover Township
Bemco Prospect - Charlotte Mine, Byram Township
Cascade Mine District, Byram Township
Edison Mines, Cross Sections, Sparta Township
Edison Mines, Cross Sections with Drill Holes, Sparta Township
Edison Mines Maps, Sparta Township
Franklin Mines, Franklin Boro
Franklin Mines, Trotter - Taylor Mines, Franklin Boro
Franklin Mines, Property - Tax Maps, Franklin Boro
Franklin and Sterling Hill Mines, Exploration Maps, Franklin Boro
French's Mine, Byram Township
Linn Lott Property, Sparta Township

Ogden Mine, Sparta Township

Pochuck Mine, Vernon Township

Hamburg Mines, Hamburg Boro
Sterling Hill Mine, Ogdensburg Boro
Welling Mine, Vernon Township

Union County
Copper Mine, Watchung Reservation

Warren County
Ahles Mine,
Oxford Township
Barker Mine, Independence Township
Barton Mine, White Township
Cummins Mine, Independence Township

Frederick Francis Mine Property, Independence Township
Green Farm Exploration, Independence Township
Haggerty Farm and Shields Mines, Allamuchy Township
Hoit Mine, Hope Township

Howell Mine, Independence Township
Kaiser Mine, White Township
Mt. Bethel Area Dip Needle Surveys, Independence Township
Oxford Mines, Oxford Township

Pahaquarry Mine, Hardwick Township

Pequest Mines, Oxford Township
Potter Farm Mine, Independence Township
Queen Mine, Oxford Township
Schaefer Farm Exploration, Independence Township
Shoemaker Mine, White Township
Searle Mine, Independence Township
Scranton Lease Exploration, Independence Township
Stinson Mine, Independence Township
Waterloo Mine, Allamuchy Township
Statewide and Regional Maps
New Jersey Statewide and Regional Mine Maps
Other Mine Documents
Mine Processing Flow Sheets
---
| | |
| --- | --- |
| | |