Seismic Methods
The seismic methods measure the travel-time of acoustic waves propagating through the subsurface. The shot point is the location of the source wave and the acoustic receivers are called geophones. Source waves are generally generated by percussion mechanisms located near the ground or water surface (for example dropped weights or dynamite). Data are collected, stored, and processed in a seismograph.
---
Seismic Refraction
Seismic refraction is defined as the travel path of sound wave through an upper medium and along an interface (at a critical angle) and then back to the surface as shown in the figure below. The acoustic waves, like light waves, follow Snells's Laws of Refraction.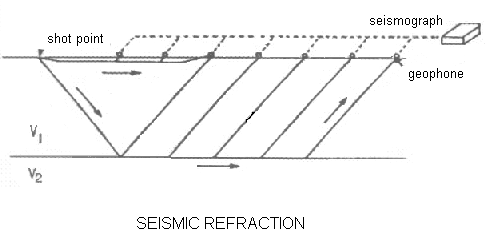 Seismic refraction surveys are commonly used to determine the thickness of unconsolidated materials overlying bedrock (overburden thickness) and depth to the water table. They are used for characterizing the geological framework of ground-water contamination studies and for assessing geologic hazards and archaeologic studies.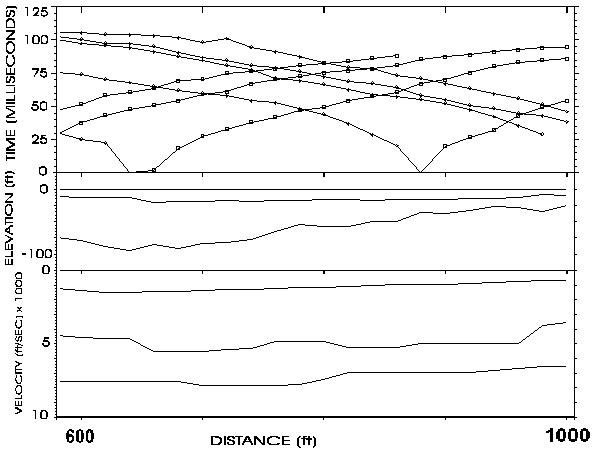 An example of seismic refraction data and interpreted model.
---
Seismic Reflection
The seismic reflection method records acoutic waves at the surface that are reflected off of subsurface stratigrphic interfaces where changes in the material density and conductive velocity of the acoustic waves are significant. The reflection patterns are described by Snell's Laws of Reflection.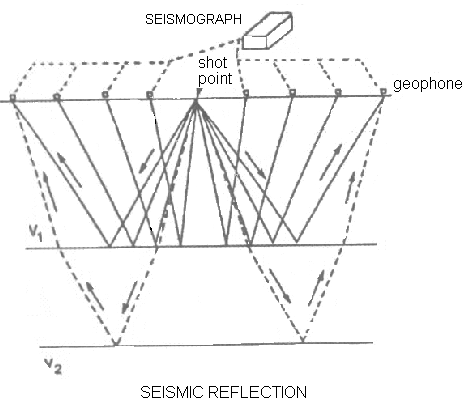 Seismic reflection surveys are used for determining the thickness and structure of subsurface geology and are commonly applied in hydrocarbon and mineral exploration, earthquake and tectonic studies, and in the marine enviromant for resolving stratigraphic details (for example, the location and thickness of beach-sand deposits).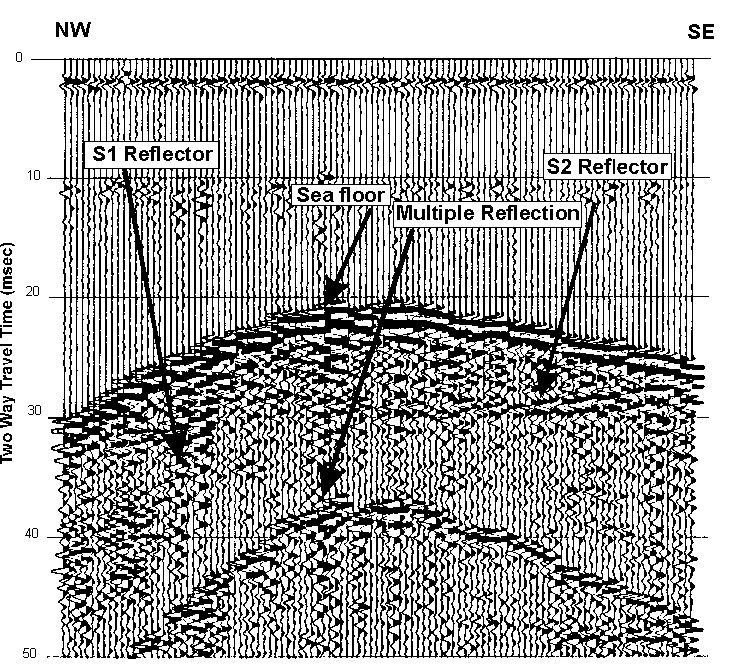 Digital marine seismic profile data traversing a sand ridge approximately 6 miles off of Avalon, New Jersey. The S2 reflector marks the sequence boundary between Holocene sediments and older Tertiary deposits. These depositional features are primary sources for beach sand replenishment.
---
For more information on geophysical techniques, please refer to
Chapter 8 of the NJDEP's Field Sampling Procedures Manual, 2005.