Liberty State Park Natural Resource Restoration Project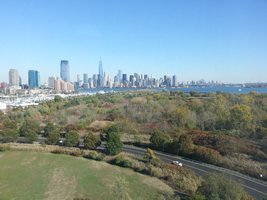 LOCATION: The site is located at Liberty State Park in Jersey City, Hudson County, NJ
PROJECT GOALS: To create tidal and non-tidal wetlands, to enhance upland forest, grassland, and wetland habitats​, to improve park connectivity and public use, and to address site contamination to ensure health, safety, and welfare.
PURPOSE: Habitat enhancement and wetland creation at Liberty State Park. The restoration of the 234-acre interior section, currently fenced off and inaccessible, will provide substantial benefit to all 1,121 acres of the park by linking previously developed and restored, but isolated, components of the park into one cohesive whole.
PROJECT SUMMARY: Liberty State Park is an extraordinary and unique public resource. With the Jersey City and Manhattan skylines, the Statue of Liberty, and Ellis Island as a spectacular backdrop, it is also one of New Jersey's most dramatic and highly visited parks.
The Liberty State Park Natural Resource Restoration Project will feature the creation/enhancement of 27 acres of freshwater wetland, the addition of 50 acres of saltmarsh, and dramatic enhancement of 133 acres of upland maritime habitat transforming this area into an ecological gem within Jersey City. The project includes an extensive complementary and fully integrated system of trails, paths, wildlife observation structures, and accompanying interpretive signage to provide for responsible and suitable public access to various habitat areas.
SCHEDULE: Project is expected to be fully designed by Summer of 2021 and construction is scheduled to begin by Fall 2021.