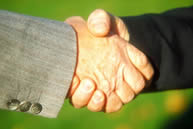 Office of Administrative Hearings and Dispute Resolution
401 East State Street, 7th Floor
Mail Code 401-07A
P.O. Box 402
Trenton, NJ 08625-0402
Phone: 609-322-9700
Fax: 609-984-3488

Linda L. Taylor,
Dispute Resolution Specialist
define and clarify issues disputed;
facilitate communication between regulated parties and DEP staff;
encourage collaborative problem-solving;
explore options for resolution to the issues; and
promote and document a mutually satisfactory agreement.
---
Facilitation involves an informal meeting between the individual or organization and the DEP program to ascertain if the parties can mutually resolve whatever differences separate them. The Office of Administrative Hearings and Dispute Resolution structures the meeting so that it focuses on the issues and the ultimate goal, which may be to remediate a site, set a permit compliance schedule or resolve technical issues.
Mediation involves the affected parties developing a joint resolution of the problem and agreeing on a future course of action. The Office of Administrative Hearings and Dispute Resolution acts as an impartial third party to help the parties' collaboratively problem-solve and explore options for resolution that may not previously have been considered.
Reduce litigation costs.
Save time.
Establish a more meaningful dialogue with the DEP.
Allow direct participation in developing a mutually agreeable solution to the problem.


Permit issues
Compliance issues
Penalty Assessments
Significant issues with potential to develop into disputes


Will litigation solve or end the problem between the DEP and my organization or me?
Will the litigated result be one which makes sense and one with which my organization or I will be comfortable?
Are there affected third parties that will be satisfied after the issue between DEP and my organization or me is resolved?
Can my organization or I justify the cost/benefit of litigating the matter?
The parties will mediate in good faith.
Any mutually acceptable decision reached during the mediation will be binding and be an enforceable agreement under applicable statutes and regulations.
Mediation communications are confidential to the extent agreed by the parties or provided by other law or rule of this State.
Any statements and documents offered in mediation may not be used in subsequent proceedings to prove the validity or invalidity of a claim consistent with New Jersey Rule of Evidence 408.
The parties will not subpoena the mediator in any subsequent proceedings.
Can I still request ADR for my case when I submit a request for an adjudicatory hearing to the DEP's Office of Legal Affairs?

Who participates in resolution sessions?
Direct challenges to DEP rules, regulations or policies.
Disputes solely between private parties.
All requests, documentation submitted, and information discussed remain confidential, unless a matter of public record, or otherwise agreed to by the parties. See Mediation Agreement (pdf)
What information should I include in a request for review by the Office of Administrative Hearings and Dispute Resolution?
Name and contact information, including email address, for person requesting dispute resolution.
Name and contact information, including email address, for agent on behalf of party requesting dispute resolution.
Site-specific location involving dispute.
Site DEP Program Interest Number or other identifiers for site.
Specific regulatory citations or provisions for which dispute resolution is requested.
Summation of dispute clearly articulating the major issue(s).
Copies of DEP actions or determinations pertaining to or initiating dispute.
Proposed resolution to dispute including but not limited to penalty offers, permit changes, or violation corrections.
Provide current status of the matter (Office of Administrative Law Hearing date, etc...).
Provide names and program information of ALL DEP personnel involved.
Provide name of Deputy Attorney General representing the DEP, if one is already involved.