Hancock House is closed until further notice due to COVID-19.
Built in 1734, the Hancock House is an important tangible link to understanding the History of Salem County and our Nation's struggle for independence. It was the home of a prominent "Salem County family and is an excellent example of English Quaker patterned end wall brick houses associated with the lower Delaware Valley and southwestern New Jersey. It was also the scene of a British- led massacre during the Revolutionary War.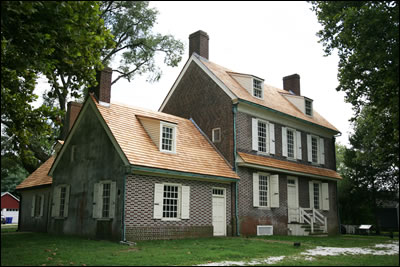 New Roof Photo courtesy of Rebecca Purchase
The story of the Hancock House begins in 1675 when John Fenwick, a lawyer and Quaker from England. Arrived in West Jersey(now Salem County). With land purchased two years earlier; he established the first permanent English settlement here, called "Fenwick's Colony," and founded the town of Salem. Eager to populate the area with skilled, industrious individuals, he advertised the area's assets by stating, "…if there be any terrestrial "Canaan" 'tis surely here, where the land floweth with Milk and Honey"
A Twelfth Night Celebration Januray 4, 2020
The Salem County Hancock House family is not related to John Hancock signer of the Declaration of Independence.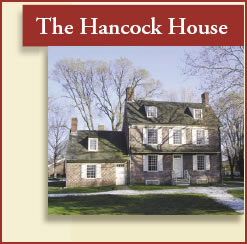 View the Hancock House Brochure PDF file (1.47 mb)