A section of Bearfort Ridge reaches into Hewitt State Forest, offering hikers a challenging climb with a rewarding view. The forest is isolated and untouched, accessible only on foot. Marshes and wetlands are scattered throughout the forest with several brooks and streams crisscrossing the lower areas. Hemlock and oak are the dominant species of this relatively undisturbed forest.
Through the Carry-In/Carry-Out Program you can help us keep the parks clean and beautiful by carrying out the trash you carry in. Please bring a biodegradable bag with you when visiting to take your trash home. Thank you for your cooperation and remember to recycle.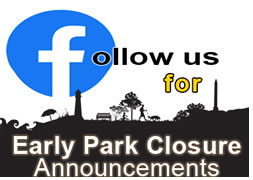 Visit https://njparksandforests.org/sps_covid.html and follow www.facebook.com/newjerseystateparks for the most recent information on park operations — some amenities may not be available due to COVID-19.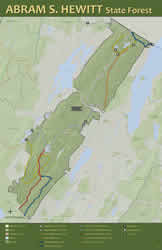 Abram S Hewitt State Forest Area Map
Rocky outcrops and upland swamps characterize Abram S. Hewitt State Forest. Upon entering the forest, the Appalachian Trail ascends to Bearfort Ridge. The glacially carved ridge offers spectacular views eastward along Greenwood Lake. Bearfort Mountain is the eastern terminus of the Wawayanda Plateau. At this point, the Appalachian Trail leaves New Jersey and enters New York.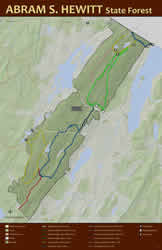 Abram S Hewitt State Firest Trail Map
Hiking trail maps available at Wawayanda State Park Office.
State Park Service areas open to hunting
Parts of Abram S. Hewitt State Forest are open for hunting. For information about hunting, refer to the New Jersey Fish and Wildlife Digest or contact the Wawayanda State Park office.
Special Use Permit Application
Special Use Permit Application Package
A Special Use Permit is utilized to accommodate a specific activity or event being conducted over a short duration. There are two types of special use permits: Non-Commercial and Commercial and fees are based on NJ residency and Non-residents. A completed application must be submitted to the park/forest area where the activity or event is being held at least 90 days prior to the event. If the special use or event is extremely large or complex, at least one-year's prior notice is recommended.