Allaire State Park is probably best known for its historic 19th-century iron making town, Allaire Village, and its antique steam trains on the Pine Creek Railroad. The Manasquan River, which winds through the park, attracts canoeists and fishermen. The river's floodplain provides habitat for over 200 species of wildflowers, trees and plants as well as habitat for birds and other wildlife. Hikers, mountain bikers and horseback riders enjoy the many trails in the park.
Through the Carry-In/Carry-Out Program you can help us keep the parks clean and beautiful by carrying out the trash you carry in. Please bring a biodegradable bag with you when visiting to take your trash home. Thank you for your cooperation and remember to recycle.
Access for Persons with Disabilities
The Allaire State Park recreational and historic facilities are partially accessible for persons with disabilities. Please contact the park office at (732) 938-2371 for further information regarding disability access needs. Text telephone (TT) users, call the New Jersey Relay Service at (800) 852-7899.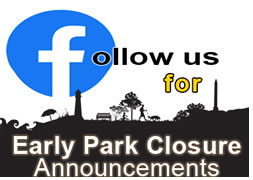 Visit https://njparksandforests.org/sps_covid.html and follow www.facebook.com/newjerseystateparks for the most recent information on park operations — some amenities may not be available due to COVID-19.
Open daily 8 a.m.
Park closes at 8 p.m. Memorial Day weekend through Labor Day weekend; 6 p.m. after Labor Day; 4:30 p.m. in November;
6 p.m. in March.
Office Hours: Open daily 8 a.m. to 4:30 p.m.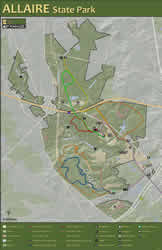 The historic village was known as the Howell Works in the early 19th century. At that time it was a thriving industrial community which produced pig and cast iron. The buildings which remain today include a general store, blacksmith shop, carpenter's shop, manager's house, foreman's house and a church. One of the workers' row house buildings is now the Visitor Center and Museum.
Allaire Village Inc., a nonprofit corporation, sponsors more than 80 programs and events annually, including living history events, antique shows, arts and craft shows, and flea markets. For more information, write or call Allaire Village, Inc. at (732) 919-3500.
Mailing Address:
4263 Atlantic Ave.
Farmingdale, NJ 07727
(732) 938-2371
Established in 1953, the Pine Creek Railroad is an example of rail travel at the height of the steam era in the United States. The live-steam and diesel, narrow-gauge trains are operated by the NJ Museum of Transportation. For more information, call (732) 938-5524.
Visitor Center and Museum
Exhibits on the 19th-century bog iron industry, the Howell Works (original name for Allaire Village), and its owner, James P. Allaire provide an introduction to Allaire Village. The Visitor Center is open seasonally and for special events, please call the Allaire State Park Office at 732-938-2371 for operating hours.
Nature Interpretive Center
Open seasonally, please call (732) 938-2371 for operating hours.
To help preserve the park's flora and fauna, large areas of Allaire State Park have been left in their natural state. The flood plain of the Manasquan River bisects the park and provides an excellent habitat for plant species not usually found in the Jersey shore region. Over 200 species of wild flowers, trees, shrubs and other plants have been identified within the park.
Located along the Atlantic flyway, Allaire provides a feeding and resting-place for migrating birds. A large variety of bird species may be observed throughout the year.
A network of trails winds through the park providing opportunities for hikers, mountain bikers and horseback riders. Several moderate hiking trails are in the main day use area of the park, accessible from the main parking area. The "South Side" area of the park is approximately 800 acres of varying terrain and has miles of unmarked trails as well as four primary marked multi-use trails. The South Side trails are accessible from a trail head at a large gravel parking lot located on Hospital Road.

Reserve a campsite at camping.nj.gov. Please note tent and trailer family campsites are available to reserve until December 15, 2020. Cabins, group cabins, shelters, lean-tos, group lean-tos, wilderness campsites, group campsites, primitive campsites, and primitive group campsites remain closed until further notice.
Alcohol is prohibited. Pets are prohibited in overnight facilities.
A non-refundable service fee of $5.00 will be charged to the customer for each reservation.
Changes to the reservation that occur prior to the Start/Check in date will incur a non refundable fee of $5.00.
Changes made after the start/check-in date will be chargerd a service fee according to the following:
If the total fee is greater then or equal to $50.00 then a fee of $5.00 will be charged.


If the total fee is less then $50.00 then the fee of $2.00 will be charged.
Pet Friendly Campsites please click here for details on sites that are designated Pet Friendly, license and innoculation paperwork requirements and additional cost. Pet friendly sites are family campsites #1-8 and 13-22.
Campsites: 45 tent and trailer sites with fire rings and picnic tables. Flush toilets and shower facilities are within walking distance. Trailer sanitary station is closed mid-October to mid-April. Campground is open year round. Fee: NJ Resident $20 per night; Non Resident $25 per night.
Shelters: Six shelters. Cabin-like structures with wood stove for heat and two double-deck bunks, which sleep up to four people. Each site includes a fire ring and picnic table. Accessible to persons with disabilities. Open February 1 to December 31. Fee: NJ Resident $48 per night; Non Resident $60 per night.
Camping Map (Low resolution for viewing purposes)
Camping Map (High resolution for printing purposes) File
Size:855 KB
Group campsites: Six group sites with fire rings, picnic tables and composting toilets. Sites A, B, C, and D hold a maximum capacity of 50 people. Fee: New Jersey Resident $100 per night; Non Resident $200, per night. Sites E and F hold a maximum capacity of 25 people. Open year round. Fee: NJ Resident $50 per night; Non Resident $100 per night.
Special Use Permit Application
Special Use Permit Application Package
A Special Use Permit is utilized to accommodate a specific activity or event being conducted over a short duration. There are two types of special use permits: Non-Commercial and Commercial and fees are based on NJ residency and Non-residents. A completed application must be submitted to the park/forest area where the activity or event is being held at least 90 days prior to the event. If the special use or event is extremely large or complex, at least one-year's prior notice is recommended.
Annual trout stocking of the Manasquan River ensures excellent opportunities for the fresh water anglers. Fishing is subject to New Jersey's Fish and Wildlife Laws; prior knowledge of these laws will make your fishing experience at Allaire state Park more enjoyable.
Picnic facilities are provided for family outings in attractive wooded settings adjacent to the village. Charcoal grills, tables and sanitary facilities are provided.
The Manasquan River flows eastward through the park offering scenic and tranquil setting for canoeists.
State Park Service areas open to hunting
Allaire State Park Hunting Map Area 51
A portion of Allaire State Park is available for deer hunting only. For information about hunting, refer to the New Jersey Fish and Wildlife Digest or contact the park office.