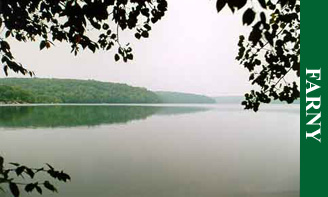 Farny
State Park

Location:
Morris County
Rockaway Township

Mailing Address:
c/o Ringwood State Park
1304 Sloatsburg Road
Ringwood, NJ 07456-1799
(973) 962-7031

GPS Coordinates
40° 57' 44.82" N 74° 27' 28.81" W

Size: 4,866 acres

Fees: No entrance fee.
Link to the Related Fees page

Directions:
Take Route 287 to Route 23 to Green Pond Road in Newfoundland. Make a left turn onto Upper Hibernia Road. Make a left onto Split Rock Road. Follow Split Rock Road across the Splitrock Reservoir Dam. The parking area is on the left.

Facilities & Activities:

Hiking
Birdwatching
Fishing permitted from boats only (no shoreline fishing)
Ice Fishing
Cartop Boat Launch (no gas motors permitted)
Winter sports:
cross-country skiing

This forested wilderness connects watershed lands and is crossed by an old logging road. Streams, mixed oak-hardwood forest and swamps comprise the park. Trail entry is through the Farny Natural Area. Split Rock Reservoir is adjacent to the park.
Through the Carry-In/Carry-Out Program you can help us keep the parks clean and beautiful by carrying out the trash you carry in. Please bring a biodegradable bag with you when visiting to take your trash home. Thank you for your cooperation and remember to recycle.
During this time, state parks and forests will continue to be open to the public for hiking and other passive recreation. Community health is crucial right now and exercising (walking, hiking, and biking) while observing social distancing practices can help ensure public health.

FACILITIES CLOSED; EVENTS CANCELED

To protect public health and safety due to the spread of COVID-19, the State Park Service has closed all park facilities (restrooms, offices, nature centers, historic buildings), canceled all events, and canceled all upcoming camping reservations through Thursday, April 30.

CAMPING RESERVATIONS REFUNDED

Existing camping reservations from Monday, March 16, through Thursday, April 30, will be canceled. Reservations will be refunded in full at our earliest convenience. Campers currently occupying a campsite will be required to leave by the end of today, March 16. No new future camping reservations are being accepted.

Check back to this Facebook page and the Division of Parks and Forestry's website for any new information.

Learn more about COVID-19 from the New Jersey Department of Health: https://www.nj.gov/health/

The New Jersey Division of Parks and Forestry would like to remind you practice social distancing while visiting park trails, to cover sneezes, and wash your hands often.
Open daily sunrise to sunset.
Farny Natural Area (589 acres)
The natural area lies adjacent to Splitrock Reservoir and supports a mature mixed oak hardwood forest characteristic of the Highlands physiographic province. Tall red, white and black oaks dominate the forest canopy, which also serves as habitat for the endangered red-shouldered hawk and threatened barred owl. Numerous trails cross the natural area.
Special Use Permit Application
Special Use Permit Application Package
A Special Use Permit is utilized to accommodate a specific activity or event being conducted over a short duration. There are two types of special use permits: Non-Commercial and Commercial and fees are based on NJ residency and Non-residents. A completed application must be submitted to the park/forest area where the activity or event is being held at least 90 days prior to the event. If the special use or event is extremely large or complex, at least one-year's prior notice is recommended.
State Park Service areas open to hunting
Parts of Farny State Park are open for hunting. For information about hunting, refer to the New Jersey Fish and Wildlife Digest or contact the park office.