Fort Mott was part of a coastal defense system designed for the Delaware River in the late 1800s. The fortifications seen today at Fort Mott were erected in 1896 in anticipation of the Spanish-American War. Today, visitors can wander through the old batteries following interpretive signs with detailed descriptions of the fort. Just beyond the fortifications is the Delaware River. The shoreline offers good spots for walking and picnicking. The NJ Coastal Heritage Trail Welcome Center accommodates displays defining Fort Mott's place in history and the environment.
Through the Carry-In/Carry-Out Program you can help us keep the parks clean and beautiful by carrying out the trash you carry in. Please bring a biodegradable bag with you when visiting to take your trash home. Thank you for your cooperation and remember to recycle.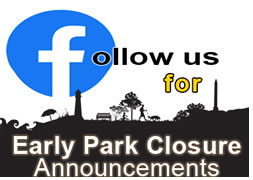 Visit https://njparksandforests.org/sps_covid.html and follow www.facebook.com/newjerseystateparks for the most recent information on park operations — some amenities may not be available due to COVID-19.
Open daily 8 a.m. to 4 p.m.
Office Hours: Monday through Friday 9 a.m. to 4 p.m.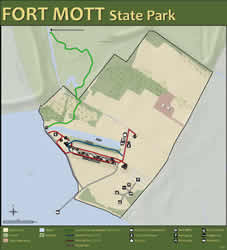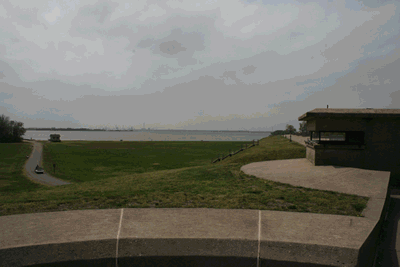 Fort Mott was part of a three-fort defense system designed for the Delaware River during the post Civil War modernization period. The other two forts in the system were Fort Delaware on Pea Patch Island and Fort DuPont in Delaware City, Delaware. Original plans for Fort Mott specified eleven gun emplacements with twenty guns and a mortar battery with six emplacements. Construction was started in 1872; however, only two of the gun emplacements and two magazines in the mortar battery were completed by 1876 when all work stopped.
Fort Mott, along with Fort Delaware and Fort DuPont, became obsolete as the principal defensive installation on the Delaware River with the construction of Fort Saulsbury, near Milford, Delaware, shortly after World War I.
Troops were regularly stationed at Fort Mott from 1897 to 1922. The federal government maintained a caretaking detachment at the fort from 1922 to 1943. New Jersey acquired the military reservation as a historic site and State park in 1947. The park was opened to the public on June 24, 1951.
Check out Fort Mott State Park on Jersey Matters
Fort Mott State Park provides educational and fun events that are family oriented. All events sponsored by the park are free to the public. For more information on programs currently available at the park, call (856) 935-3218.
Photos from OPERATION SEARCH LIGHT
The Ferry Service at Fort Mott has concluded for the season.
Special Use Permit Application
Special Use Permit Application Package
A Special Use Permit is utilized to accommodate a specific activity or event being conducted over a short duration. There are two types of special use permits: Non-Commercial and Commercial and fees are based on NJ residency and Non-residents. A completed application must be submitted to the park/forest area where the activity or event is being held at least 90 days prior to the event. If the special use or event is extremely large or complex, at least one-year's prior notice is recommended.
Located around the corner from Fort Mott State Park, and built in 1734, the Hancock House is an important tangible link to understanding the History of Salem County and our Nation's struggle for independence. It was the home of a prominent Salem County family and is an excellent example of English Quaker patterned end wall brick houses associated with the lower Delaware Valley and southwestern New Jersey. It was also the scene of a British- led massacre during the Revolutionary War.
The Park staff offer a variety of historical and natural interpretive programs and tours throughout the year. Contact the park office for a schedule of programs and to register. Program fees may apply.
An easy Nature Interpretive Trail can be found within the Park that is excellent for beginners. The trail is accessible for persons with disabilities.
Fort Mott offers picnic areas, picnic tables and shelters. For larger groups, we also offer the Group Picnic Area. It holds a capacity of 100 people, provides shelter, playfields and playground equipment. It may be reserved for a fee:
New Jersey Resident $80 per day

Non-Resident $90 per day

Year round

50 percent of Fee

Group Picnic Cancellation Fee
• Groups of 20 or more people shall reserve picnic facilities at least five days in advance. Such group use is not permitted on Holidays except as authorized by the Superintendent. Reservations for picnic areas are handled by the individual park area offices.
Reservations can be made over the telephone using a credit card, or by mail using the Group Picnic Reservation form* downloadable here. Payment in full of the appropriate group picnicking fee must accompany this application.
*To view this form, please download the most recent version of Adobe Acrobat
• Delaware River and Bay Authority - Delaware City-Salem Ferry Service
• Coast Defense Study Group, Inc.
• Hancock House