The view from High Point Monument, at 1,803 feet above sea level, is a spectacular panorama of rich farmland and forest, soft hills and lush valleys in three states. The blue line of the Delaware River divides the verdant ridges of New Jersey from those of Pennsylvania. High Point offers superb trails for hikers and skiers and quiet spots for campers and anglers.
The land for High Point State Park, donated by Colonel Anthony R. and Susie Dryden Kuser, was dedicated as a park in 1923. The pleasant landscaping was designed by the Olmsted Brothers of Boston, a prominent landscape architectural firm of that time. The brothers were the sons of the eminent Frederick Law Olmsted, who designed Central Park.
Through the Carry-In/Carry-Out Program you can help us keep the parks clean and beautiful by carrying out the trash you carry in. Please bring a biodegradable bag with you when visiting to take your trash home. Thank you for your cooperation and remember to recycle.
Access for Persons with Disabilities

High Point State Park facilities are partially accessible for persons with disabilities. Please contact the park office for further information regarding disability access needs. Text telephone (TT) users, call the New Jersey Relay Service at (800) 852-7899.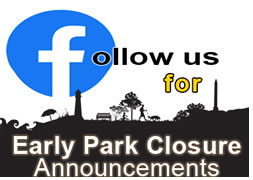 Visit https://njparksandforests.org/sps_covid.html and follow www.facebook.com/newjerseystateparks for the most recent information on park operations — some amenities may not be available due to COVID-19.
Pedestrian access to the base of the monument is restricted during the winter months due to potential icy conditions and during the spring months due to potential falling mortar as a result of the freeze and thaw cycle. Pedestrian access will be permitted after the mortar is no longer falling, which is usually some time in May. You can still visit the area surrounding the monument when access to the base is restricted. We apologize for any inconvenience.
The interior of the monument is closed until further notice due to the inability to social distance when inside.
Open daily as follows:
2nd Sunday in March through October 31: 8:00 am to 8:00 pm**
November 1 through 2nd Saturday in March: 8:00 am to 4:30 pm
**Please note that during the month of March, if the Cross Country Ski Center is in operation the park will close at 4:30 pm.
Park Office:
Open Daily November 1 through the week before Memorial Day: 8am to 4pm
Extended weekend hours Memorial Day weekend through October 31 as staffing permits.
High Point State Park Saw Mill Lake Map
The monument was built through the generosity of the Kusers, in honor of all war veterans. Construction was started in 1928 and completed in 1930. At the top of the 220-foot structure, observers have a breathtaking view of the ridges of the Pocono Mountains toward the west, the Catskill Mountains to the north and the Wallkill River Valley in the southeast.
Monument: You can access the location of the monument during regular park hours (weather permitting in the winter due to road conditions). If you would like to enter the monument with the option to climb to the top it is open on weekends and holidays from Memorial Day weekend until June 18 from 8:30 a.m. to 3:45 p.m. (staff permitting). Open every day from 8:30 a.m. to 4 p.m. from June 19 through Labor Day (staff permitting). Open weekends and holidays after Labor Day until Columbus Day (staff and weather permitting) from 9:15 a.m. to 4:30 p.m.
The interior of the monument is closed until further notice due to the inability to social distance when inside.
The park offers a variety of interpretive and educational programs on a year-round basis. Nature hikes, stream walks and talks are conducted by the park naturalist. Please contact the park office for additional program information and to register. Program fees may apply.
Closed for season.
The spring-fed waters of the 20-acre Lake Marcia are cool and refreshing for swimmers. Swimming is permitted in the designated swimming area while lifeguards are on duty. Please check our swimming schedule prior to your visit. There is a bathhouse and food concession adjacent to the beach. Inner tubes, rafts and other flotation devices are not permitted in the swimming area. Only Coast Guard approved life jackets are permitted. Pets are prohibited on the beach.
Beach: Open daily through Labor Day weekend 11 AM to 5:30 PM (weather permitting)
Boats may be launched at specific locations at Sawmill Lake and Steenykill Lake. Boating is permitted subject to New Jersey's boating regulations and NJ State Park Service rules. Check with the park office for launch sites. Coast Guard approved personal flotation devices are required for each boat occupant. Power boats are limited to electric motors only.
Excellent fishing can be found in High Point's lakes and streams, which are well-stocked with trout, large mouth bass and other species. Please refer to Division of Fish and Wildlife regulations.
State Park Service areas open to hunting
Special Permit Muzzleloader Regulations 2020 and Map
Hunting is permitted in designated areas within the park and is subject to Division of Fish and Wildlife regulations.
Each November High Point State Park allows hunters to participate in a special deer hunt in a designated area of the park (Deer Management Zone 67). To participate, hunters must purchase a Zone 67 permit from a license agent or via the Division of Fish & Wildlife's Internet license sales site.
Dryden Kuser Natural Area (1,500 acres)
The 850-acre Dryden Kuser Natural Area, dedicated in 1965, was the first Natural Area in the State of New Jersey. It is named for State Senator Dryden Kuser, a noted conservationist and son of Anthony and Susie Dryden Kuser, who donated the land that became High Point State Park in 1923. Dryden Kuser also served on the High Point Park Commission and lived on Park grounds for several years near the end of his life. An accomplished bird watcher, the bog was one of his favorite places at High Point.
At 1,500 feet above sea level, the Atlantic white cedar swamp in Dryden Kuser Natural Area is the highest elevation swamp of its kind in the world. A self-guided trail booklet for those who wish to hike the swamp trail is available at the park office, or can be found below. Endangered species include the three-tooth cinquefoil and Cooper's hawk.
---

With over 50 miles of trails, High Point State Park offers visitors a variety of trail options throughout the year, Designated multiple-use trails are available for hiking, mountain biking, horseback riding, cross country skiing, snowshoeing, dogsledding and snowmobiling. Trails vary in length from one half-mile to 18 miles and take visitors through unique and diverse landscapes including an Atlantic white cedar swamp, mountain ridge tops with 360-degree views, dense forests, fields and wetlands.
---
HIGH POINT STATE PARK WINTER TRAIL USE INFO
December 1 through March 31
When trails are snow covered and the High Point Cross Country Ski Center is in operation, a trail pass is required for all use of trails north of Route 23 (with the exception of the Appalachian Trail). When the ski center is not in operation (when there is not adequate snow cover) trails are open for designated use without a trail pass. Trail passes and rentals may be acquired at the ski center lodge located at the Interpretive Center. Follow the signs to the Ski Center parking lot. Trail conditions can be found at xcskihighpoint.com.

All trails south of Route 23 are always open for designated use without a trail pass. Parking is available off Route 23 at the Appalachian Trail parking lot, park office, or winter use lot located on Park Ridge Road. Refer to "Stokes State Forest/High Point State Park Winter Activities Map" for more information. PLEASE NOTE THE PIPELINE IS NO LONGER A DESIGNATED SNOWMOBILE TRAIL. Trail condition information for trails south of Route 23 is available by calling (973) 875-4800.
The Appalachian Trail is always open to foot travel only (including snowshoeing) and a trail pass is never required
See attached "Winter Activities Map" for more information.
18 miles of the Appalachian Trail follows the Kittatinny Mountain Ridge through High Point State Park. This trail's designated use is restricted to hiking only for its entire length from Maine to Georgia. White blazes mark this narrow and sometimes very rocky trail.
To the south, the Appalachian Trail follows a rocky ridge which offers many scenic views of the valleys and mountains surrounding the area. To the north, the trail drops off the ridge through hemlock gorges into former agricultural fields with a view of the surrounding countryside and the High Point Monument in the distance.
There are 3 designated overnight shelters: Mashipacong shelter, Rutherford shelter and High Point shelter. These are the only overnight locations that allow you to stay overnight on the trail. Camping is limited to 1 night per shelter.
Each shelter has a bear box
No fires are permitted at the shelters or on State of NJ property
Pets must be leashed at all times
Carry out all trash
10 people maximum per shelter
Limited water sources can be found via a stream at High Point Shelter, or at the park office. You should plan to carry sufficient water for your hike as water along the trail may not be suitable for consumption. All water obtained along the trail should be chemically treated or boiled for 5 minutes.
No motor vehicles of any kind are permitted on AT. The Appalachian Trail is for foot travel only.
Overnight parking is located at the Appalachian Trail Parking Lot on Route 23 just South of the Park Office. A permit is required and can be obtained during Park Office business hours. This is the only designated overnight parking for the AT in High Point State Park.
Information regarding the Appalachian Trail in NJ can be found here

The Dryden Kuser Natural Area includes a distinctive bog, locally called the Cedar Swamp. The Cedar Swamp Trail makes a one and a half mile loop around the bog. The trail guide described the spring-summer vegetation and other features of the bog and the surrounding area. The descriptions in the guide correspond to numbered posts on the trail. As you enjoy the natural beauty of this area, please remember to leave it undisturbed for future visitors.
---
Winter months find cross-country skiers on the 15 km of groomed trails in the park. Cross-country skis and other winter sports equipment are available for rent. A blazing fire, hot soup and other hearty food greet visitors at the center on Lake Marcia. For information, call (973) 702-1222; www.xcskihighpoint.com.
---

Reserve a campsite at camping.nj.gov. Please note tent and trailer family campsites are available to reserve until December 15, 2020. Cabins, group cabins, shelters, lean-tos, group lean-tos, wilderness campsites, group campsites, primitive campsites, and primitive group campsites remain closed until further notice.
Alcohol is prohibited. Pets are prohibited in overnight facilities.
A non-refundable service fee of $5.00 will be charged to the customer for each reservation.
Changes to the reservation that occur prior to the Start/Check in date will incur a non refundable fee of $5.00.
Changes made after the start/check-in date will be chargerd a service fee according to the following:
If the total fee is greater then or equal to $50.00 then a fee of $5.00 will be charged.


If the total fee is less then $50.00 then the fee of $2.00 will be charged
Pet Friendly Campsites please click here for details on sites that are designated Pet Friendly, license and innoculation paperwork requirements and additional cost. Pet friendly Sawmill Lake sites 1-4, 16-18, 24-27, 29-50
Campsites: 50 tent sites (no trailers) along Sawmill Lake with fire rings and picnic tables. Flush toilets are within walking distance. Open April 1 through October 31. Fee: NJ Resident $20 per night; Non Resident $25 per night.
Group campsites: Two group campsites with drinking water and pit toilets. Each campsite accommodates up to 25 people. Open year round. During the winter months visitors must bring in their own water or obtain it at the park office. Fee: NJ Resident $50 per night; Non Resident $100 per night.
Cabins: Two cabins each with furnished living room with a woodstove; three bedrooms -one room with double bed, two rooms with twin beds; kitchen with hot and cold running water, electric stove, refrigerator; bathroom with shower, toilet, and sink. Electricity. Cabins are located on eastern shore of Steenykill Lake. Each accommodates six people. With prior permission from the superintendent, two additional people may be accommodated. Cabins are open from May 15 to October 15. Fee: NJ Resident $75 per night; 525 per week; Non Resident $85 per night; $595 per week.
Group cabin: Living room with woodstove, full kitchen, two bunkrooms with double bunks, bathrooms, showers. Accommodates up to 28 people. Open May 15 to October 15. Fee: NJ Resident $175 per night; Two-night minimum; Non Resident $185 per night; Two-night minimum.
Campground Map (Low resolution for viewing purposes)
Campground Map (High resolution for printing purposes) File
Size:99 KB
Special Use Permit Application
Special Use Permit Application Package
A Special Use Permit is utilized to accommodate a specific activity or event being conducted over a short duration. There are two types of special use permits: Non-Commercial and Commercial and fees are based on NJ residency and Non-residents. A completed application must be submitted to the park/forest area where the activity or event is being held at least 90 days prior to the event. If the special use or event is extremely large or complex, at least one-year's prior notice is recommended.
Several picnic areas with table and grills are located throughout the park. For larger groups, we also offer three reservable picnic shelters that can accommodate up to 75 people each. In addition, group picnic Shelter #1 has playground equipment and Shelter #2 offers play fields and playground equipment. These areas may be reserved for a fee:
New Jersey Resident $55 per day, plus applicable parking fees.

Non-Resident $65 per day, plus applicable parking fees.

Memorial Day through Labor Day

New Jersey Resident $80 per day

Non-Resident $90 per day

Day After Labor Day to Friday Before Memorial Day

50 percent of Fee

Group Picnic Cancellation Fee
• Groups of 20 or more people shall reserve picnic facilities at least five days in advance. Such group use is not permitted on Holidays except as authorized by the Superintendent. Reservations for picnic areas are handled by the individual park area offices.
Reservations can be made over the telephone using a credit card, or by mail using the Group Picnic Reservation form* downloadable here. Payment in full of the appropriate group picnicking fee must accompany this application.
*To view this form, please download the most recent version of Adobe Acrobat
• Friends of High Point State Park
• High Point Cross Country Ski Center
• Sussex County Weather
• Appalachian Trail Conference
• New York - New Jersey Trail Conference
• NJ Division of Fish and Wildlife (information regarding fishing and hunting)
• Lusscroft Farm - Heritage & Agriculture Association, Inc.
FAQ's (Frequently Asked Questions)
| | |
| --- | --- |
| What are the snow conditions like? | Please call the High Point Ski Center at (973) 702-1222 or access their website at the above mentioned link |
| What interpretive programs are offered? | Please call the Interpretive Center directly at (973) 875-1471 for schedules and information. |