Nine miles in length and covered by 2,500 acres of freshwater, Lake Hopatcong is the focal point of the park. Hopatcong State Park is at the southwest end of the lake and is a popular spot for fishing, boating, and swimming.
Lake Hopatcong was originally created as part of the Morris Canal, a 90-mile waterway that ran from Newark to Phillipsburg and was the chief means of transporting coal, iron and zinc across New Jersey in the 1860s. The lake was the canal's major source of water. In 1866, over 880,000 tons of freight was transported on the canal.

However, as the more efficient Morris and Essex Railroad was established, the canal was abandoned. The historical museum is located in the old Morris Canal locktender's house and offers exhibits on local American Indian history, the Morris Canal and the history of the lake.
Through the Carry-In/Carry-Out Program you can help us keep your parks clean and beautiful by carrying out the trash you carry in. Bags are provided at the park office and toll. Thank you for your cooperation and remember to recycle.
March 9, 2021: Due to a sewer line and restroom construction project, portions of Hopatcong State Park will temporarily be closed to the public. Please be respectful of cones and barricades. The main day use area will continue to be open and accessible during construction.
Weed Harvesting Program hourly vacancy
Lake Musconetcong
Please be advised a permit has been issued for a 2-foot drawdown of Lake Musconetcong. We will begin to release water from Lake Musconetcong on Tuesday, October 27, 2020. The refill date will begin March 1, 2021.
Lake Hopatcong
Please be advised a permit has been issued for a 22" drawdown of Lake Hopatcong. We will begin to release water from Lake Hopatcong on Thursday, November 12, 2020. The refill date will begin March 1, 2021.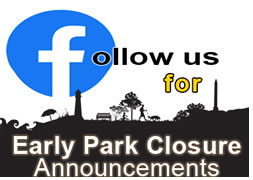 Hopatcong swim area is currently under a Harmful Algal Bloom (HAB) WATCH.
The swim area is OPEN but use caution. At any location where a HAB is present, do not consume fish, and do not ingest water or allow your pet to ingest water.
Crescent Cove on Lake Hopatcong is currently under HAB ADVISORY. Waterbody Remains Accessible: Avoid primary contact recreation. Use caution for secondary contact recreation. Do not ingest water (people/pets/livestock). Do not consume fish.
Lake Musconetcong is currently under a HAB WATCH. Waterbody Accessible: Use caution during primary contact (e.g. swimming and secondary (e.g. non-contact boating) activities. Do not ingest water (people/pets/livestock). Do not consume fish.
Around other parts of the lake where HAB has not been confirmed, use caution, and steer clear of anything that looks like a HAB.
For more information on HAB or to report a potential HAB, visit: https://www.nj.gov/dep/hab/
Visit the HAB map to see the most current locations and alert level: https://njdep.maps.arcgis.com/apps/opsdashboard/index.html#/49190166531d4e5a811c9a91e4a41677
Access for Persons with Disabilities

The facilities at Hopatcong State Park are partially accessible for persons with disabilities. Please contact the park office for further information regarding specific disability access needs. Text telephone (TT) users, call the New Jersey Relay Service at (800) 852-7899.
Park Open
Sunrise to Sunset from Tuesday after Labor Day to the Friday before Memorial Day Weekend.
8 a.m. to 6 p.m. from the Saturday of Memorial Day Weekend to Labor Day.
Office Hours:
April to October open daily from 8-4
November to March open Monday through Friday from 8-4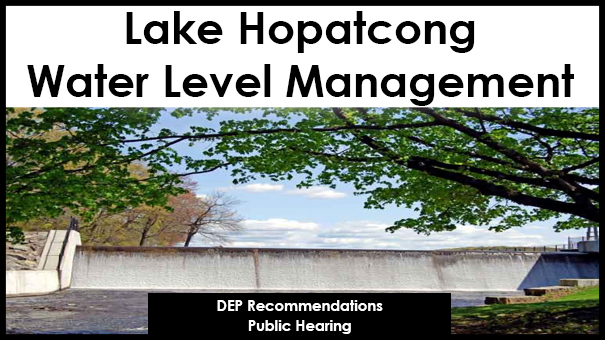 Lake Hopatcong Water Level Management NJDEP Proposal
LAKE HOPATCONG DOCK SURVEY - In the Fall of 2014 Professor Lisa Jordan of Drew University and two of her students, Maxwell Dolphin and Daniel Ratyniak, completed a survey of all docks and associated parcels on Lake Hopatcong. The survey includes such information as dock lengths, parcel lots and blocks, street address, property owner names, etc. The survey was performed in conjunction with the State Park Service (SPS), and the Lake Hopatcong Foundation.
The survey is important to the SPS in that it provides baseline data as SPS reviews dock construction permit applications, and for the current dock regulation committee, which is reviewing SPS regulation of dock lengths on the Lake. Having this baseline data may also prove useful for future applications.
The full report, "A Summary of Docks on Lake Hopatcong", can be accessed at http://www.lakehopatcongfoundation.org/wp-content/uploads/2014/12/LHF-Boat-Dock-Inventory-December-2014.pdf Full access to dock study results is available via website links found on page 11 of the study, though a review of the full report is very valuable.
The SPS thanks Dr. Jordan and her students for such a thorough study, as well as the Lake Hopatcong Foundation for coordinating the effort.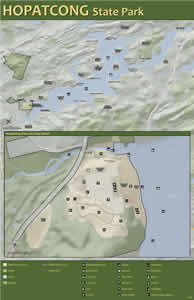 Lake Hopatcong Water Level Management Plan
Fish and Wildlife Stream Classification
http://lakehopatcong.org/Pubs/WATER%20LEVEL%20MGT%20PLAN/CAC/Reports/Musconetcong%20River%20flow%20reconstruction%201-10.pdf
Bergen, Essex, Morris, Sussex, Warren Counties
Completed in 1837, the Morris Canal was an engineering landmark that relied on canals, locks and inclined planes to lift and carry canal boats from Phillipsburg on the Delaware River to Jersey City, the Hudson River and New York Harbor. The boats transported coal, iron ore, manufactured goods and agricultural produce. Sections of the canal are administered by Hopatcong State Park.
During the mid-1800s, the Morris Canal and Banking Company created Lake Musconetcong as an additional water source for the Morris Canal. This lake, which is located four miles west of Lake Hopatcong, was deeded over to the State of New Jersey with the other parts of the Morris Canal System in 1924. Today boating, fishing and ice fishing are popular recreational activities on this lake.
Both Lake Hopatcong and Lake Musconetcong offer excellent year-round fishing. During the spring the New Jersey Division of Fish and Wildlife stocks both lakes with brown, rainbow and brook trout. Warm water species commonly caught are large mouth bass, sunfish, catfish, perch and pickerel. During the winter months, both lakes provide excellent ice fishing for perch and pickerel. Fishing is subject to New Jersey Division of Fish and Wildlife regulations.
Special Use Permit Application
Special Use Permit Application Package
A Special Use Permit is utilized to accommodate a specific activity or event being conducted over a short duration. There are two types of special use permits: Non-Commercial and Commercial and fees are based on NJ residency and Non-residents. A completed application must be submitted to the park/forest area where the activity or event is being held at least 90 days prior to the event. If the special use or event is extremely large or complex, at least one-year's prior notice is recommended.
Please mail all checks or money orders to the park office at:
Hopatcong State Park
PO Box 8519
Landing, NJ 07850
This park has been designated a NO HUNTING area.
The park has several picnic areas along the hill overlooking the parking lot. At each picnic area, visitors will find grills and tables. There is a small picnic shelter and playground located on the hill. Alcoholic beverages are prohibited.
Basketball, Playgrounds and Play Field
The park has two playgrounds for children along with six half-basketball courts and sand volleyball. In addition, there is a large playing field ideal for soccer, frisbee or just about any field activity.
Lake Hopatcong provides an excellent opportunity for any type of boating, ranging from canoes to large motor boats, sailboats, sailboards and jet skis. Boats are available for rent at many private marinas around the lake. Boating is subject to New Jersey Boating Regulations and Marine Law.
There is a boat ramp available at Hopatcong State Park. Boating is open seven days a week depending on parking availability.
There is a boat ramp with parking available at Lake Musconetcong. This site is open from sunrise to sunset seven days a week.
New Jersey Resident $12 per launch

Non-Resident $20 per launch

Daily

New Jersey Resident $60

Non-Resident $80

Annual
• Fees charged at Hopatcong State Park beginning on April 1 through the Friday before Memorial Day weekend; and beginning the day after Labor Day through October 31.
Launch Ramp Permit Information Sheet

Open for swimming.
HOPATCONG STATE PARK SWIMMING AREA SCHEDULE FOR REMAINDER OF SEASON As of August 24, 2020
Swimming Area will be closed on the following dates:
Tuesday August 25
Wednesday August 26
Monday August 31 through Friday September 4
Swimming is permitted at Hopatcong State Park in the designated swimming area while lifeguards are on duty. Please check our swimming schedule prior to your visit. There is a bathhouse complex containing restrooms, showers, changing areas, a first aid room and concession where food and beach supplies are available for purchase. Grilling is limited to the picnic areas only. Grills are not permitted on the lawn areas. There are two sand volleyball courts and a playground near the beachfront. For safety reasons, inner tubes, rafts and other flotation devices are not permitted in the bathing area. Only Coast Guard approved life jackets are permitted. Pets are prohibited on the beach.
Bus Reservations are accepted Monday through Thursday, please forward your bus reservation application to the park office fax at 973-398-6521. Thank you.
Group Bus Reservation Rules and Regulations (pdf)
Group Bus Reservation Application Form (pdf)
Group Bus Manifest (pdf)

• Lake Hopatcong Historical Museum

FAQ's (Frequently Asked Questions)
| | |
| --- | --- |
| Can we bring a bus to Hopatcong State Park on weekends? | Buses are permitted on Monday through Thursday only (excluding holidays and Weekends) by written reservation. |
| Can I walk in when the park is filled to capacity? | When the park is full to capacity the park is closed to everyone until a sufficient number of visitors leave for the day. |
| Can I leave the park and come back when the park is full? | If visitors leave the park and come back when the park is full, they will not be able to enter until the park reopens. |
| Where do I put my trash when I carry it out of the picnic area? | The carry-in carry-out program requires a park visitor to take their trash home and dispose of it through their local trash collection service. |
| Can I get a special permit for alcohol? | There are no permits for alcohol in the NJ State Park Service. |