The undisturbed forest and rugged terrain of Norvin Green offers sanctuary for birds and other wildlife. Part of the Wyanokie Wilderness Area, the forest is near Wanaque Reservoir and is home to an extensive trail system built from old logging roads. Several trails link up with public and private facilities, including the New Weis Center and reservoir property. The existing trails, either old forest roads or new trails constructed by volunteers, are perfect for nature walks and other outdoor classroom activities. With hills ranging from 400 to 1,300 feet in elevation, Norvin Green provides the avid hiker with scenic vistas, including the New York skyline, Burnt Meadow Brook and Lake Sonoma. The property is accessible by foot only.
Through the Carry-In/Carry-Out Program you can help us keep the parks clean and beautiful by carrying out the trash you carry in. Please bring a biodegradable bag with you when visiting to take your trash home. Thank you for your cooperation and remember to recycle.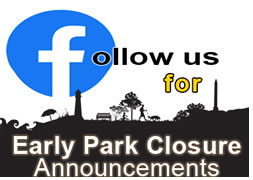 Visit https://njparksandforests.org/sps_covid.html and follow www.facebook.com/newjerseystateparks for the most recent information on park operations — some amenities may not be available due to COVID-19.
Open daily sunrise to sunset.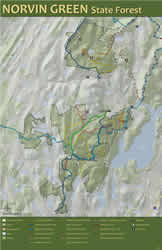 Special Use Permit Application
Special Use Permit Application Package
A Special Use Permit is utilized to accommodate a specific activity or event being conducted over a short duration. There are two types of special use permits: Non-Commercial and Commercial and fees are based on NJ residency and Non-residents. A completed application must be submitted to the park/forest area where the activity or event is being held at least 90 days prior to the event. If the special use or event is extremely large or complex, at least one-year's prior notice is recommended.
A system of marked hiking trails are available for the public to explore. These trails offer visitors opportunities to hike interior woodlands and rocky vistas. There are no multi-use trails available in the park.
Please note that the trail difficulty ratings are opinion only. All trail mileages represent only the portion of the trail that passes through Norvin Green State Forest, and complete trail lengths could be longer. To avoid getting lost, a topographical trail map is highly recommended for navigation of the trails.
Maps may also be purchased in the New Weis Center or through the New York - New Jersey Trail Conference.

| | | |
| --- | --- | --- |
| TRAILS: | LENGTH (miles) | RATING |
| Caris Hill (Yellow blazes) | 1.0 miles | Difficult |
| Hewitt-Butler (Blue blazes) | 5.5 miles | Difficult |
| Lower (White blazes) | 1.5 miles | Medium |
| Macopin (White blazes) | 1.0 miles | Easy |
| Mine (Yellow blazes) | 1.0 miles | Difficult |
| Otter Hole (Green blazes) | 1.5 miles | Medium |
| Post Brook (White blazes) | 1.0 miles | Medium |
| Torne (Red blazes) | 1.0 miles | Difficult |
| Wyanokie Circular (Red blazes) | 4.0 miles | Difficult |
| Wyanokie Crest (Yellow blazes) | 5.0 miles | Difficult |
Norvin Green includes part of the Highlands Trail, which will run from the Delaware River to the Hudson River when completed.
The Highlands Natural Pool
Adjacent to Norvin Green State Forest, this olympic size, stream-fed freshwater pool is a great place for hikers to cool off in the summer. Daily or membership fees apply.
State Park Service areas open to hunting
Norvin Green State Forest Hunting Map
Hunting is permitted in designated areas within the park and is subject to Division of Fish and Wildlife regulations.