Hidden in the southwestern part of the state is Parvin State Park, a park whose history is as varied as its wildlife. Situated on the edge of the Pine Barrens, the park not only has pine forests typical to the area but also a swamp hardwood forest. Spring bursts out in bright colors and rich fragrances with blossoming dogwood, laurel, holly, magnolia, wild azalea and over 200 kinds of flowering plants. Thundergust Lake, Parvin Lake and Muddy Run are popular for fishing and boating. Swimming is allowed in Parvin Lake only.
This park served as home for the Civilian Conservation Corps from 1933 to 1941, a summer camp for the children of displaced Japanese Americans in 1943, a POW camp for German prisoners in 1944 and temporary housing for the Kalmycks who fled their homelands in Eastern Europe in 1952.
Through the Carry-In/Carry-Out Program you can help us keep the parks clean and beautiful by carrying out the trash you carry in. Please bring a biodegradable bag with you when visiting to take your trash home. Thank you for your cooperation and remember to recycle.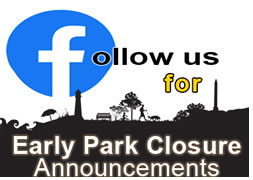 Visit https://njparksandforests.org/sps_covid.html and follow www.facebook.com/newjerseystateparks for the most recent information on park operations — some amenities may not be available due to COVID-19.
Open daily sunrise to sunset
Park Office: Monday through Friday 8 a.m. to 4 p.m.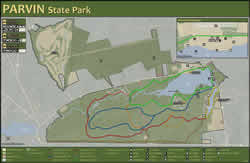 Reserve a campsite at camping.nj.gov. Please note tent and trailer family campsites are available to reserve until December 15, 2020. Cabins, group cabins, shelters, lean-tos, group lean-tos, wilderness campsites, group campsites, primitive campsites, and primitive group campsites remain closed until further notice.
Alcohol is prohibited. Pets are prohibited in overnight facilities.
A non-refundable service fee of $5.00 will be charged to the customer for each reservation.
Changes to the reservation that occur prior to the Start/Check in date will incur a non refundable fee of $5.00.
Changes made after the start/check-in date will be chargerd a service fee according to the following:
If the total fee is greater then or equal to $50.00 then a fee of $5.00 will be charged.


If the total fee is less then $50.00 then the fee of $2.00 will be charged.
Campsites: 56 tent and trailer sites with fire rings, picnic tables, lantern hooks and a playground available. Six people and two vehicles per site. Flush toilets, showers, and laundry facilities are within walking distance. Facilities available for people with disabilities. Trailer sanitary station. Located on the south shore of Parvin Lake. Open April 1 to October 31. Fee: NJ Residents: $20 per night; Non Residents: $25 per night.
Group campsites: Four group sites with flush toilets, water, fire rings, picnic tables, one shelter. Located on south shore of Parvin Lake. Each campsite accomodates up to 25 people. Open April 1 to October 31. NJ Resident $50 per night; Non Resident $100 per night.
Cabins: 18 cabins each with furnished living room with a fireplace or woodburning stove; outdoor campfire rings; two bedrooms to accommodate 4 people; kitchen with running water, electric stove, refrigerator; bathroom with sink, toilet and shower; electricity; brick patio with table and grill. Two of the cabins are accessible for persons with disabilities and offer accommodations for 6 people. Playground available. Cabins are located on the north shore of Thundergust Lake. Cabins are available for rental for a 7 night minimum from Memorial Day to Labor Day. Open April 1 through October 31.
Fee: Four-bunk cabins: NJ Resident: $55 per night; $385 per week; Non Resident: $65 per night; $455 per week.
Fee: Six-bunk cabins: NJ Resident: $75 per night; $525 per week; Non Resident: $85 per night; $595 per week.
Campground Map (Low resolution for viewing purposes)

Cabin Map (Low resolution for viewing purposes)
Cabin Map (High resolution for printing purposes) File Size: 240 KB
Special Use Permit Application
Special Use Permit Application Package
A Special Use Permit is utilized to accommodate a specific activity or event being conducted over a short duration. There are two types of special use permits: Non-Commercial and Commercial and fees are based on NJ residency and Non-residents. A completed application must be submitted to the park/forest area where the activity or event is being held at least 90 days prior to the event. If the special use or event is extremely large or complex, at least one-year's prior notice is recommended.
Parvin Natural Area (465 acres)
Situated at the edge of the New Jersey Pine Barrens, the Parvin Natural Area combines many of the characteristics and species of southern New Jersey and the Pine Barrens. Several trails run through the hardwood and Atlantic white cedar swamps, pitch pine lowlands and upland pine and oak forests. Parvin is home to the state-threatened barred owl and the endangered swamp pink.
Closed for season.
A lifeguard staffed swimming beach is provided at Parvin Grove, which is located on Parvin Lake. Parking areas, bathhouse, first-aid station, canoe rental and a concession offering refreshment, novelties and beach supplies are all conveniently located nearby. Picnic Groves with tables and grills and playgrounds are located on either side of the beach. Swimming in the designated swimming area while lifeguards are on duty. Please check our swimming schedule prior to your visit. Inner tubes, rafts and other flotation devices are not permitted in the swimming area. Only Coast Guard approved life jackets are permitted. Pets are prohibited on the beach.

back
A public boat launch ramp is located at Fisherman's Landing. The launch ramp is available from sunrise to sunset year round. Parvin Lake is electric motor only. From Memorial Day Weekend to Labor Day, required permits can be purchased at the park office.
New Jersey Resident $12 per launch

Non-Resident $20 per launch

Daily

New Jersey Resident $60

Non-Resident $80

Annual
Several picnic areas with table and grills are located throughout the Park. For larger groups, we also offer two reservable picnic areas at Thundergust Lake, 100 people per pavilion; total capacity 200. Flush toilets, water, grills, picnic tables, activity and ball fields available.

Group picnicking reservations are required for weekday events. A party of 20 or more people constitutes a group. They may be reserved for a fee:
New Jersey Resident $125 per day

Non-Resident $175 per day

April - October

50 percent of Fee

Group Picnic Cancellation Fee
• Groups of 20 or more people shall reserve picnic facilities at least five days in advance. Such group use is not permitted on Holidays except as authorized by the Superintendent. Reservations for picnic areas are handled by the individual park area offices.
Reservations can be made over the telephone using a credit card, or by mail using the Group Picnic Reservation form* downloadable here. Payment in full of the appropriate group picnicking fee must accompany this application.
*To view this form, please download the most recent version of Adobe Acrobat
State Park Service areas open to hunting
Hunting is permitted in designated areas within the park and is subject to Division of Fish and Wildlife regulations.
The Parvin State Park Appreciation Committee was organized to promote the use of the park by the public and to educate visitors on its rich history and by providing volunteer support of labor and equipment to help maintain the park in a safe manner.
2019 PUBLIC EVENTS AND ACTIVITIES