Penn State Forest's undeveloped wilderness attracts picnickers and hikers. Lake Oswego, a result of an upstream dam that was constructed to create a reservoir for a downstream cranberry operation, is suitable for canoeing and fishing.
Through the Carry-In/Carry-Out Program you can help us keep the parks clean and beautiful by carrying out the trash you carry in. Please bring a biodegradable bag with you when visiting to take your trash home. Thank you for your cooperation and remember to recycle.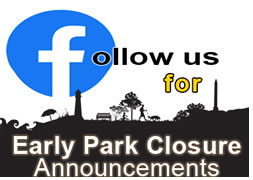 Visit https://njparksandforests.org/sps_covid.html and follow www.facebook.com/newjerseystateparks for the most recent information on park operations — some amenities may not be available due to COVID-19.
Open daily sunrise to sunset.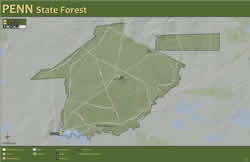 Penn State Forest Area Map PDF* File size 2 mb
History of Penn State Forest PDF * file size 104kb
*To view this application, you need Acrobat Reader on your computer. Download the newest version FREE at the Adobe site.
The central region of the Pine Barrens contains several areas of pine and oak forest that resemble the surrounding forests with one major exception: from a standing position, one can gaze over the top of the tree canopy. The Pine Barren Plains, known locally as the Pygmy Forest, contains trees that may attain a height of only about four feet at maturity. New Jersey contains the world's largest acreage of this globally rare forest community, which can be seen within portions of Penn State Forest. Many researchers believe that this unique stunted forest ecosystem is partly the result of the fire ecology of the Pinelands.
Special Use Permit Application
Special Use Permit Application Package
A Special Use Permit is utilized to accommodate a specific activity or event being conducted over a short duration. There are two types of special use permits: Non-Commercial and Commercial and fees are based on NJ residency and Non-residents. A completed application must be submitted to the park/forest area where the activity or event is being held at least 90 days prior to the event. If the special use or event is extremely large or complex, at least one-year's prior notice is recommended.
State Park Service areas open to hunting
Hunting is permitted in designated areas within the park and is subject to Division of Fish and Wildlife regulations.