BESCCH Home
Background Information
Module Overview
Section One
Section Two
Section Three
Section Four
Acknowledgements, Credits and Disclaimer
Promotional Flier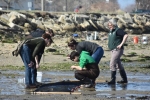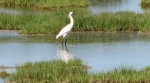 Students and teachers,
Building Ecological Solutions for Coastal Community Hazards
Begins here - where land, water, weather and
human activity meet…over and over again.
In 2014 the New Jersey Department of Environmental Protection (DEP) received a grant from the National Fish and Wildlife Foundation to invest in localized coastal resiliency projects designed to restore shorelines and communities by utilizing ecological solutions, instead of only using traditional engineering strategies, after the state's coastline was ravaged by Superstorm Sandy.

Teachers and education consultants were brought on at the same time that scientists, engineers and planners worked with municipal leaders and agency representatives in "building ecological solutions to coastal community hazards" in several municipalities that were hard-hit by the storm and participated in this grant-funded initiative.

One of the products of this grant is a comprehensive new guide titled, Building Ecological Solutions for Coastal Community Hazards. This report puts forth practices that are used to help coastal communities become safer and more sustainable in ways that work with, rather than against, nature. The guide was produced by the National Wildlife Federation in partnership with DEP. The content of this guide serves as background information for teachers and students that use this module.

This module is also a product of this grant. It offers secondary teachers several options for problem-based and place-based learning in science with emphasis on STEM integration, and is designed for students in grades 6 - 12.

Students and teachers in schools throughout New Jersey and the entire Eastern coastal United States now have the opportunity to investigate these real-life community resiliency projects, design their own solutions for these same sites, and then compare their designs with what was really done by professionals. Teachers and students can also adapt lessons and stewardship projects that were used by schools to reduce runoff into local estuaries and to study saltmarsh water quality, flora and fauna. Finally, classes and student groups can learn how to participate in contributory citizen science activities by monitoring a nearby marsh or shoreline.


No matter where your classroom is located - inland or along the coast,
in a city or in a suburb, students can experience and explore
Building Ecological Solutions for Coastal Community Hazards.

If you have questions or comments about this module please contact:

Dale Rosselet, Vice President for Education
Dale.rosselet@njaudubon.org
New Jersey Audubon
www.njaudubon.org
(609) 400-3832