The information on this page reflects suspected or confirmed HAB events that the Department was made aware of during the 2019-2020 season. To review HAB events from the
2017
,
2018
, or
2019
seasons, click on the Historic HAB Events link on the left side of this page. The table below includes information regarding ongoing 2020 HABs that began in 2019, and any newly reported HABs in 2020. There may be other HABs that are occurring in NJ that are not reflected here. If you see a suspected HAB,
avoid it & report it
. In the case of a suspected bloom, people, pets and livestock should avoid contact with discolored water or water that has algae scums on the surface. Do not drink or consume the water. Do not eat fish from the waterbody. If there is contact with the water, rinse off as soon as possible with fresh water and seek medical or veterinary assistance if people or animals are experiencing adverse health effects after being exposed to a bloom.
The adjacent New Jersey state map image reflects the locations of both confirmed HABs as well as reports where HABs were not found to be present. Numbers on the map correspond to the accompanying table below which provides additional information regarding each HAB report including the affected waterbody(ies), county, and municipality, and whether the bloom is suspected, confirmed or not a HAB after all. If the bloom is a HAB, the table also lists the lead agency, whether or not Advisories have been posted, if so, by whom, when they were posted and when they were removed. Links to additional information, when available, are also included.
To view an interactive map which contains information regarding all of the 2019 reported HAB locations, click the image on the far right.
To report a suspected HAB, call the
NJDEP Hotline
(
1-877-WARNDEP
) or use the
WARN NJDEP
mobile app.
NEW 2020 Waterbodies with HABs Reports
Map Number (by Municipality)
Waterbody Name:
County:
Municipality:
Date Bloom Reported:
Status:
Lead Agency:
Advisory Posted (Y/N):
Bathing Beach Closure
(In season)
If Yes, By Whom:
Date Posted:
Date Removed:
Actions
Most Recent
Site Visit:
1
Camp Jefferson Pond
Morris
Jefferson Township
04/28/2020
HAB not present
DEP Bureau of Freshwater and Biological Monitoring
No
---
---
---
---
---
Completed
---
2019 Remaining HABs by Municipalities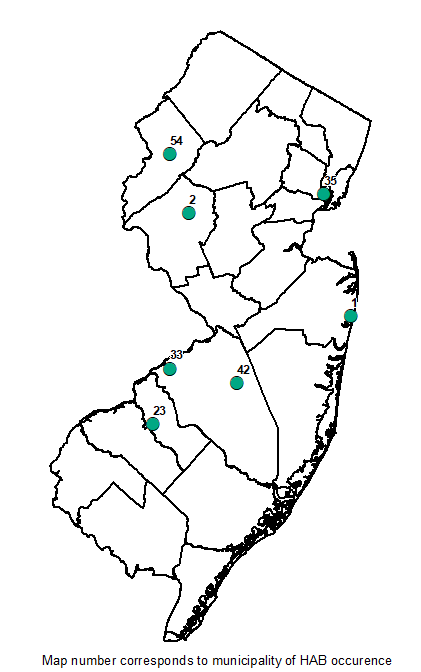 Hover over the image above to enlarge. Numbers on the map correspond to numbers in the
table below
2019 Confirmed HABs Continuing In 2020
Map Number (by Municipality)
Waterbody Name:
County:
Municipality:
Date Bloom Reported:
Status:
Lead Agency:
Advisory Posted (Y/N):
Bathing Beach Closure
(In season)
If Yes, By Whom:
Date Posted:
Date Removed:
Actions
Most Recent
Site Visit:
1
Sunset Lake
Monmouth
Asbury Park City
5/10/19
Confirmed
DEP Bureau of Freshwater and Biological Monitoring
Yes
NA
Monmouth County Health Dept
5/13/19
Continuing
3/16/2020
2
Spruce Run Reservoir
Hunterdon
Clinton Township
9/16/19
Confirmed
DEP Bureau of Freshwater and Biological Monitoring
Yes
Yes
State Parks Service
9/19/19
Continuing
3/11/2020
23
Dramasei Park Lake
Camden
Gloucester Township
8/14/19
Confirmed
DEP Bureau of Freshwater and Biological Monitoring
Yes
NA
Camden County Health Dept.
8/19/19
Continuing
1/2/2020
33
Amico Island Pond
Burlington
Delran Township
8/29/19
Confirmed
DEP Bureau of Freshwater and Biological Monitoring
Yes
NA
Burlington County Parks Dept.
8/30/19
Continuing
1/2/2020
35
Branch Brook Park Lake
Essex
Newark City
8/30/19
Confirmed
DEP Bureau of Freshwater and Biological Monitoring
Yes
NA
Essex Regional Health Commission
9/5/19
Continuing
1/7/2020
42
Pemberton Lake
Burlington
Pemberton Township
9/10/19
Confirmed
DEP Bureau of Freshwater and Biological Monitoring
Yes
NA
DEP Fish and Wildlife
9/13/19
Continuing
54
Mountain Lake
Warren
Liberty Township
11/11/19
Confirmed
DEP Bureau of Freshwater and Biological Monitoring
Yes
Yes
Warren County Health Dept
5/22/2020
Continuing
5/18/2020