Delaware River Basin Commission
---
Delaware • New Jersey • Pennsylvania
---
New York • United States of America
---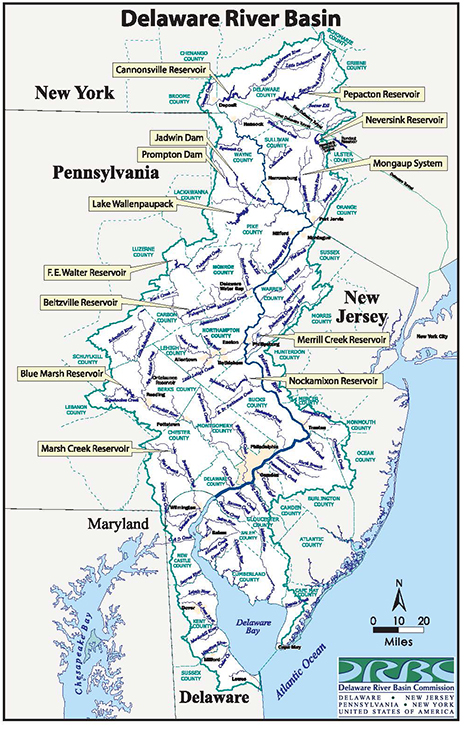 Map showing the locations of major reservoirs in the Delaware River
Basin. Click 'Reservoirs in the DRB Map' on right for larger version.
There are several reservoirs in the Delaware River Basin, all located on tributaries. Some are used for water supply, hydroelectric power, flood control, or recreation, and some are multi-purpose. Major reservoirs in the Delaware River Basin are depicted on the map to the left.
Three reservoirs, owned/operated by New York City, are located in the Delaware River Basin's headwaters in New York:
--Cannonsville Reservoir
--Pepacton Reservoir
--Neversink Reservoir
Through the Delaware River Master (a USGS position), releases from these reservoirs are made to meet the Montague, N.J. flow target of 1,750 cfs. Storage in these reservoirs also drives the commission's basin-wide drought management plan.
DRBC provides storage information for these New York City Delaware River Basin Reservoirs, updated weekly, usually on Mondays.
The U.S. Army Corps of Engineers owns several reservoirs in the basin:
--F. E. Walter Reservoir
--Blue Marsh Reservoir
--Beltzville Reservoir
--Prompton Dam
--Jadwin Dam
DRBC owns water supply storage in two of them, Beltzville and Blue Marsh, which are located in the Lehigh and Schuylkill sub-basins respectively; this storage is utilized to meet the Trenton, N.J. flow target of 3,000 cfs. Storage levels in these reservoirs drive the commission's lower basin drought operating plan.
Merrill Creek Reservoir was built by a consortium of power companies in order to provide water releases in times of drought to make up for their consumptive use.
Storage in the Marsh Creek Reservoir, located in Chester County, Pa., is used to support in-stream flow management in the Brandywine Creek.
In times of drought emergency, DRBC can call for an additional 69 billion gallons of water for flow augmentation from several other basin reservoirs:
--Mongaup System (15 BG)
--Lake Wallenpaupack (30 BG)
--F.E. Walter Reservoir (11 BG)
--Nockamixon Reservoir (13 BG).

Commission Member Links:
Delaware
|
New Jersey
|
Pennsylvania
|
New York
|
United States
Copyright © Delaware River Basin Commission,
P.O. Box 7360, West Trenton, NJ 08628-0360
Phone (609)883-9500; Fax (609)883-9522
Thanks to NJ for hosting the DRBC website
Last Modified: 03/06/2020