Delaware River Basin Commission
---
Delaware • New Jersey • Pennsylvania
---
New York • United States of America
---
Introduction
Climate Change Impacts in the Delaware River Basin
Climate Change Links of Interest
Introduction
Climate change refers to fluctuations in the Earth's climate over a long period of time. Defined as the average of global or of a locale's weather patterns over an extended period of time, climate is different from normal variations in weather, which can change on a regional scale, hour to hour, day to day, season to season.
Current estimates geologically date the Earth to about 4.5 billion years, and it is important to note that the Earth's climate has changed over time. However, scientists are attributing the record rate of warming of the twentieth century and present day to a human activity-enhanced greenhouse effect. As humans create and release more man-made greenhouse gases into the atmosphere, the natural greenhouse effect is magnified, trapping more heat than is released into space and causing more warming of the Earth's surface.
This amplified level of warming is a concern. Scientists are studying the occurrence of climate change over the past century and the impacts it will have on the Earth in the future. Calls for adaptation at the local, national, and international levels are being sounded, bringing the discussion of climate change out of the laboratory and into the forefront.
Climate Change Impacts in the Delaware River Basin
What about the DRB? Have we already seen the worst flood or drought, or could it occur in the future?
The Delaware River Basin's flood of record was August
1955. This photo shows the bridge between Easton,
Pa. and Phillipsburg, N.J. wiped out during that flood.
Photo courtesy of lehighvalleylive.com.
The Delaware River Basin's dorught of record occurred in the
1960s. This photo shows the Delaware River at Trenton, N.J.
in July 1965.
Photo from DRBC's archives.
Climate change has the potential to impact water availability, water quality, and the ability to meet water management goals in the Delaware River Basin. Before we look ahead, let's take a look at what's been happening.
| | |
| --- | --- |
| | |
| Annual Precipitation at Philadelphia, Pa. | Average Annual Temperature at Philadelphia, Pa. |
While annual precipitation at Philadelphia varies year to year, the five-year average indicates an increasing trend in precipitation since 2000. However, over the period of record, this trend is not as clear.
In terms of temperature, the average annual temperature at Phildelphia also varies year to year, but a clear increasing trend is seen.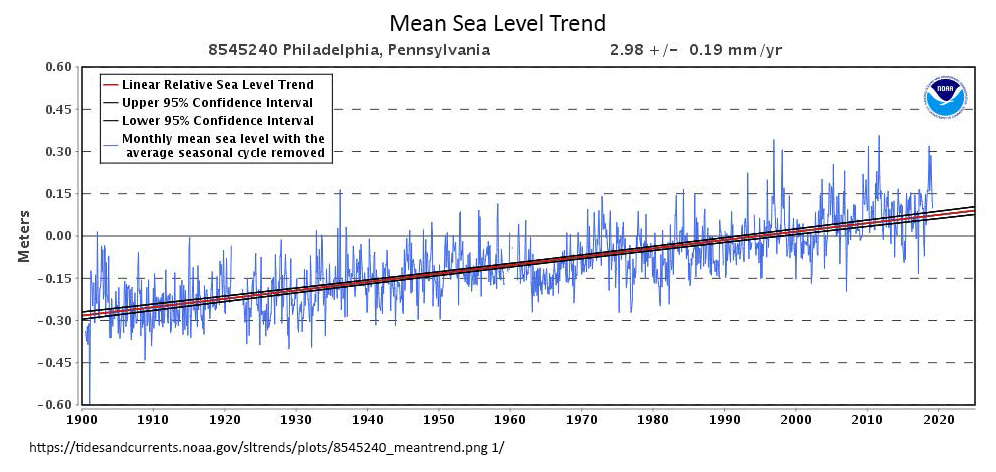 Observed sea level trend at Philadelphia, Pa. over the last century. Image courtesy of NOAA.
Sea levels are rising. Since the early 1900s, sea level has risen at an average rate of about 2.93 mm/year, which equates to 0.96 ft/100 years. A change in sea level affects the overall volume of water in the Delaware Estuary and Bay, which can affect the movement of the salt front, increasing salinity in the upper portion of the estuary.
Future Impacts:
Local climate change impacts for the Delaware River Basin include increased temperature, changes in precipitation patterns, and sea level rise, all of which affect water supply and water quality.
Increased temperatures will affect evapotranspiration rates; more evaporation means less water available for streamflow. Increased temperatures will also affect stream water quality; turbidity levels will likely increase, and dissolved oxygen levels decrease.


Precipitation is predicted to occur in the form of fewer, more intense storms occurring in the winter months. This means a potential increase in flood events coupled with extended drought cycles.


The seasonality of flows may also change, for example, less snowpack in the winter may cause lower flows in the spring.


Sea level rise may require increased releases from storage to augment river flows to repel salinity and/or costly modifications by water suppliers to treat increases in dissolved solids.


Climate change could also affect instream flow and temperature conditions for aquatic biota.
In December 2019, DRBC formed the Advisory Committee on Climate Change (ACCC) to provide the Commission and the basin community with scientifically based information for identifying and prioritizing these threats to the basin's water resources, as well as recommendations for mitigation, adaptation and improved resiliency. Its inaugural meeting was held on August 4, 2020. Please visit the above link for committee information.
The effects of climate change are being considered as DRBC plans for future water supply availability and whether new drought or flow management programs are needed in the basin. Modeling and other analyses are already underway to further define the range of risks due to climate change as well as evaluate future water demands for different purposes. Once this work has been completed, different approaches and mitigation measures will be needed to develop robust plans and resources to address the risks posed by climate change.
DRBC Reports/Presentations:
Climate Change Links of Interest
International
Intergovernmental Panel on Climate Change
Center for Climate and Energy Solutions (formerly PEW Center on Global Climate Change)
United Nations Environment Programme
United Nations Gateway to Climate Change
World Meteorological Organization
National
Advisory Committee on Water Information's Water Resources Adaptation to Climate Change Workgroup
American University School of International Service: Finding Hope in Climate Engineering
Climate Central and its Surging Seas Sea Level Rise Risk Finder Tool
Georgetown Climate Center: Equitable Adaptation Legal & Policy Toolkit
Milken Institute School of Public Health (of George Washington University): 53 Sources for Climate Change News and Realistic Ways You can Combat Climate Change, Today
National Aeronautics and Space Administration (NASA) - Global Climate Change
NASA Climate Change YouTube Page
National Oceanic and Atmospheric Administration (NOAA)
NOAA Tides and Currents: Sea Level Trends
Natural Resources Defense Council
Sea Level Rise and Coastal Flood Web Tools Comparison Matrix
Union of Concerned Scientists (UCS)
United States (U.S.) Global Change Research Program
U.S. EPA: Addressing Climate Change in the Water Sector
U.S. EPA: Climate Change Indicators in the U.S.
U.S. Geological Survey (USGS): Northeast Climate Adaptation Science Center

USGS Climate and Land Use Change: FAQ
USGS Report: "Climate Change and Water Resources Management - A Federal Perspective"
Water Environment Research Foundation
Regional and Local
Carol Collier, former DRBC Executive Director: "Climate Change Impacts: Actions Needed to Protect the Water Resources of the Delaware River Basin" - presented at an Union of Concerned Scientists-sponsored event held at the John Heinz National Wildlife Refuge, January 2010 (pdf 3.97 MB).
City of Philadelphia: Growing Stronger - Toward a Climate Ready Philadelphia
Common Waters Partnership/Pinchot Institute for Conservation: Adapting to a Changing Climate: Risks and Opportunities for the Upper Delaware River Region
Common Waters Partnership/Pinchot Institute for Conservation: Building Resilience in the Upper Delaware River Region
Consortium for Climate Risk in the Urban Northeast
Delaware Department of Natural Resources and Environmental Control (DNREC)

DNREC - Climate Change and Delaware
Delaware Sea Grant: Climate Change & Delaware
Delaware Sea Level Rise Technical Committee: Recommendation of Sea Level Rise Planning Scenarios for Delaware (pdf; March 2018)
Delaware Valley Regional Planning Commission (DVRPC): Energy and Climate Change Initiatives
DVRPC: Coastal Effects of Climate Change in Southeastern PA
Dr. Anthony Broccoli, Rutgers University: "Future Changes in Climate, Sea Level, and Hydrology" - presented at the July 19, 2006 DRBC Meeting (pdf 7 MB). Click here for more information on Rutgers University's climate change research.
Dr. Michael Oppenheimer (Co-author), Princeton University (2005): "Future Sea Level Rise and the New Jersey Coast: Assessing Potential Impacts and Opportunities"
New Jersey Climate Change Alliance
New Jersey Department of Environmental Protection: Climate Change
New Jersey State Climatologist
New York City Department of Environmental Protection: Climate Resiliency
New York City Mayor's Office of Recovery and Resiliency
New York State Department of Environmental Conservation's (NYSDEC): Climate Change
Northeast Regional Climate Center
Partnership for the Delaware Estuary (PDE) - Climate Change
PDE: Technical Report for the Delaware Estuary and Basin - Chapter 7 Climate Change (2017; pdf)
PDE: Additional Climate Change Data and Reports
Pennsylvania State Climatologist
Pennsylvania Department of Conservation and Natural Resources (PA DCNR): Addressing Climate Change on Public Lands
Pennsylvania Department of Environmental Protection: Climate Change
Pennsylvania Environmental Council - Pennsylvania Climate Roadmap
Philadelphia Water Department: Climate Change Adaptation
Rutgers University: N.J. Climate Change Resource Center
Shippensburg University: Delaware River Baisn Project
Union of Concerned Scientists Global Warming Regional Information - Northeastern States
U.S. Army Corps of Engineers' North Atlantic Coast Comprehensive Study
U.S. EPA Report (2009): "Coastal Sensitivity to Sea Level Rise: A Focus on the Mid-Atlantic Region" (pdf 7.2 MB)

U.S. EPA/DRBC Joint Report (1986): "Greenhouse Effect, Sea Level Rise, and Salinity in the Delaware Estuary"
USGS Report (1994): "Sensitivity of Water Resources of the Delaware River Basin to Climate Variability and Change"
Commission Member Links:
Delaware
|
New Jersey
|
Pennsylvania
|
New York
|
United States
Copyright © Delaware River Basin Commission,
P.O. Box 7360, West Trenton, NJ 08628-0360
Phone (609)883-9500; Fax (609)883-9522
Thanks to NJ for hosting the DRBC website
Last Modified: 11/03/2021