Delaware River Basin Commission
---
Delaware • New Jersey • Pennsylvania
---
New York • United States of America
---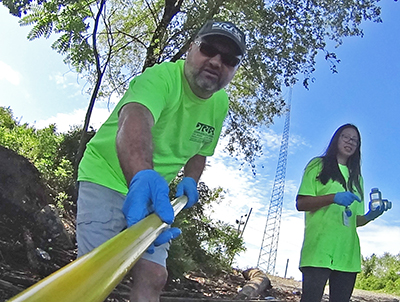 DRBC Mgr. of Water Quality Assessment John Yagecic and
Water Quality Intern Daisy DePaz collect a surface water
sample to monitor for bacteria levels. Photo by DRBC.
The risk of human illness from contact with surface waters is correlated to the concentrations of certain species of bacteria found in those waters. The relative presence of Fecal Coliform, Enterococcus, and Total Coliform are used as indicators for the possible presence of microbial human pathogens.
DRBC has adopted water quality criteria for bacteria (unit of measurement is cfu/100mL) protective of primary contact uses, such as swimming and kayaking, and secondary contact uses, such as fishing.
In the summer of 2019, DRBC initiated a focused bacterial monitoring effort in Water Quality Zone 3 and upper Zone 4, the portion of the Delaware River around Philadelphia and Camden. These zones have a designated use for secondary contact recreation, but primary contact recreation - such as tubing and jet skiing - has been observed.
From May - September 2019, commission staff collected bacterial data (fecal coliform, enterococcus, and E. coli) near-shore (where recreation is occurring) to complement its Delaware Estuary Water Quality Monitoring Program, which collects bacterial data from the river's center channel, to determine if water quality meets the requirements for primary recreation in this stretch of river. Staff collected bacterial samples five times a month from five access points in New Jersey and three in Pennsylvania.
View Map of Sampling Locations (jpg 439 KB)
Sampling in 2020 got a delayed start due to COVID-19 mitigation measures. Samples started being collected in July at the same locations as in 2019 (see map linked above), with the addition of Penn Treaty Park in Pa., which was closed for construction in 2019.
DRBC Manager of Water Quality Assessment John Yagecic, P.E., discussed this effort:
DRBC plans to continue and possibly expand this monitoring program and will coordinate with its Water Quality Advisory Committee regarding data assessment and next steps.
Commission Member Links:
Delaware
|
New Jersey
|
Pennsylvania
|
New York
|
United States
Copyright © Delaware River Basin Commission,
P.O. Box 7360, West Trenton, NJ 08628-0360
Phone (609)883-9500; Fax (609)883-9522
Thanks to NJ for hosting the DRBC website
Last Modified: 08/19/2020