Delaware River Basin Commission
---
Delaware • New Jersey • Pennsylvania
---
New York • United States of America
---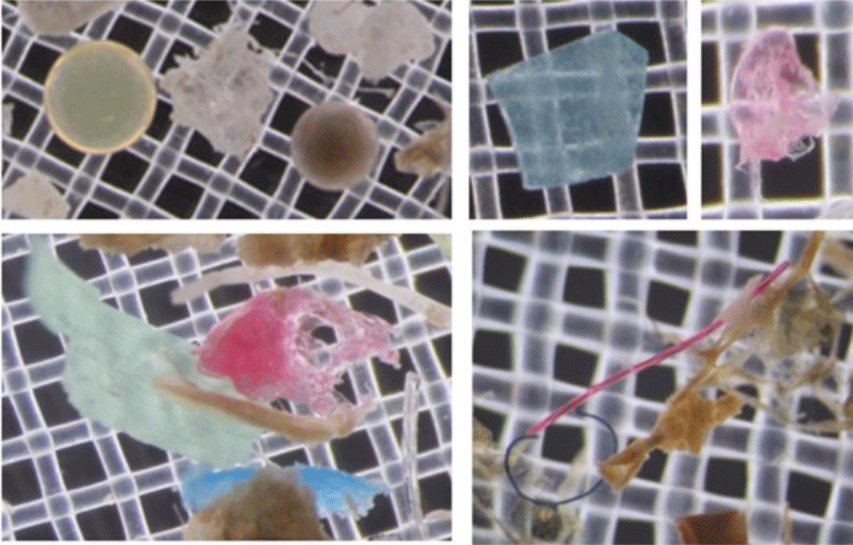 As seen under the microscope: microplastics
collected from the Delaware Bay by
University of Delaware researchers.
Photo courtesy of the University of Delaware.
Plastic is perhaps the most prevalent and persistent type of debris found in our oceans, rivers, and large lakes. Plastic debris comes in all shapes and sizes, but those that are less than five millimeters in length (or about the size of a sesame seed) are called "microplastics." These tiny particles easily pass through water filtration systems and end up in receiving waters. Over time, larger plastics degrade into microplastics, but microplastics also include originally manufactured products such as the following:
♦ Microbeads, found in cosmetics and personal care products (such as toothpaste);
♦ Industrial scrubbers used for abrasive blast cleaning;
♦ Microfibers, generated from washing synthetic clothing made of polyester and nylon; and
♦ Resin pellets used in the plastic manufacturing process.
Not much is known to date about microplastics and their impacts on human health and aquatic life. Few microplastics studies have been conducted in the Delaware River Basin to date. One project was conducted in the Delaware Bay by University of Delaware researchers, thanks to a grant from Delaware Sea Grant. Another study is underway in the non-tidal Delaware River (north of Trenton, N.J.) by the United States Geological Survey and the National Park Service.
While this research is important and necessary, it left a portion of the basin – the upper Delaware River Estuary from Trenton, N.J. to the C&D Canal – understudied. This reach of river is largely urbanized and is likely a major contributor to microplastics found in the estuary and bay.
Understanding the inputs of microplastics in this section of the estuary – whether from tributaries or the river itself – is a vital first step towards understanding the prevalence and potential problems posed by this contaminant. In 2018, DRBC received a grant from the Delaware Watershed Conservation Fund to monitor for microplastics and model loadings of microplastics in the upper Delaware River Estuary.
This project will provide greater detail into how microplastics are distributed in this section of the basin and which source tributaries are introducing the most microplastics. DRBC will collect samples from four sites in the upper Delaware River Estuary and ten tributary sites. As the non-tidal Delaware River is the largest loading into the estuary, samples will also be collected at the head of tide in Trenton, N.J. Samples will be collected in spring and fall 2019 and will be analyzed by Temple University for microplastic concentrations. Data collected during microplastic monitoring efforts will be used to model microplastic dynamics in the estuary. These models will allow us to identify high plastic-loading tributaries, which will be targeted for cleanup efforts.
Removing large plastic debris prevents fish and wildlife from becoming entangled in objects like cords, nets, and beverage containers. On a finer scale, removing these debris before they have a chance to break down will reduce the presence of microplastics and lower the risk of other harmful chemicals entering the basin's waters. These cleanup efforts will also provide outreach opportunities to educate the public about the complex problems associated with plastics and microplastics. The effects of this public education will hopefully reach beyond the actual cleanup efforts and into our communities.
This project will provide DRBC with a better understanding of the concentration and distribution of microplastics in the upper Delaware River Estuary and will lay the groundwork for future microplastics monitoring and cleanup efforts in the basin and beyond.
Links about Plastic and Microplastics Pollution
Presentations Given:
Commission Member Links:
Delaware
|
New Jersey
|
Pennsylvania
|
New York
|
United States
Copyright © Delaware River Basin Commission,
P.O. Box 7360, West Trenton, NJ 08628-0360
Phone (609)883-9500; Fax (609)883-9522
Thanks to NJ for hosting the DRBC website
Last Modified: 05/17/2019