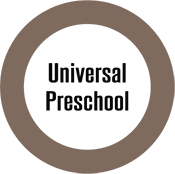 High-quality preschool can change the educational trajectories of young children and influence their lifetime achievement and well-being. Improvements in children's kindergarten readiness lead to increased achievement and school success with such benefits as increased earnings that continue for a lifetime. New Jersey's former Abbott preschool program is proven effective and regularly highlighted as a model for the nation. For these reasons, Governor Murphy has proposed expansion of full-day, high-quality preschool to all three- and four-year-old children in the state. The Department is committed to fulfillment of this vision through enhanced support for existing programs and increased funding opportunities to expand the program into new districts, with support and partnership from New Jersey's licensed child care and Head Start providers, and to increase the number of available seats in existing programs.
The objective of the New Jersey Strategic Plan for Preschool Expansion Phase I: The Foundation is to establish a set of clear priorities to consider for reaching the goal of expanding high-quality preschool. More detailed and extensive research will be conducted to develop the second phase of this work, resulting in a detailed strategic implementation plan to execute the priorities set out in the strategic foundational plan. The Department anticipates release of the second phase of the strategic plan in late fiscal year (FY) 2023.
The Department is currently reviewing applications for a second round of funding from $40 million in Preschool Education Aid committed in the fiscal year (FY) 2023 budget. Districts that are interested in future opportunities to implement a high-quality full-day preschool program in their community can reach out to the Division of Early Childhood Education for more information. Through the first round of funding opportunities for the fiscal year (FY) 2023 budget, the Department awarded funding to an additional 26 districts.
Governor Murphy has also allocated $120 million in federal American Rescue Plan (ARP) funding to address preschool facilities. Specifically, the funding will be targeted to renovating and expanding existing educational facility space for preschool. The Department anticipates launching the funding opportunity in early 2023.