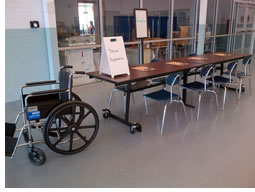 New Jersey has experienced four major weather related incidents within the state since 2011 that required large scale evacuations and sheltering. Historically, sheltering of evacuees is a municipal and county response. However, these events demonstrated that local shelters are easily overwhelmed by the numbers of evacuated populations for a variety of reasons.
One area identified as needing improvement, is the better understanding of what a Medical Needs Shelter (MNS) is and to provide tools for county and local governments regarding MNS planning.
The MNS provides short term, supportive (minor) health/medical care to persons displaced from their homes or specialized facility and/or cannot stay at a general population shelter due to their health or medical needs.
The New Jersey Department of Health (DOH) has developed a one page Public Evacuation/Medical Needs Sheltering handout. The document defines medical needs sheltering, what evacuees should bring with them to the medical needs shelter and what may determine an evacuee's placement into the Medical Needs portion of the sheltering.
The goal of the template is to reduce the unmet needs for the support or maintenance of chronic health and minor medical conditions in a shelter by providing appropriate pre-event public information, thereby reducing the burden on shelter operations.
This handout is offered as a template and a planning tool. There are two documents provided to your organization. The first is a PDF file with NJDOH's logo. The second is a Microsoft Word document where the logos can be removed, and allows for the user to add their respective community or organization's logos. The back of the document is left blank to allow departments/agencies to add their own respective information. This public information document could be used in your jurisdiction, and tailored to both brand the communications as well as provide relevant contact information.