Greystone Park Psychiatric Hospital (GPPH) patients can now benefit from a new sensory room at the hospital designed to help individuals with Sensory Processing Disorders (SPD), a condition in which the brain has trouble receiving and responding to information that comes in through the senses.
NJDOH Deputy Commissioner Deborah Hartel joined GPPH senior staff and board members for the unveiling of the room on Thursday, June 20.
"With this innovative addition, patients who have sensory processing disorders will now have a safe place to explore a variety of items and activities to help them self-regulate," Health Commissioner Shereef Elnahal said.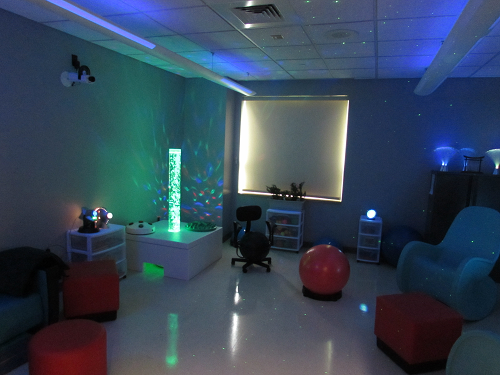 SPD can develop when the nervous system has difficulty with how we receive, organize, and use sensory information from the body and the physical environment. This can result in problems with self-regulation, motor planning, and skill development.
"Patients can be diagnosed with SPD through a standardized sensory assessment," Deputy Commissioner Hartel said. "In many cases, individuals with SPD may under or over react to sensory stimuli in their environment."
Under the direction of an occupational therapist, patients will be provided stimulation in the sensory areas of sound, sight, smell, and touch using fiber optic lighting, aroma diffusers, projectors that generate changing colors and patterns, rocking chairs, vestibular balls, music and soothing sounds.
"This is an exciting accomplishment for our occupational therapists who work so diligently in putting together such an amazing room that will provide additional active treatment for our patients," Greystone CEO Tomika Carter said.
Follow New Jersey Health Commissioner Elnahal on Twitter.
Follow the New Jersey Department of Health on Twitter at twitter.com/NJDeptofHealth and on Facebook at facebook.com/NJDeptofHealth.