DHS Home
>
Division of Disability Services Home
>
The Division of Disability Services
The Division of Disability Services


"The first place to call for disability-related information."
Toll-free: 1-888-285-3036
---
The Division of Disability Services (DDS) provides a single point-of-entry for people seeking disability related information in New Jersey. DDS serves individuals with all disabilities, statewide.
DDS works to streamline access to services and information that promote and enhance independent living for individuals with disabilities by facilitating coordination and cooperation among local, county and state government agencies.
Through the administration of programs like the Traumatic Brain Injury Fund and the Personal Assistance Services Program, DDS promotes maximum independence and the full participation of people with disabilities within all aspects of community life.
DDS Publishes the New Jersey Guide to Accessible Parking and New Jersey Resources. New Jersey Resources, updated annually, is a comprehensive guide detailing the programs and services the New Jersey Department of Human Services offers residents, caregivers, advocates, and individuals with disabilities, statewide. Both publications are available in English and Spanish and in both print and digital formats. To request printed copies of our publications, email us at: dds.publications@dhs.nj.gov. To access digital copies, see the related links on the top right of this page.
DDS offers the following services and programs:
Information and Referral Services (I & R)
The Traumatic Brain Injury Fund (TBI FUND)
The Personal Assistance Services Program (PASP)
Managed Long Term Services and Supports (MLTSS) enrollment assistance for children, 20 years old and younger
Disability Health and Wellness Initiatives
NJ ABLE and NJ WorkAbility information and technical assistance
To remain current with the latest information from DDS, please subscribe to our listserv, DDS Communications, here: subscribe to DDS Communications
DIVISION BUDGET: 60 million
EXECUTIVE DIRECTOR: Peri L. Nearon, MPA
ASSISTANT DIRECTOR: Jacqui Moskowitz
DIVISION STAFF: 28
CONTACT INFORMATION
Division of Disability Services
11A Quakerbridge Plaza, Mercerville NJ
(Mailing: PO Box 705 Trenton NJ 08625)
Telephone: 1-888-285-3036
Fax: 609-631-4365
HOT TOPICS
VIDEO: NJ Human Services Celebration of the 30th Anniversary of the Americans with Disabilities Act
The 2020-2025 Dietary Guidelines are here!
Click the image below to download the PDF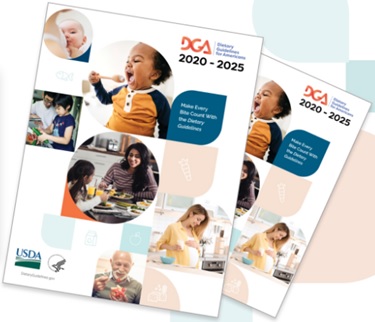 ---
Vital Resources for Food Assistance, Health Care Coverage, and Assistance with Basic Needs
NOTICE OF PRIVACY PRACTICES