INFORMATION AND REFERRAL SERVICES (I & R)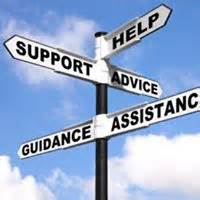 "Information and Referral (I&R) is the art, science, and practice of bringing people and services together. When individuals and families don't know where to turn, I&R is there for them."

–Alliance of Information and Referral Systems (AIRS)

INFORMATION AND REFERRAL (I & R) SPECIALISTS
Nationally Certified Information and Referral Specialists (I & R Specialists) are available during regular business hours, Monday through Friday, to provide information and to assist with navigating State and County Services available to individuals with disabilities. In addition to providing live assistance over the phone, I & R specialists attend public events throughout the State to disseminate information and answer questions.
All DDS I & R Specialists hold certifications from the Alliance of Information and Referral Systems (AIRS), the internationally recognized professional credentialing program for community I & R providers. Certification consists of an initial exam and the completion of a minimum of 10 documented hours of continued training every two years.
Contact an I & R Specialist: 1-888-285-3036
Office Hours: 9:00 am - 5:00 pm Monday - Friday
DDD/DDS CASE MANAGEMENT COLLABORATION
DDS I & R Specialists remain the primary contact for some adults registered with the Division of Developmental Disabilities (DDD) at this time. For more information about this collaboration, please go to DDD/DDS Partnership for Information and Referral Services.
I & R EVENTS
In addition to providing services over the phone, DDS I & R Specialists host tables at many community events throughout New Jersey, where they are available to distribute information and to answer your questions directly.


The types of community events we attend regularly include the following:

• School to Adult Life Transition Fairs

• Health Fairs

• Disabilities Awareness Events


Please feel free to stop by our table to introduce yourself during our next event! See our upcoming events schedule.
ARE YOU A NON-PROFIT OR STATE FUNDED AGENCY INTERESTED IN HAVING AN I & R SPECIALIST HOST A TABLE AT YOUR NEXT EVENT?
Contact: Ursula Baker, I & R Services Supervisor
LINKS
CONTACT INFORMATION
Division of Disability Services
11A Quakerbridge Plaza, Mercerville NJ
(Mailing: PO Box 705 Trenton NJ 08625)

Telephone: 1-888-285-3036
Fax: 609-631-4365
KEY STAFF
Ursula Baker, I & R Services Supervisor