Important Information for SNAP Recipients
about your March Benefits
March 2019 Supplemental Nutrition Assistance Program (SNAP) benefits will be issued to all clients on March 1, even if the there is a federal government shutdown.
If you normally receive your SNAP benefits between the 1st and the 5th of the month, for March ONLY you will receive your benefits on the 1st.
Work First New Jersey (WFNJ), Temporary Assistance for Needy Families (TANF) and General Assistance (GA) March benefits will be available on your Families First card on your regular date.
Continue to visit this page for ongoing updates . If you have specific questions about your case – contact your county board of social services.
What is NJ SNAP?
Sometimes people feel they shouldn't need help putting food on the table, but sometimes making ends meet is a struggle. If you are not sure how or if you can pay for your next meal or next week's groceries, NJ SNAP can help.


NJ SNAP, formerly Food Stamps, is New Jersey's Supplemental Nutrition Assistance Program that can help low-income families buy the groceries they need to eat healthy.
Do I qualify for NJ SNAP?
Eligibility depends on several factors like income, household size, resources, etc.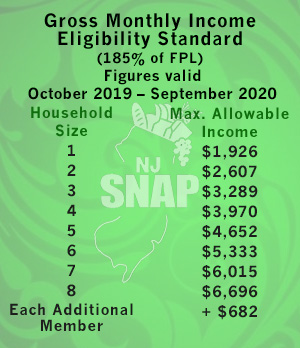 To pre-screen for NJ SNAP or other social service programs click here. This is a quick and easy way to find out if you might be able to get help. With the online application, you will spend less time in the office for your interview (If you are unable to get to the county Board of Social Services due to illness or disability, you may send an authorized representative on your behalf or request a telephone interview).You may also submit your application by fax or mail to your local County Board of Social Services. After your application is received, you will be contacted to schedule an interview to confirm your application information. Also, please note households in which all members are applicants for or recipients of Supplemental Security Income (SSI), may apply for NJ SNAP at the Social Security District office at the same time you apply for SSI.
NJ SNAP Benefits are issued through the easy-to-use "Families First" electronic benefits card.
You can apply for NJ SNAP:
> Online, by clicking here.
> Or in Person at your
County Board of Social Services
You will need to fill out an application and bring various supporting documents with you - for these forms and more information on NJ SNAP click here.
NJ SNAP Brochures - October 2018 (PDF)
> English > Spanish
The NJ SNAP Hotline number: 1-800-687-9512
Apply online to become authorized to accept SNAP at your Retail Food Store or Farmers Market by clicking here.
This institution is an equal opportunity provider.
> USDA Nondiscrimination Statement
Updated:02/14/19