At the Work First New Jersey program, we take advantage of today's technology to improve services to our clients. We also make sure that benefits are not being used illegally but are being provided only to eligible individuals and families.

Here are some examples of how we are using technology: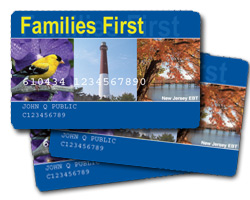 Families First Card
WFNJ uses a plastic "Families First" debit card for eligible recipients to access their cash assistance and food stamp benefits. The card can be used to withdraw cash benefits from Automated Teller Machines (ATMs) or at other retail purchase locations.

The Families First card eliminates the need for food stamp coupons when paying for grocery items, and it is more convenient.

Note: Currently, all WFNJ/GA recipients receive food stamp benefits through the Families First card; their cash assistance is issued by check.
 



Welfare Fraud 
In New Jersey, an electronic system is used to monitor the information you put on your application for benefits. The state makes sure that you:
are not collecting welfare from another state

have a valid Social Security number

are not employed and earning income that you did not report


are not collecting unemployment
There are penalties for knowingly providing false or inaccurate information, including: being ineligible for future benefits; having to pay back to the state any money you were not eligible to receive; and criminal charges.