The chart below are examples of how much your monthly income would increase if you were employed rather than if you received only cash assistance.
The wages shown are based upon a 35-hour per week job. (Net monthly earnings, provided by the NJ Department of the Treasury, are based on 2006 tax schedules and are rounded to the nearest dollar.)

Net earnings are the amount of earnings you receive after taxes, or your take home pay.
If you are making more than these amounts, the increase in your monthly earnings will be even greater.
Net Earnings at $9.00 per hour
(35 hours per week)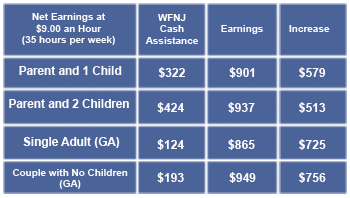 As a participant in WFNJ, you may receive any combination of the following types of income:
the paycheck from your job

a cash assistance benefit
Remember: the checks you receive to supplement your income while you're working or participating in a work activity count toward your five-year limit.

child support
Your child support is collected by the county to cover the costs of assistance to you. Depending on the amount collected, the county will give you up to $50 per month. Once you stop receiving WFNJ cash assistance, you receive the full amount of your child support payment.
In addition, you will receive an "earned income disregard". This means that you keep your whole public assistance grant during your first full month of employment. After that, we will count only half of your income when figuring your cash assistance (if you remain eligible for cash assistance).
Remember: Everyone's situation is different. The types and amounts of income you will receive depend on the job you have, the amount of child support you receive and the number of people in your household, among other things.

> Visit Workforce New Jersey Public Information Network for additional job/career information