State Psychiatric Hospitals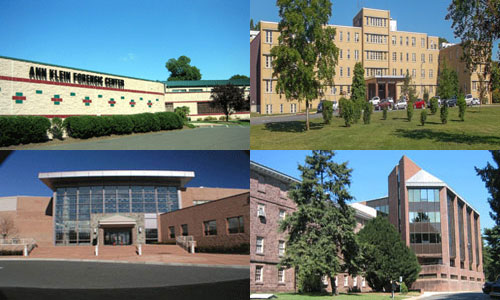 The Office of State Hospital Management (OSHM) was created in August, 2006 in order to transform state hospitals intro a truly cohesive system of care.

The Division of Mental Health and Addiction Services operates four psychiatric hospitals (Ancora, Greystone Park, Trenton, Ann Klein Forensic Center), one of which is a forensic center (click here for State Psychiatric Hospital Catchment Areas). Our goal is to ensure that the four adult hospitals function in a similar manner. Some examples include organizational structure (e.g., Tables of Organization), provision of active treatment, census reduction efforts, implementation of evidence-based practices, reduction of violence and workforce development initiatives.

The Office of State Hospital Management recognizes the importance of family involvement in the care and treatment of their loved ones. In order to involve family members, a Family Partnership Program was developed.

The OSHM can be reached by mail addressed to: DMHAS, OSHM, P.O. Box 700, Trenton, NJ 08625 or by phone at (609) 777-0677.

To report State Hospital Abuse, Neglect, Safety or Quality Concerns

When an individual has any concerns about patient care and safety in the hospitals, the following steps should be taken:

1) Contact the patient's unit team leader or program coordinator
2) Contact the Section Chief of the unit
3) Contact the Patient Representative

If the concerns have not been addressed by any of the above routes, the individual is encouraged to contact the Chief Executive Officer of the respective hospital:


Ancora Psychiatric Hospital
Ann Klein Forensic Center
Greystone Park Psychiatric Hospital
Trenton Psychiatric Hospital

OR

DMHAS Toll-Free

(609) 561-1700
(609) 633-0892
(973) 538-1800
(609) 633-1500



1-800-382-6717
To report patient abuse at a state hospital, call the Patient Services Compliance Unit (PSCU) at 1-888-490-8413 (click here for more information).

If the concerns cannot be resolved through the hospital, the individual is encouraged to contact The Joint Commission by either calling 1-800-994-6610 or sending an e-mail to: complaint@jointcommission.org.

Other External Advocacy Agencies:

Disability Rights New Jersey
210 S. Broad Street, 3rd Floor
Trenton, NJ 08608
(609) 292-9742
(800) 922-7233 (in N.J. only)
(609) 633-7106 (TTY)
E-mail: advocate@drnj.org
Website: http://www.drnj.org

New Jersey Department of the Public Advocate
Division of Mental Health Advocacy - (609) 826-5057
Email: PublicAdvocate@advocate.state.nj.us
Website: http://nj.gov/defender/structure/mha/

If you or someone you know is in emotional crisis and in need of immediate mental health care, please contact the available screening services in their county. You may also call 911 for assistance from your local police or go to the nearest emergency room.

State hospital census data and other statistics are available on our state hospital publications page.

You are invited to call (732) 940-0991 or visit the National Alliance for the Mentally Ill in New Jersey (NAMI) website, to learn more about NAMI, which offers self help and advocacy for families of people with serious mental illnesses.