Using your Electronic Benefits Transfer (EBT) card to access P-EBT benefits
P-EBT has been federally extended through September 30, 2021. At this time only benefits for the month of September 2020 have been issued. DHS is developing plans for continued P-EBT issuance for October 2020 through September 2021 under the new P-EBT eligibility criteria. Please continue to check back for updates.
September 2020 P-EBT Program
P-EBT benefits for the month of September in the 2020-2021 school year continue to be issued for students who were eligible for free- or reduced-price school meals as of June 2020 and were attending schools with a remote learning schedule of at least 5 consecutive days in September. This benefit is not available for students whose school is conducting classes in-person. If your school is offering a hybrid of in-person and remote learning and classes are remote for 5 consecutive days, you may be eligible for P-EBT.
If you were eligible for free-or reduced-price school meals as of June 2020 and your child was remote for at least 5 consecutive days in September but you have not received a September 2020-2021 P-EBT benefit, you should contact your school to confirm the address they provided. If the address is correct or you have your mail forwarded, please wait for the card to come in the mail. If the address is incorrect, please do not fill out the contact us form, but instead call your local county board of social services for a replacement card. See FAQs below for more information about P-EBT benefits issued through September 2020.
What does the P-EBT card look like?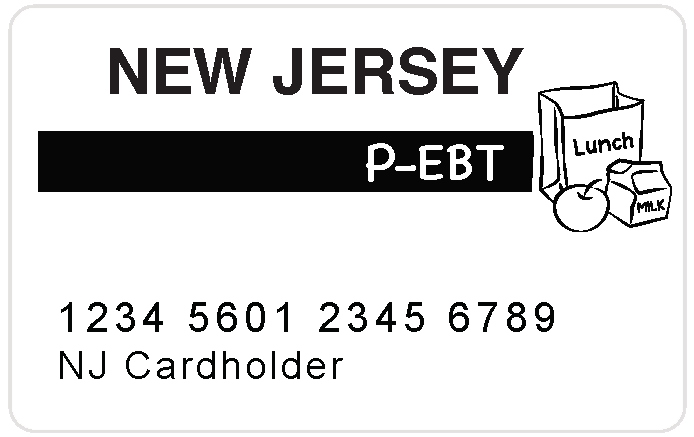 P-EBT benefits are available to children eligible for free- and reduced-price school meals through the National School Lunch Program (NSLP) and unable to receive these school meals due to remote learning. If your child is not enrolled in the NSLP, please check with your school district about program eligibility, how to apply and for more information.