Apr-06-11 Deputy Commissioner Rich Constable Gives Remarks at Kessler Foundation Symposium
EDISON, APRIL 06, 2011  -- Deputy Commissioner Richard E. Constable attended the Kessler Foundation's 6th annual symposium for grantees. In his remarks, Constable recognized Dr. Henry Kessler as the pioneer in the world of physical rehabilitation and as a beacon for individuals with disabilities to be full participants in all aspects of life.

Additionally, the deputy commissioner thanked the Kessler Foundation for partnering with the Department of Labor's Division of Vocational Rehabilitation Services (DVRS) to assist thousands of people to gain independence and return to work.

DVRS has highly skilled vocational rehabilitation counselors who take the time to learn about a client's background, including the history of disability, education, and work experience. Together in a structured counseling setting, the client and the counselor develop achievable goals.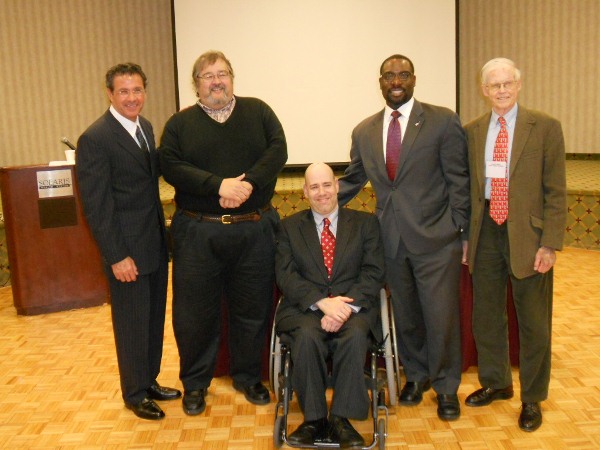 Pictured L-R: Rodger L. DeRose, President & CEO, Kessler Foundation; Dr. Richard Pimentel, keynote
speaker, nationally renowned expert on Disability Management, Job Recruitment and Retention, and
Americans with Disabilities Act; Joseph Amoroso, acting director, NJ Division of Disability Services;
Richard E. Constable, deputy commissioner, NJ Department of Labor; and Robert Dillon, former
chairman Kessler Foundation
Contact:
Media Contact:
Brian T. Murray   
TEL: 609.984.2841
FAX: 609.777.3634