Apr-26-11 Commissioner Wirths Joins Workers Memorial Day Events
TRENTON, April 26, 2011 – This Thursday, April 28, 2011, is Workers Memorial Day, an international day of remembrance and honor for the men and women killed or injured while working.  It also is a time each year when New Jersey renews its commitment to workplace safety.

Commissioner Harold J. Wirths of the New Jersey Department of Labor and Workforce Development marked the first of two Workers Memorial Day events this week on Monday, April 25, 2011, with members of the Mercer County Central Labor Council, AFL-CIO. The group honored the memory of fallen workers and workers injured on the job with a Workers Memorial Mass held at St. Joachims's Roman Catholic Church in Trenton.

During a dinner at the Baldassari Regency in Trenton, Commissioner Wirths presented the Mercer County Central Labor Council with a proclamation from Governor Chris Christie marking the annual importance of Workers Memorial Day.

"It is very important that we remember and honor the workers who were injured or died on the job," said Commissioner Wirths. "It is also an opportunity for all of us to rededicate ourselves to making workers and worksites as safe as possible."

Workers Memorial Day has been observed annually on April 28 since 1989. It calls attention to the extent of workplace accidents and illnesses, and it promotes awareness of health and safety issues. The date April 28 was chosen because it is the anniversary of the Occupational Safety and Health Administration (OSHA), which was created 40 years ago this month.

Each year, thousands of workers are killed and millions more are injured at their jobs. Workers, unions and OSHA, the main federal agency charged with the enforcement of safety and health legislation, have initiated significant improvements in workplace conditions over the years.

Commissioner Wirths will join members of the New Jersey Industrial Safety Committee at the New Jersey Turnpike Authority offices in Woodbridge at 1 p.m. on Thursday, April 28, 2011, to participate in a wreath-laying ceremony in observance of Workers Memorial Day 2011.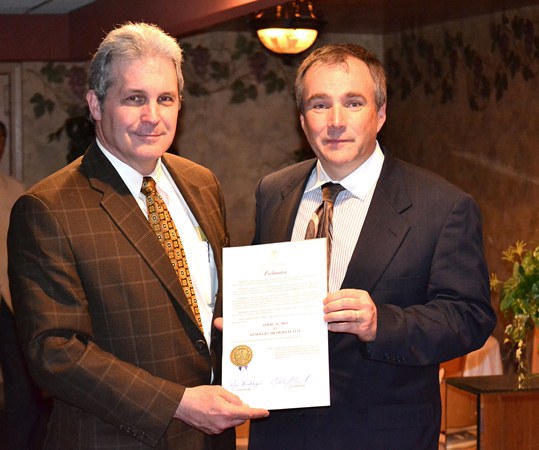 New Jersey Labor Commissioner Harold J. Wirths (right) presents Michael Maloney, president of Mercer County Central Labor Council, with a Proclamation from Governor Chris Christie for Workers Memorial Day. Commissioner Wirths participated in the Council's Workers Memorial Day Mass held at St. Joachim's Roman Catholic Church in Trenton.

                                                                                 30
Contact:
Brian T. Murray:      
TEL: 609.984.2841
FAX: 609.777.3634