Apr-27-11 Deputy Labor Commissioner Richard Constable Helps Announce New On-The-Job Training Initiative
EAST ORANGE, April 27, 2011  --  Deputy Commissioner Richard E. Constable, III participated in a joint news conference with Essex County Executive Joseph N. DiVincenzo, Jr. in East Orange to announce a new On-The-Job training program that matches workers with prospective employers and reimburses employers for the costs to train new employees.

The Essex County On-The-Job training program is federally funded through a National Emergency Grant in partnership with the New Jersey Department of Labor and Workforce Development. The program is designed to bridge the gap between "dislocated workers" and those served through existing Work First New Jersey OJT, and American Recovery and Reinvestment Act OJT programs.

The Department of Labor reviewed industry clusters and unemployment data to select the counties of Atlantic, Essex, and Passaic to receive these National Emergency Grants.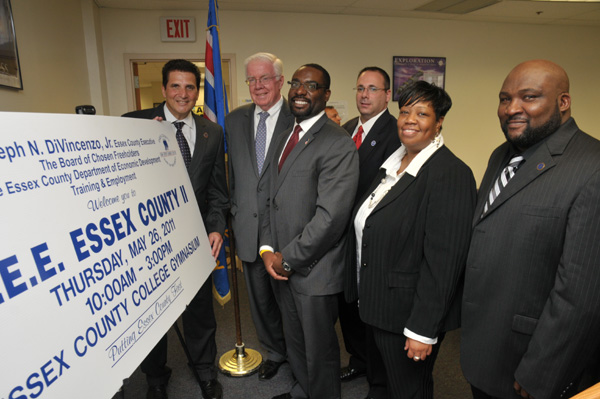 Standing from the left: Joseph N. DiVincenzo, Jr., Essex County Executive; Assemblyman Thomas P. Giblin; Richard E. Constable, III, Deputy Commissioner of Labor; Anthony Ferrera, Director of Workforce Portfolio & Contract Management, New Jersey Department of Labor; Aminah Bey, manager of Essex County Workforce Investment Act Services at County of Essex; and Samuel Okparaeke, executive director of Essex County Workforce Investment Board and One-Stop Manager. (Photo by Glen Frieson)
Contact:
Brian T. Murray:      
TEL: 609.984.2841
FAX: 609.777.3634