May-02-11 New Jersey Department of Labor and Workforce Development Hosts Free Workers' Compensation Program Seminars
Hundreds of Attorneys Receive Free Training Today at 15 Locations 

May-02-11 Continuing a commitment to provide a cooperative and innovative workers' compensation program, the Division of Workers' Compensation at the New Jersey Department of Labor and Workforce Development is hosting free, continuing education seminars for all workers' compensation attorneys today, May 2, 2011. The seminars are being held 1 p.m. to 4 p.m. at each of the state's 15 workers' compensation court locations in conjunction with this year's celebration of the 100th Anniversary of the New Jersey Division of Workers' Compensation.

New Jersey was among the first states in the nation to enact a workers' compensation program when legislation was signed into law on April 4, 1911 by then-Gov. Woodrow Wilson.

Participants in today's seminars will have the opportunity to be briefed on the latest advancements regarding workers' compensation legal precedents, ethics rules and professional responsibility.

"From the start, our state has earned its reputation for being the vanguard in resolving workplace claims," said Harold J. Wirths, Commissioner of the Department of Labor and Workforce Development.

In the early 1900s, as New Jersey quickly evolved into an industrial state, antiquated employers' liability laws precluded injured workers from receiving proper medical treatment and consideration when negligence may have contributed to an accident or when the nature of their jobs warranted compensation.

This changed when New Jersey became one of the first states in the nation to adopt a comprehensive workers' compensation program that incorporated input from employers and workers. The State of New Jersey has a diverse and productive workforce of approximately 4 million men and women. Each year, more than 150,000 workplace injuries are reported.  

"By maintaining a continuing and open dialogue with employers, workers and their representatives, our state has been successful in establishing a record of settling more than 95 percent of its claim petitions. This is a significant achievement, both for workers and their employers," said Peter J. Calderone, director and chief judge of the state Division of Workers' Compensation..

The interactive seminars being held today will cover areas such as "burden of proof" requirements. There also will be a detailed examination of what the courts deem to be "objective" medical evidence to support a claim and when a specific condition meets the legal threshold to qualify as "disabling."

Another important feature of the seminar will be an attorney's ethical and professional responsibilities in representing a party in a workers' compensation proceeding.

"Today, our workers and employers have the benefit of an efficient, transparent and fiscally sound worker's compensation system.  It covers the gamut with regard to the types of injuries that may be sustained on the job," said Calderone.

"These seminars, hosted by LWD's workers' compensation program judges, are an integral part of the success of our program," he added. "When an attorney enters a workers' compensation courtroom, he or she possesses an almost intuitive understanding of the nuances associated with this evolving area of the law because of the very open and inclusive information-sharing nature of the program and its participants."

Administrative Supervisory Judge Renee C. Ricciardelli, who oversees the Trenton Court Vicinage, said more than 500 judges and attorneys attended the December 2010 "Annual Workers' Compensation Bench-Bar Conference" in New Brunswick. Hundreds of attorneys pre-registered for today's seminars as well.

"This level of commitment and respect is what drew me to this area of the law and persuaded me to commit myself to it. The department is pleased to be able to offer attorneys this opportunity to continue to fine-tune their knowledge of workers' compensation law at no cost," Judge Ricciardelli said.

Attorneys attending today's seminars will qualify for 3.5 credits toward their obligation to undergo continuing legal education, with 1.5 of those credits going towards required training on professional responsibility and ethics. 

For more information about the Division of Workers' Compensation and the 100th Anniversary celebration please visit the department website at http://lwd.dol.state.nj.us/labor/wc/content/centennial.html.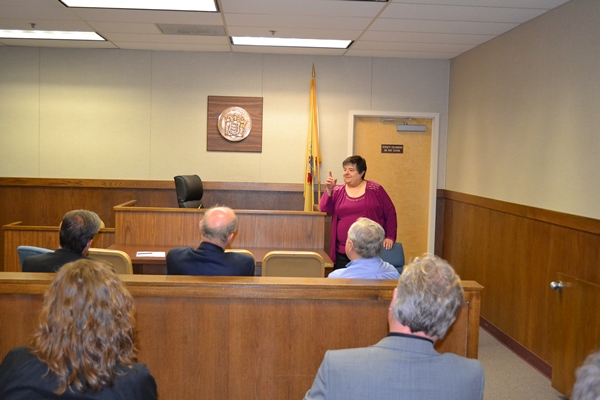 The Honorable Renee Ricciardelli, Administrative Supervising Judge, Division of Workers' Compensation, leads a seminar for workers' compensation attorneys held as part of this year's celebration of the 100th Anniversary for the New Jersey Division of Workers' Compensation.

                                                                                            -30-
Contact:
Brian T. Murray:      
TEL: 609.984.2841
FAX: 609.777.3634