Jun-03-11 Thousands of Workers Attend Essex County Job Fair
Contact:
Brian T. Murray:
TEL: 609.984.2841
FAX: 609.777.3634
| | | |
| --- | --- | --- |
| | -News Release- | |
NEWARK, June 3, 2011 - Stephanie Moore was more than thankful she attended the May 26 job fair hosted in Newark by the New Jersey Department of Labor and Workforce Development and the County of Essex.

After talking with recruiters at three different employers' tables, the 22-year-old West Orange resident stopped to chat at a booth hosted by Verizon and completed an application for a full-time sales position.

The recruiter gave Moore an interview, and then hired her on the spot.
"I am so happy," she said. "I was at the job fair fewer than 20 minutes and after I completed the Verizon application, the recruiter picked up an ink pen and asked me to sell it to him. The recruiter must have liked what I said because he hired me and enrolled me in their training program."
Moore starts her new job on Monday, June 6, 2011.

"Our number one priority is to get New Jersey workers back to work," said Richard E. Constable, deputy commissioner of the Department of Labor. "All of the employers at the event were looking to hire and some job seekers were hired on the spot."

The Department of Labor and Essex County tried to match job-seekers with New Jersey businesses as they brought together more than 250 employers and exhibitors to meet face-to-face with 3,000 pre- registered attendees. Another 2,000 walk-ins attended the free, public event held on the campus of Essex County College in Newark, New Jersey.

Participating businesses ranged from fast food restaurants, security companies, and home improvement stores to banks, medical facilities and insurance agencies. Job seekers also had opportunities to take part in workshops on money management, how to apply for a federal job, how to navigate the One-Stop Career Center and services for veterans and welfare recipients.

Anthony Ferrera, LWD director of Workforce Portfolio and Contract Management, said, "Overall the job fair was very successful. We received positive feedback from the employers as well as the job seekers."

To find information about upcoming job fairs go to: https://labor1.nj.gov/WorkForceDirectory/JobSourceStart.jsp.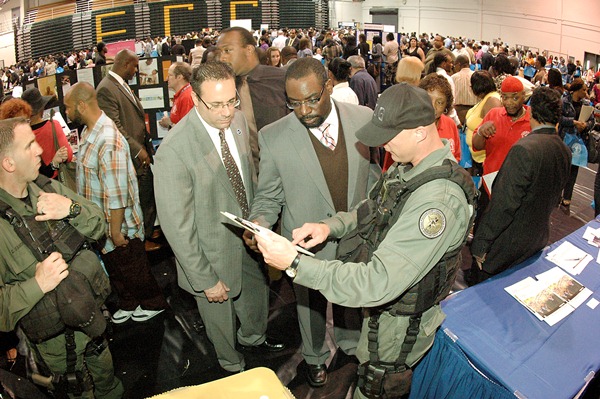 Deputy Commissioner Richard E. Constable (center), New Jersey Department of Labor; and Anthony Ferrera (left), director of Workforce Portfolio and Contract Management with the N.J. Department of Labor review a list of job fair attendees interested in applying for jobs with Hudson County Corrections