Jun-10-11 Labor Commissioner Harold J. Wirths Awards Job Training Grant to Jersey City Manufacturer
Contact:
Brian T. Murray:
TEL: 609.984.2841
FAX: 609.777.3634
| | | |
| --- | --- | --- |
| | -News Release- | |
JERSEY CITY, June 10, 2011 — Underscoring Governor Chris Christie's commitment to job-creation and job-retention in New Jersey, Commissioner Harold J. Wirths of the Department of Labor and Workforce Development today announced his department awarded a "customized training" grant to Eastern Millwork, Inc., in Jersey City.

The company, based in Jersey City, received a $39,375 grant to upgrade the skills of its 40-member workforce, which it will match with $74,017 of its own money. The grant will also help pave the way for hiring four new workers.

"Creating jobs and retaining jobs is fundamental to New Jersey's economic vitality," said Commissioner Wirths. "Customized training grants benefit employers by making their businesses more competitive and these grants assist workers by upgrading their skills to maintain pace with industry developments or to advance their careers."

Commissioner Wirths lauded the public-private partnership connecting the New Jersey Labor Department, Eastern Millwork, and training provider ManageAssist, to develop workplace skills through the state's "Competitive Customized Training" grant program. The grants are matching funds awarded through the department and funded through the state's Workforce Development Partnership Program to enhance worker skills in New Jersey businesses and industries.

Senator Sandra B. Cunningham (D-Jersey City), Jersey City Mayor Jerramiah T. Healy, and other dignitaries joined Commissioner Wirths to present Eastern Millwork President/CEO Andrew Campbell and Chief Financial Officer Tom Titus with a framed letter announcing that the company had been selected to receive a training grant.

"One of the best things that we can do for our economy is to make sure our workers' skills match the needs of the business community," said Senator Cunningham. "These customized training grants allow New Jersey employers to invest in their own workers and these investments in our workforce will strengthen New Jersey's economy."

Eastern Millwork employees will receive training in lean skills that will help them to be more productive, including manufacturing materials resource planning, execution and control of operations, workplace organization, and visual production methods. Other training courses such as: Six Sigma Process Mapping, frontline supervisory and lead personnel skills, and PC skills will also be covered.

"Giving aid to employers through these customized training grants and having access to a talented labor pool is an important reason why our company remains here," said Eastern Millwork President Andrew Campbell. "Our company moved to New Jersey in 1997 and we have expanded operations here over the past 14 years."

The company, well known for the quality of its millwork, engineers, manufactures, and installs architectural wood millwork for construction projects in New Jersey and New York. Eastern Millwork customers include general contractors working on new or refurbished building projects involving corporate, public, and educational entities.

"We want to continue to invest in the businesses in New Jersey and we want to create more opportunities for them to grow and expand here," said Commissioner Wirths. "I want businesses to know about the valuable services and programs my department provides."

Val Rapoport, managing director of ManageAssist, Inc., said, "We are pleased to partner with the New Jersey Department of Labor and Workforce Development and Eastern Millwork. The training that the employees receive through this initiative will help the company to achieve its growth and profitability objectives and help employees acquire the skills needed to succeed in the workplace."

During the event, Commissioner Wirths encouraged other New Jersey businesses to apply for the department's competitive customized training grants.

The department is in the process of awarding nearly $2.5 million in "customized training" grants to 70 New Jersey businesses, and over $200,000 in "literacy training" grants. This investment in training is being matched by those companies with $3.5 million.

To date, in Fiscal Year 2011, the Christie Administration has provided over $14 million in "customized training" grants to train more than 38,000 workers at over 460 businesses. These businesses have invested another $20.8 million in that training. The department has also awarded more than $1.2 million in "workplace literacy training" grants helping approximately 45 businesses increase the workplace capabilities of more than 4,000 workers, with $1.7 million in matching funds.

Individual businesses or a business consortium led by educational institutions, non-profit organizations, trade associations and labor unions are eligible to apply for grants on an on-going basis. The department will match interested applicants with a state business representative who will provide assistance throughout the application process.

Information about customized training and literacy grants and how to apply is available online at: http://lwd.state.nj.us/labor/employer/training/incentives_training_index.html.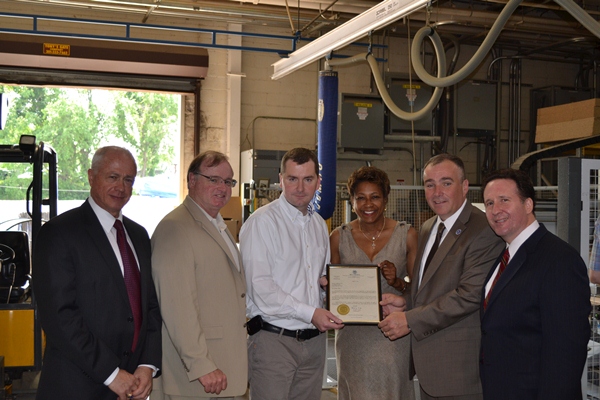 New Jersey Labor Commissioner Harold J. Wirths (2nd right) presents Andrew Campbell (white shirt), president of Eastern Millwork, Inc., with a framed letter announcing a customized training grant award the company received. Commissioner Wirths is joined by (left to right): Val Rapoport, managing director of ManageAssist; Jersey City Mayor Jerramiah T. Healy; Andrew Campbell; Senator Sandra B. Cunningham; and Steve Lipski, CEO of Jersey City Economic Development Corporation. Eastern Millwork will use the $39,375 grant to upgrade the skills of its workforce. The company will match the grant with $74,017 of its own money.